Updated: 11/3/05, 1:25 p.m.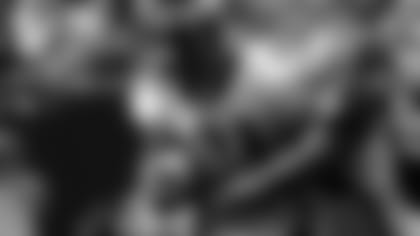 Baltimore's Jamal Lewis has rushed for more than 100 yards in seven straight games against Cincinnati. (Andy Lyons/Getty Images) The Bengals take no solace in the fact that Hall of Fame middle linebacker Ray Lewis (hamstring) and Pro Bowl safety Ed Reed (ankle) were ruled out of Sunday's game by Ravens head coach Brian Billick in Thursday's conference call with the Cincinnati media.
Plus, the Ravens may be 2-5 and coming off a short week after Monday night's heartbreaking 20-19 slugfest in Pittsburgh with backup quarterback Anthony Wright, but the Bengals know they are pitted against three of their bigger nemeses in running back Jamal Lewis, Baltimore's second-ranked defense, and M&T Bank Stadium.
Jamal Lewis has had his struggles this season, but he's rushed for 100 yards in all seven games he's faced the Bengals. He missed last year's last-play Bengals victory, Cincinnati's first win in seven tries in the Baltimore stadium. Amid a bum ankle that has had people wondering if he can run hard, Lewis belted out 61 well-earned yards in Pittsburgh, but came into the game averaging just 2.9 yards per carry.
It's still going to be a challenge for the Bengals' 27th-ranked rush defense, which has yielded two games of 180-plus yards to Lewis and is two weeks removed from allowing 221 yards on the ground to the Steelers. While Billick praised his team's grit, he wants more consistency from the league's uncharacteristic 23rd-ranked rush attack.
"(The running game) was more physical upon hitting the hole," said Billick at his Monday news conference. "You saw those good tough runs, always getting those yards. That's Jamal's game. I'm disappointed we didn't run the ball better. I like what we saw in terms of temperament with Jamal."
On Thursday, Billick defended Jamal Lewis and said he's running as hard as he ever has.
The Ravens didn't practice Wednesday, but when they returned to work Thursday Billick ruled out Lewis and Reed, and said quarterback Kyle Boller (toe), and defensive end Anthony Weaver (toe) are doubtful. Wide receiver Mark Clayton (ankle) and fullback Ovie Mughelli (ankle) looked more promising.
While Wright threw two costly interceptions Monday night, Billick thought he "administered the position well" in throwing for 252 yards on 25 of 44 passes for a pass offense that previously had been invisible.
Billick chalked that up to pass protection that allowed just two sacks on a good night for a beleaguered Ravens offensive line.
"The o-line, backs and tight ends played well," Billick said. "The key to their pressure is getting backs and tight ends in one-on-one situations and our guys did a great job with it."
For only the third time in the history of the Ravens stadium, the Bengals play against a team with a losing record. And no Baltimore team has ever been three games under .500 like these Ravens for a home game against the Bengals.
"It's a hell of a hill to climb for a division champion. 10-6 means wild card," Billick said. "We have to get on a heck of a run."