Jeremy Hill has helped carry the Bengals through injuries.
If you're looking for how the Bengals mesh the evaluations of their personnel department in concert with the needs of their coaching staff, this is the textbook pick.
Jeremy Hill, running back, LSU.
Want a good debate? With 1,024 rushing yards heading into Sunday's AFC North title game (8:30 p.m.-Cincinnati's Channel 5) in Pittsburgh, Hill is as good as choice as any for the Bengals MVP.
"You look at how many games we didn't have A.J. (Green) or had him injured or something like that," said left tackle Andrew Whitworth, another candidate. "He's kind of been a catalyst of where we are. It's being able to run the football and do things that even when you don't have your top playmaker, you can still get a win. That's tough to do in this league."
The big running back is a staple of the franchise. Bengals founder Paul Brown cultivated the modern big back during his days in Cleveland and Marion Motley and Jim Brown evolved into Pete Johnson and Ickey Woods on Cincinnati Super Bowl teams.
And on this draft day there was a longing in the personnel department to get back to the roots for an offense that hadn't possessed a true bruiser for the 10 years Corey Dillon had been gone. They would wait to get the defensive end. They would wait to get the center. The time for the big back was now with the quicksilver Giovani Bernard just completing his rookie year.
The scouts, anchored by director of player personnel Duke Tobin, liked Hill. They also liked the Cincinnati Kid himself, Ohio State's Carlos Hyde. It was a close call, but the Bengals new offensive coordinator, Hue Jackson, was all over Hill coming out of a system run by Cam Cameron, a close colleague. As Cameron's quarterbacks coach in Baltimore in 2008 and 2009, Jackson nurtured the scouting, drafting and development of quarterback Joe Flacco. After serving as the Bengals running backs coach in 2013, Jackson was anxious to add some power to the playmaking quickness of Bernard that they coveted with the 35th pick in '13.
"Carlos is a tremendous player. He's doing great things in San Francisco," Jackson recalled after Wednesday's practice. "We were looking for a back like this. I had people in place at LSU that I trusted. Not that I didn't trust the coach at Ohio State, but it was that I knew the system (Hill) had come out of. I knew the things he had been exposed to. I knew the things that we would try and do with him here. And I had in my mind a model how fast he could pick things up because of where he played.
"Duke and the guys, they're outstanding, and they had nothing but good repots on him as a football player," Jackson said. "All those things added up, he was the best guy for us."
As if to certify the good work the scouts and coaches have done the past two drafts when it comes to running backs, Hill and Bernard have done something that no NFL team has ever seen.
When Hill stepped over a Denver tackler in the backfield Monday night and sped 85 yards for a touchdown, it came 71 days after Bernard burn the Panthers for an 89-yard touchdown. They are the longest runs by two different players on the same team in history.
Maybe there is a method to Jackson's madness. He held the strings long enough so that Hill has carried only 199 times heading into the finale. Never have the Bengals have had their hammer so rested for a playoff run.
Last year, BenJarvus Green-Ellis finished the year with 220 carries. In 2012, it was 278. In 2011 and 2009, Cedric Benson popped into the Wild Card Games with 273, and 301 carries, respectively. And then there was Rudi Ali Johnson's 337 carries in 2005.
The hammer, it seems, is ready, like never before.
"I promised you guys at some point in time I would run the ball," Jackson said. "That's who I am. I think you guys are starting to see the fruits of the labor. I don't have to tell the players, I don't have to tell anybody when I think that time is, but I knew when it was coming. It's not just me it's our offensive team. I think the guys understand what we need to do to win."   
All this talk about Dillon and here we are. Hill is 96 yards away from breaking Dillon's rookie rushing record for the Bengals of 1,129 and now the talk is that Hill has to be the NFL's Offensive Rookie of the Year. No rookie has more rushing yards and scrimmage yards.
"I don't know, man," Hill said. "There's a guy in New York playing pretty well. We'll see."
Giants wide receiver Odell Beckham Jr., Hill's good friend from LSU, leads all rookie receivers with 1,120 yards while racking up 11 touchdowns. You figure it has to be one or the other.
"I'd be so excited. I honestly would rather it be him," Hill said. "A lot of stuff comes with that stuff and I really don't like all that attention. He can handle it a lot better than I can. If he gets is I will be definitely excited for him. "
They're tight enough that they text and talk often. In fact, Hill heard from Beckham late after Monday's game. But the subject of Rookie of the Year has not come up.
"Not really. There's a quiet competition going on with that," Hill said. "I'm really upset he didn't make the Pro Bowl, I thought his numbers — I don't know — just really thought he would make it. it is what it is, as a young receiver I'm sure he'll have another opportunity to make it. 
"We talk to each other every day. Really close relationship," Hill said. "There is probably not a day that goes by I don't talk to those guys. It motivates us. We motivate each other. Every time I see him doing big things it makes me want to elevate my game up even more. We just push each other, man. That's the way it's been, especially in college when we were right next to each other it would be back and forth the whole game."
Of course, the reason Hill was up late is he said he was thinking about his third-quarter fumble that he lost. Which means he now in the NFL he already has five fumbles, losing two, after a career at LSU he fumbled once and didn't lose it.  All of which earned him a beep from LSU running backs coach Frank Wilson.
"We have a saying we had in college all the time, a little saying we talked about holding the football," Hill said. "He texted me about it and asked if I remembered it. I couldn't go to sleep, that's just something I'm not used to doing. "
Despite the fumbles, the kid is having a team MVP-type season. As Whitworth alluded, their best player, Green, has missed what has amounted to five games. Quarterback Andy Dalton has been up and down without the injured Marvin Jones and Tyler Eifert, and in the absences of Green and Bernard. And the defense is finally settled after a tumultuous first half of the season. Hill has been a constant through it all, and once they started giving him the ball on Nov. 16 in New Orleans, they've won five of the last six.
"Jeremy is just a guy that has a lot of energy and a swagger to him and plays the game the way you want it played," Whitworth said. "He loves playing football. He loves contact. He loves the opportunity to make a big run. He sees that every time he touches the ball, it's an opportunity to do something special. So Jeremy's been a great lift in that way and provided some confidence to us running the football and I think that throughout this year, that's something that's developed into our identity. Probably teams that played us early in the season haven't seen that side of us. And I think that's a positive."
Whitworth might be looking for a scouting stipend. He said he was on Jackson's back last season about his Baton Rouge soulmate.
"Just watching the way he ran in college and the style he had, I knew he would be kind of one of those guys that maybe in college don't look as electric as some of the little scatbacks, but in pro football I knew that was a dynamic he had that was going to be special," Whitworth said, "because in this league every time you find a really big back who has great feet, they've had a ton of success in the NFL.
"I used to joke with Hue last year all the time, I'd report to him what Jeremy did on the ground every week. So I've always been a big fan of his and a lot of guys around here will tell you that."
Hill had some off-field problems in college and when he declared for the draft he sent a letter to every team addressing the situation.
"What it shows is he was willing to take accountability about his past. That he understood and knew he could not make mistakes anymore," Jackson said. "It took a lot for him to put it together where he had been and where he's looking to go and the reasons why some things have happened. I have great respect for that. I do believe in second chances, especially for young people because that's the only way they ever make it."
Just how big is the big back? Last week Jackson had him at 238. The roster has him at 235. Hill said last Friday he hit the scale at 232.
"I really don't care," Hill said. "It's just a number on a piece of paper to me. Whatever is out there is out there. They know what I weigh up there. I'm thinking on the 85-yard run I didn't look too slow." 
It looks like their scouts and coaches turned another fast double play.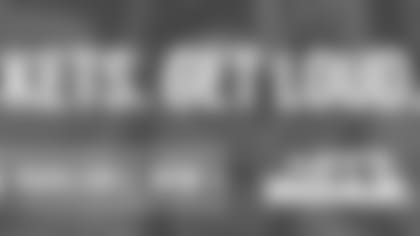 ](http://www.ticketmaster.com/cincinnati-bengals-cincinnati-ohio-01-03-2015/event/16004D88AE88238F?brand=bengals&camefrom=CFCBENGALSBCOMWEBARTICLEPLAYOFFS1_141223)