C.J. Uzomah is one of those big, fast guys the Bengals added in the draft.
The Bengals needed some juice in this weekend's NFL Draft and they emerged with five of their nine selections looking at some significant snaps in their rookie seasons.
Third-round picks Tyler Kroft, at tight end, and Paul Dawson  at linebacker, look like they are headed to situational roles, as is fourth-round pick Marcus Hardison, a defensive tackle. Dawson should bid to start at SAM. The other fourth-rounder, cornerback Josh Shaw, appears destined to be a key special teamer.
And while second-round pick Jake Fisher won't start on the offensive line, he could very well end up as the first  man off the bench as a backup guard and tackle. Offensive line coach Paul Alexander points out that last season on his unit there were about 950 snaps taken by non-starters and more than 1,000 the year before.
All of them made pre-draft visits to Paul Brown Stadium in the last couple of weeks and the energy of youth made a great impression on head coach Marvin Lewis and his staff.
"We've got to revive. We're in a revival. We've got to find new ways," Lewis said Saturday after it was all done. "It's important that we continue to bring people into this building that have that kind of attitude. It's contagious. Once it goes, it spreads and multiplies. So we've got to continue with that. If we unfortunately we let one sneak in that doesn't have it, then we're going to break the chain. We can't let the chain get broken."
The mechanics of the Bengals' draft room continued to run smoothly enough to focus on talent and not need. The experts have been saying it wasn't a deep draft early, so teams were expecting to get third-rounders in the second and fourth-rounders in the third.
Except for the first-rounder, of course, the Bengals' first five picks appeared to have been in the discussion in the round before, making them pretty easy calls. And when they couldn't find a trading partner to go up and get Shaw in the fourth round, he had the good fortune to fall to them.
How well did it fall? They got two of the tackles they identified in the top four at that position. They got their top-rated tight end. They got the guy at the top of their board, Shaw, when the fourth round started.
And you have to count Shaw in the big, fast category. As cornerbacks coach Vance Joseph said Saturday, "He's a big-time talent...He's 6-foot tall and (runs) 4.39, 4.37. He's a talent."
First-round pick Cedric Ogbuehi, the Texas A&M left tackle, was there because of his knee injury. Shaw was there because of an odd incident he lied about saving his nephew from drowning. Joseph said what his USC coaches had been thinking.
"He made a mistake; it was a one-time deal. He's a very smart guy; he graduated in 3.5 years from USC. So school was important," Joseph said. "He's a good person. And I spent time with Josh and I'm comfortable with Josh as a person. He's very sharp. He understands he made a serious mistake and it won't happen again. He's fine."
With that out of the way, at the top of the fourth it was just like it was in the first. Depth. Not need.
 ""You've got to feel really good about that," Lewis said."That's the luck of it that it breaks that way, that you're able to draft a player that you feel has some value. And sometimes maybe you're deciding between two and maybe you're able to get to the (other) player (in) the next round or the next pick in that round. The two picks today, so it worked out — or I guess it was one yesterday and one today — so it worked out that way, so that was good."
In what has become an annual rite of the gurus, the Bengals were a hit with the draftnicks even though nobody wanted to like the fact they took two tackles with the first two picks. But they couldn't ignore the value the Bengals vacuumed in the third and fourth rounds, as well as a nifty pickup in the sixth round when they snagged prolific Fresno safety Derron Smith.
So NFL.com delivered the Bengals an A-plus, SI.com came with a B-plus, and CBS Sports.com offered five grades of at least a B-plus. The Dawson and Smith picks drew As.
Call it what you want. An AFC North Draft. A Meat-and-Potatoes Draft. An Anti-Sexy Draft. There were more big men than skill players. There were linebackers and tight ends and no running backs or quarterbacks.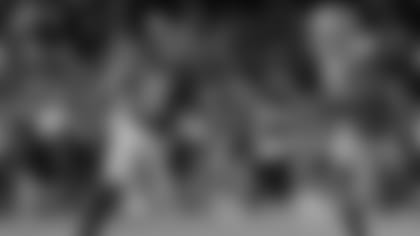 *             Josh Shaw is big (6-0) and fast (4.39) on the corner.*
But after ending last season with back-to-back losses that had them beat-up, tired, and reduced, the  Bengals wanted to get bigger and faster and when the dust cleared Saturday night they were flexing their muscles in the AFC North arms race.
Of their six picks in the first four rounds, the Bengals added three 300-pounders and a pair of 6-5, 250-pound–plus tight ends before ending the festivities by taking one of the fastest guys on the board when West Virginia wide receiver Mario Alford earned his stripes with a 4.25-second 40-yard dash.
"Mission accomplished so far,' said offensive coordinator Hue Jackson. "I've been saying the more speed you add to your team, the better. I think we've added some speed and toughness on the offensive line. We've added some speed and toughness at the tight end position. We added speed at receiver."
Jackson walked back to the draft room Saturday after  watching the draft day fan event downstairs where he saw Fisher, Kroft, and Dawson on a stage waving to the fans, and he urged folks to go down and look. They filled up the place looking like football players. It was no accident.
"We hoped we'd be able to fill in with some big guys, and we really were able to do that. We got big, physical men, with big stature," Lewis said. "That's what we have to have to play in this division. I remember standing on the sideline at the end of the year in Pittsburgh, and that's a big, physical game we were playing. Here at the end of the year against Baltimore, that was a physical football game, with big people. And the games with Cleveland. Our division is so physical, you can't come here with frail people. They've got to be big, strong people. And we feel good about that."
 "It gets confirmed when you're standing out there on Sunday. When you look at (Ravens OLB Terrell) Suggs, and you look at my man (Browns LB Paul) Kruger. And there are the guys on the inside, too. It gets confirmed each and every time. (Ravens LB Courtney) Upshaw, Suggs, (Ravens LB Pernell) McPhee, and so on. It gets confirmed. And we played Denver late in the year, and you look at those guys. We have to have those kinds of guys. We've built our defense around guys like that, with Carlos (Dunlap) and Michael (Johnson), and so forth. Now we've added the two big, young tight ends. That's the way (Ryan) Hewitt played. That's the difference he made. Jeremy Hill makes that kind of difference for us. So you put these guys on top of that and it's helpful."
Truth be told, the most satisfying picks for them were probably back-to-back Friday night. In the second round, they couldn't believe Fisher was still there at No. 53. And even though they had drafted Ogbuehi in the first round and they coveted Kroft fiercely as their top-rated tight end hitting their biggest need, there was really no discussion. Value is value and Fisher was a Bengal.
But they were able to have their cake and eat it, too, when they got Kroft with their next pick in the third round. The selections of Kroft and Auburn tight end C.J. Uzomah personified just how committed they are to Jackson's effort to be as nasty as everyone else in the division and to keep stacking the locker room with serious, committed players.
It also quietly allows them to end the Jermaine Gresham Era and keep Ryan Hewitt put after he had a rookie season some in their building believe he was the NFL's best fullback.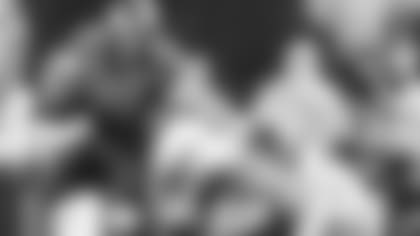 They think Tyler Kroft can block, too.
Kroft is projected to be paired with pass-catching tight end Tyler Eifert in double tight-end sets with Eifert the starter. They think Kroft has the size and willingness to block the big guys and his former Rutgers teammate, Mohamed Sanu, says "he's a tough kid," and thinks he can move people.
"I think the exciting thing about C.J. and  Tyler is they're both young guys and they're both just going to get better," said tight ends coach Jon Hayes. "They're big, they're athletic and can stretch the field. They've got a big catch radius — guys like this, when you get guys like this, it's exciting."
Big is right. Kroft says he can get to 255 pounds from 250 and Uzomah was a no brainer because he runs a 4.6 40-yard dash with 265 pounds. It's the first time the Bengals have drafted two tight ends in the same draft in 30 years,  when there were 12 rounds and they took someone named Keith Lester in the sixth round and Harold Stanfield in the 11th.
 "And when they love to play football ... I can't say this enough," Hayes said. "I said this last night and I'll say it again — guys that come early and stay late, understand the game, work hard at the game and not just worry about the end result, but being about the process, (you love).
"He's going to make us a lot better on the offensive side of the ball," Hayes said of Kroft. " He has a big catch radius, he's an elusive runner, he's an effective and willing blocker. He'll get stronger; he's got a frame that will allow him to put more on, and that's what excites you about the kid. As Coach (Lewis) said earlier, he has a great look in his eye. I worked him out, and he is a very serious young man that loves football. He has a very high football IQ, a very good feel of the game, a very good understanding."
For years, Pittsburgh, with the help of the 6-5, 255-pound Heath Miller would give the Bengals fits in both the run and pass game with his size. Finally, Lewis sees some similarities.
"I've seen a lot of Heath Miller over my years, and before that, Mark Bruener," Lewis said. "Our guys are a good combination of these tight ends that have been so productive in this division for so long…They're physical guys that are able to receive the ball and make a difference in your passing offense, because they can win against leverage."
 And they allow Hewitt to continue as the lead blocker for running backs Jeremy Hill and Giovani Bernard at fullback. Now, they don't have to move him to tight end.
 "Very important. Jeremy Hill made yardage with Ryan Hewitt in front of him, not on the line of scrimmage," Lewis said. "Our rushing yardage from Jeremy came from our two-back offense. It may be with three wide (receivers), but his yardage came with Ryan Hewitt in front of him."
 Leave it to Jackson to sum it up. Nearly three months ago at the NFL scouting combine, he sat down with the local media and talked about getting meaner, bigger, and faster. On Friday night, he had a smile when the Fisher pick came down.
"I think it's huge. The most important thing is, we put who we thought were the best players on our football team when we had the opportunity to draft," Jackson said. "And they ended up being two offensive linemen. So we think these guys are going to help us. Obviously we love to run the football. We love the throw the ball. And we just added two very big bodies that are very athletic to what we have. So we have a chance to be good up front; we really do. And that's how we feel."