Five years ago when Rex Burkhead was becoming a cult figure at the University of Nebraska, he slipped on a Team Jack Pray wrist band and turned a wish into an industry.
So you can imagine the excitement surging through Andy Hoffman as Burkhead prepares to put his best foot forward Sunday at Paul Brown Stadium (1 p.m.-Cincinnati's Channel 19) against the Eagles. On a day NFL players are allowed to wear their causes on their sleeve as well as their cleats, Burkhead runs with the Team Jack logo on one foot and a gray ribbon on the other.
"Those cleats are going to be so impactful for so many reasons," Andy Hoffman is saying. "The gray ribbon is a big deal. Everybody knows what a pink ribbon is and they should know it is for breast cancer awareness. But not everybody knows what a gray ribbon is for.  And that gray ribbon is for brain cancer awareness. Anybody who is fighting brain cancer on Sunday should be excited to see that gray ribbon on Rex's cleats."
It had been arranged by Keith Zimmer, the Nebraska football team's life skills director. Jack Hoffman, Andy's five-year-old son who loves the Huskers, had just been diagnosed with a brain tumor, had been granted his wish and had lunch and a stadium tour with Burkhead, the versatile and passionate Nebraska running back in his junior season. After meeting the shy, serious boy that reminded him a little bit of himself, how could Burkhead not put on the wrist band?
"The wrist bands were more to rally our family," Andy Hoffman says. "It reminded us to pray for Jack. Where we really got our start is when we met Rex. Rex took that wrist band and threw it on and by wearing that wrist band; he drew attention to Jack's fight against the disease. It gave attention to the disease. From there it just snowballed. When we met Rex Burkhead, there was no cancer foundation … There have been growing pains, but it's had a lot of blessings along the way. Foremost of which has been the relationship with Rex Burkhead."
Snowballed? Try an avalanche. Less than two years after they lunched, Jack and Rex were in the Oval Office being recognized by President Obama for throwing the light on pediatric brain cancer.
Avalanche? Try a blizzard. The Team Jack Foundation now has two full-time employees. It not only has a board of trustees, of which Burkhead is a member, it also has a science board. There are events like a 5-K run, a football camp, and a Team Jack Gala every February raising money for research.
They still sell the wrist bands and T-Shirts, but that's more out of tradition. Now there are donations. When Burkhead sent Andy Hoffman a birthday text last week that included pictures of the cleats, Andy thought that would make a pretty good auction item for the Gala.
"There's still work that needs to be done," Burkhead says. "It's still cool that I'm able to relay that message to people and we're going to keep fighting. The foundation has done a great job and has raised over $3 million since its founding, so it's just an unbelievable cause to be a part of. And it's cool to see it spread across the country."
Burkhead also knows the cleats can make a mark bigger than a cut on a wheel route.
"It's huge. This platform, it's a small window," Burkhead says. "Just to make the most of it is what I try to do. For an opportunity like this to get the awareness out there for pediatric brain cancer, because it's not a very heavily funded disease, so it needs awareness to be out there to help people donate to the cause."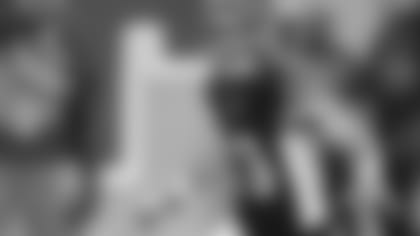 Rex Burkhead played a career-high 39 snaps last Sunday in Baltimore.
Cool? Andy Hoffman is speaking from Las Vegas, where he is at the NASCAR awards ceremony. That's where he received the Betty Jane France Humanitarian Award that recognizes people who have made a difference in helping others, along with a $100,000 donation to Team Jack.
"I'm looking at Jack right now," Andy Hoffman says. "He's wearing a Bengals stocking cap. That should tell you everything you need to know."
Jack just turned 11 and for the past 14 months, after two surgeries, two bouts of chemotherapy, and a national trial clinic, the tumor has been stable. He loves basketball, baseball and flag football. Medicine tames his epilepsy long enough to let him play.
"In the business of brain cancer," Andy Hoffman says, "you learn to embrace stable. We wish it was gone. But we're blessed it is stable."
Jack visits Children's Hospital in Boston every three months for an MRI. Fenway Park is a frequent stop on their walks and they love the Ted Williams statue outside the building that opened the week the Titanic sunk and has become a symbol of fan perseverance. Williams, the last man to hit .400, is putting his ball cap on a cancer-stricken child that Andy Hoffman believes is about Jack's age when he was diagnosed.
The Team Jack logo conjures up similar feelings in Andy. It's a silhouette of a photo taken of Burkhead and Jack on the sidelines during a Nebraska game three weeks after one of Jack's surgeries.
"The logo is a very special thing for me," Andy Hoffman says. "I remember walking out of that first meeting with Rex saying that he just wasn't a role model for Jack, he's a role model for adults."
Burkhead is a friend, not just a name the phone, the kind of guy that not only calls up Jack but texts his sisters. He'll show up at The Jack Gala a few days before with his wife Danielle and their sleeves rolled up.
"You wouldn't believe the contacts he's got, the auction items he's been able to get and how hard he works at it," Andy Hoffman says. "At the last Gala he knew a guy that provided the steaks for us … Rex Burkhead is all in."
Which is exactly the way he plays, too. With running back Giovani Bernard on injured reserve, Burkhead is displaying that versatility he showed in Lincoln for the first time in four years as a pro. The Hoffmans leave Las Vegas Saturday night, in time to get back to Nebraska and watch the Bengals play the Eagles.
And they'll watch. They always watch.
"We've known for years what Rex can do," Andy Hoffman says. "We're just glad the rest of the country can see it now."
He's already putting his best foot forward.