Only the great Reggie Williams has done for the Bengals what Karlos Dansby has done in his career.
Bengals secondary coach Kevin Coyle, who coached Karlos Dansby in Miami, ticks off a scout's short-hand checklist of the many and varied things we can expect from defensive coordinator Paul Guenther's shiny new chess piece.
"Versatile. Very versatile. He can play anywhere," Coyle said Wednesday. "All three spots. He can play nickel. He can play dime. He's very quick to key and diagnose plays."
It's a good thing the 6-3, 250-pound Dansby, the Vicar of Versatility, can play anywhere because the Bengals have a lot of guys that can play a lot of backer spots. P.J. Dawson, last year's third-rounder, is being groomed to play both SAM and WILL it looks like he's going to get mentored by one of the most productive and versatile linebackers of his era.
Since the Bengals lost Emmanuel Lamur to free agency, Dansby, along with 11-year veteran A.J. Hawk,  figures to be a SAM, next to middle linebacker Rey Maualuga and opposite Vontaze Burfict at WILL. The last time Dansby played SAM, a spot which is what the Bengals call one of their outside linebackers, it was nine years ago in Arizona's "under," 4-3 defense up on the line of scrimmage.
(In fact, one of his 19 career interceptions came in that 2007 season at Paul Brown Stadium when he stepped in front of Bengals wide receiver T.J. Houshmandzadeh.)
 Although the Bengals play an "over," 4-3 defense and Dansby is stacked five yards off the line of scrimmage as the SAM, well, it shouldn't matter it is different than what he did in Arizona because The Vicar has done everything and anything.
"My versatility will allow me to do the things that I've done in the past," Dansby said on Wednesday's conference call with the Cincinnati media.  "People don't really know the history and the things I've been able to do in my career. I could run up and bump and how do you think I did that? Because I played 'Sam' linebacker. But as I transitioned into the league, I played 'Sam.' I played 'Sam' for the first four or five years, and then I transitioned to a 'Will' linebacker."
The WILL is the other outside spot. Then Dansby went to Miami and when Coyle left Cincinnati to become the Dolphins defensive coordinator in 2012, he moved Dansby to the middle for the one year they were together. So even though he's not playing the middle here (where Maualuga and Rey roam), he's playing a pretty similar position. As Bengals head coach Marvin Lewis is fond of saying, "Linebackers are linebackers," so he'll throw all this talk out the window, anyway.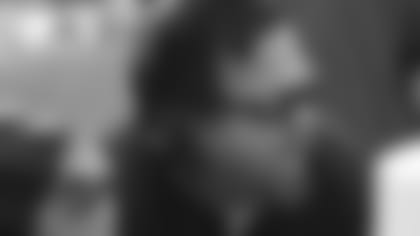 Defensive coordinator Paul Guenther struck up a relationship with Dansby three years ago in free agency.
Dansby is known as an every down player (he was at virtually 99 percent last year), but how that works out now with Burfict, Maualuga, Hawk and Dawson is up to Guenther. And Guenther is a guy that has impressed Dansby ever since he was in here for a free-agent visit in the 2013 offseason and Guenther was the linebackers coach.
"We had a great relationship. We watched film together. We did everything right there on that visit. We grew on each other," Dansby said. "It was an instant connection right then and there. We just couldn't make it happen with the terms. But like I said, good things come to those who wait. Right now I'm primed and ready. The Bengals are primed and ready. I think this is the perfect situation. It's the perfect time. And timing is everything. We're going to see how this thing pans out. From my vision, I can't see it doing nothing but being great. I'm going to put forth the effort and see how this ball bounces."
What we do know is when Burfict misses the first three games because of an NFL suspension, Dansby figures to figure importantly into the nickel package as one of the two cover backers.
And when Burfict comes back Dansby may stay on the field with Burfict in nickel. Dansby was rated the NFL's third best cover inside backer last season by profootballfocus.com.
"He's got a knack for making big plays," Coyle said. "He has long arms. He gets his hands on balls in coverage. He tips them. He has range to run down plays sideline to sideline. His versatility will help us in a number of spots because of his ability to plug in where we need him. His play-making ability is something any defense can use."
Dansby is also a proud man who has racked up what Coyle calls "off-the-chart," milestones. He is the only active NFL player with at least 40 career sacks and 15 interceptions. With one more pick he'll become only the fifth player in NFL history with 40 sacks and 20 interceptions.
"And you might not see that again very often because the game has changed so much," Coyle said.
This stuff doesn't grow on trees. The Bengals have only one player in their history with at least 40 sacks and 15 interceptions and they belong to 3-4 outside linebacker Reggie Williams, who retired 27 years ago with 62.5 sacks and 16 interceptions. Not only that, Dansby is tied for the most pick-sixes ever by linebacker with six.
 "I've been able to watch film and learn steps and now I'm embarking in an arena that only four guys have been able to do in 50 years of football," Dansby said. "I'm one interception away from doing that. Like I say, I have my goals set, I'm a visionary, and I don't have no fear, man. I want that challenge of checking the tight end."
P.J. Dawson can benefit from Dansby's 180 NFL games.
He won't have to do much of that here, but he will be asked to counsel a kid like Dawson and commiserate with a Pro Bowler like Burfict and a linchpin like Vincent Rey. His sterling reputation as a leader precedes him in the locker room. It's the one spot where he knows he'll get 100 percent play time.   
"As a leader you have to find out what's needed in a situation. It has to be natural. It can't be something that's forced," Dansby said. "Some people talk. Some people lead by example. Some people just do it by their play on the field.  There are so many different levels to being a leader.
"And once you figure that out and you're going to a situation where you have a team full of leaders, you have to find your role. You have to able to follow. You have to be humble enough to follow. You have to be strong enough to lead where needed. I'm going to find out what's needed and I'm going to be where I'm needed."
Dansby, who tweeted his wish to play in Cincinnati after the Browns cut him last month, is drawn to the Bengals' talent. He thinks it can be a fountain of youth for him.
"These guys are playing some great defense. I haven't been around this much talent in a long time. You look at this roster, there's a lot of talent on this team," Dansby said. "I've got to go in and play ball. These young guys are going to push me. That's one thing that motivated me this whole team, the young guys that are on every team that I go to, the young guys push me.
"Because they see me and they'll be like man, if he can do it I know I can do it. Their drive is going to push my drive and make me even better. With the talent that we have in the building, that's going to make me better. I think that's a scary thing if you look at what I've been able to do over the years. If I'm sitting here telling you I know I'm going to get better because of the competition that I'm going to have in the building, I'm for it."
Another chess piece for Guenther's No. 2 scoring defense in the NFL.
"He's a talented guy," Coyle said. "It's going to be great to see how the pieces fit together with the other talented guys."