---
---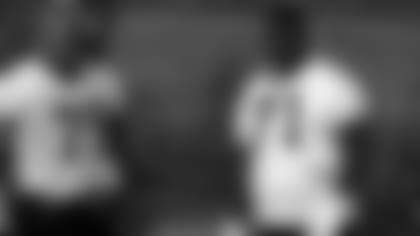 The Bengals are turning to veterans like Willie Anderson to lead in the locker room. (Bengals photo)
GEORGETOWN, Ky. - You wanted Bengals head coach Marvin Lewis to deal with the character issue? He has. With the people that matter most.
Lewis reminded his players at their first training camp meeting Saturday morning of the good deeds they have done and warned them not to be next in a spate of off-field issues.
"What gets lost in that whole shuffle, and is something that Coach Lewis was talking about today, are all the good things that have been going on," said Bengals quarterback Carson Palmer, who could have counted himself. "Rudi Johnson's charity, Chad and T.J. doing stuff, there's been a lot of guys doing positive things in the community, and that's what we need to focus on.
"In the past, before these last couple of episodes that have happened, we've been a positive team, there's been a lot of positive things going on around our team. And the whole team has been affected, the guys that have charities, the guys that do things in the community. Everybody gets affected because we're a part of this team. And I think that the guys realize that, and hopefully we're done with that and we can move on and concentrate on football."
The veterans did the talking Saturday when it came to one of the wildest offseasons in Bengals history: Four players arrested and middle linebacker Odell Thurman, suspended four games for violation of the NFL's substance abuse policy.
The veterans pointed out that two of the players - Frostee Rucker and A.J. Nicholson - weren't even here last year and only arrived this spring in the draft. The other two, defensive tackle Matthias Askew and wide receiver Chris Henry, are in just their third and second seasons, respectively, and Thurman is a second-year player.
"Guys like Chris and Odell, they've had their name get run through the media," Palmer said. "I don't think it's a distraction. We have a lot of guys on this team that are leaders, that are veterans, and have been here for a long time. I think these guys have learned their lessons."
Brian Simmons, the ninth-year linebacker, has seen plenty in the Bengals locker room that qualify as distractions. But not this.
"It has nothing to do with football. It's more of a personal issue," Simmons said. "With those guys, absolutely it will affect them, but will it affect us? I would be surprised if it does."
If not everyone has learned, Lewis pounded it home. Now every Bengal has to wonder if they're going to be next and take the necessary precautions. "That's the scary thing," said Pro Bowl right tackle Willie Anderson, one of those leaders. "What if you're just minding your business and you get drawn into something?
"I think getting back into football is going to help. You get back around the guys, teammates look out for you. That's kind of what we have to get going. If you're out, watch your teammates. Watch his back. Don't get into anything confrontational."
The vets offer to take aside some kids ("As a teammate and friend," Simmons said), but like Chad Johnson said, "We're grown. You can't hold someone's hand 24-7."
Anderson: "We have to have a hand on it. It's the players that have to do that. The coaches aren't in the locker room."
Henry, 23, who has been arrested four times since Dec. 15, chose a low profile as he checked in. Gone are his dreadlocks and his knee injury that iced him all spring.
"Everybody is supporting me. It's going to be good playing ball with my teammates again," Henry said. "I'm putting everything behind me and just go play ball. I regret a lot of it, but I'm not really trying to get into it."
Nicholson, 23, said Saturday night he gets the sense his felony charges for breaking into a Florida State teammate's home back in May are going to be dropped.
"A lesson learned," Nicholson said. "I've got it in perspective. A lesson learned and you move on."
While there is generally support, there is, as indicated by Palmer, some disbelief and anger, too, because everyone gets dragged down. "I'm a little upset with those guys," said wide receiver T.J. Houshmandzadeh. "I don't think a lot of it is big problems, but it's problems. We've got good things going and then they bring negative attention to the team. I don't think it will affect us because they're all young, but I hope they can get it together because if things don't go the way we hope they're going to go, that's what y'all are going to say is a reason why."
Simmons said the same thing Houshmandzadeh did: No matter what, the NFL isn't going to miss a play if you're not here.
"To get the opportunity, it's a kick in the face to the fans," Anderson said. "It's a kick in the face to the old-timers who had to work in the offseason."
But there was also some empathy and understanding.
If there is anyone who understands that an accusation can be just that, it's Bengals left tackle Levi Jones.
At Houston in 2004 during the Super Bowl, Jones found himself in the wrong place at the wrong time and was arrested in an incident when police were breaking up a crowd. Jones insisted his innocence from the start and the charges were dropped.
Jones thinks that sounds familiar in the case of Askew, arrested last week during an incident over his parked car that ended in his arrest in which he was allegedly Tased three times by Cincinnati police.
"Only Matthias and the police know what happened," Jones said. "This stuff isn't going to affect us. It has nothing to do with what we're working on down here. For me, I can't wait to get back on the field."
But the Bengals know the critics have plenty of evidence if they start to lose games.
"If we don't win," Jones said, "the offseason is going to be the excuse."
"If we have a great year like we plan on, then this will be put to rest," Simmons said. "If we don't, if we lose a game here or there or, God forbid, lose three in a row, this will be the reason."