Bengals president Mike Brown
BOCA RATON, Fla. - Bengals president Mike Brown and two other owners that had teams involved in chippy games late last season were part of the majority that on Wednesday approved a one-year experiment that would automatically eject a player who gets two types of unsportsmanlike conduct penalties in the same game.
In a meeting that centered on sportsmanship and safety, Brown also voted for the abolition of the chop block resolution that passed and for a one-year change in the touchback rule that puts the ball at the 25 instead of the 20.
On the final day of the meeting Brown also said:
-He thinks there'll be an NFL team in London sooner rather than later.
-He agrees with Bengals head coach Marvin Lewis that a trade for Bengals backup quarterback Andy Dalton is unlikely, but he's wary of never saying never.
-He realizes the team took a hit with the departures of wide receivers Marvin Jones and Mohamed Sanu in free agency, but he's also buoyed enough by several re-signings that he said, "I think we created  some  holes, but I think we filled most of them. A lot of teams, in my opinion,  would take where we are to where they are."
-He was effusive in his praise of Lewis' work in this run of five straight post-season berths: "I commend Marvin's achievements. He's done remarkably well with our football team here in recent years especially. I respect him. I like him personally."
Lewis' Bengals and head coach Mike Tomlin's Steelers took a lot of heat for the amount of brawling and taunting that took place in their final two games of the season, particularly the Wild Card Game that the Steelers won with the help of an unsportsmanlike conduct call and unnecessary roughness.
Bengals linebacker Vontaze Burfict, called for unnecessary roughness on that last play when he hit Steelers wide receiver Antonio Brown in the head as a defenseless receiver, was suspended for the first three games of the season because of repeated safety violations. 
Giants owner John Mara, a member of the NFL competition committee who saw his own Pro Bowl wide receiver get embroiled in the extra stuff, says lack sportsmanship is a league-wide problem.
"The Pittsburgh-Cincinnati game is just one example. It happens to our team, too," Mara said after the meetings ended. "We want players and coaches to get the message that it's unacceptable and there has to be more of an emphasis on sportsmanship. Every year we put it in our reports for points of emphasis, but it goes in one ear and out the other. We hope this new rule has an effect."
"It's been a topic that has bubbled along for many years. There's been a concern among the ownership that there was more, you can call it 'unsportsmanlike' behavior, unseemly behavior, offensive behavior, behavior that went beyond what we want to see in our games," Brown said. " And that we have tried talking to individual players, we've tried talking to teams, coaches. We've tried addressing this in different ways over time and we never quite got to the point where we want to get. So, this is an attempt to see if we can cut some of this behavior out of the game."
Art Rooney II, president of the Steelers, agreed with Brown. He's not overly concerned with the temperature of the rivalry. He likes the intensity, but he also sees what's going on around the league.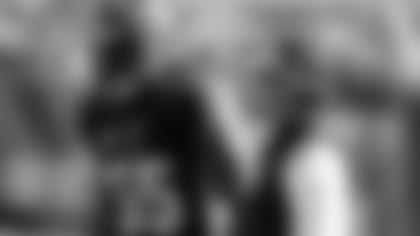 Mike Brown loves Vontaze Burfict's intensity, but he thinks Burfict understands he has to dial it back a bit.
"There are plays in our game we'd rather not have. We're working to have them eliminated," Rooney said. " We narrowed it down and only applied to a handful of misconducts. Hopefully we won't have to use it often."
Rooney said Bengals-Steelers is about where he wants it when it comes to intensity.
"It's great the rivalry has become so intense. We're  excited about it," Rooney said. "We're not interested in having skirmishes on the field and those kinds of things. But I think the fact it's become such an intense rivalry is a great thing. There are going to be some interesting games coming up this year."
It's amazing how closely Brown sees it with his long-time rival.
"As for the rivalry going forward it's going to be a rivalry. You don't want misbehavior, but you do want intensity, and it has that. It's a good thing to have," Brown said. "I think it's a great rivalry. I thought the final game against the Steelers was a great football game. And you had all this stuff that happened at the end, none of that would have occurred if we didn't have a fumble with less than a minute to go or whatever it was. Those incidents, the Pittsburgh people see them one way and a lot of Cincinnati people, probably including me, see it another."
Coaches also fall into the ejection rule and Mara said they have to be held to a higher standard.
Two Steelers assistant coaches were fined for having contact with Bengals players in the Wild Card Game, but Steelers offensive line coach Mike Munchak said last week his $10,000 fine for pulling safety Reggie Nelson's hair was rescinded. Assistant coach Joey Porter was fined $10,000 but not flagged for being illegally on the field after the penalty on Burfict, which spawned the killing unsportsmanlike conduct penalty on Bengals cornerback Adam Jones.
 "Some people made the comment that this is the officials' job to handle. I disagree," Mara said. "To a certain extent it is. But I expect a coach to have control of his team and handle situations like that and make sure stuff like that doesn't happen. I'm holding the coach accountable when we see that too often. To me it's unacceptable."
Two of these can now get you kicked out: throwing a punch, or a forearm, or kicking at an opponent, even though no contact is made, using abusive, threatening, or insulting language or gestures to opponents, teammates, officials, or representatives of the League, or baiting or taunting acts or words that engender ill will between teams.
When it came to safety, Brown opted to vote against the chop block, eliminating an offensive lineman being able to block a defender high while another one hits him low.
"I don't think that, from a game point of view, it's going to make the game less interesting, and it is I guess a little safer," Brown said. "Although I don't know how quite to measure that, or how many injuries resulted from it. But, it addresses an issue and it doesn't make the game less."
It was the same thinking on tacking five yards on to a touchback, which probably is going to cut down on kick returns. But they weren't all easy votes, reflected in the soul-searching before Brown opted to vote for the one-year try from the 25-yard line.
"My own personal opinion is you have a natural tension, a conflict between making the game as interesting and as good as you can and providing the maximum amount of safety for players. Those conflict on occasions. This is a time where they do conflict," Brown said. "I understand the arguments for protecting player health. The kickoff is a play that occasions more concussions than others. They're trying to get that addressed in every way possible. On the other hand, you're taking an exciting play out of the game. We're diminishing the number of those plays . . . I tend to be in favor of keeping the game as exciting as possible, but I also understand the trend."
 Brown also understands why NFL commissioner Roger Goodell called Burfict into his office in late January after handing out his suspension, although he wouldn't comment on what he thought of the severity of the suspension.
"I don't want to get into a dispute over it. I didn't at the beginning and I won't now," Brown said. "I think he's a really outstanding player. He plays with intensity. I would suggest that some of the teams that complain about him from time to time would pick him up the minute we put him on waivers. I see some of what has been administered to him and us as severe. But on the other hand, he has stepped over the line on occasions and he can't and he knows that. He's going to have to adhere to a tighter standard."
Brown is looking forward to the club's Oct. 30 game in London against Washington and thinks it's eventually going to be a regular NFL stop.
"We've gone there year after year after year and they sell out those games bang, like that. The TV audiences are growing almost annually," Brown said of a London team. "I think it is going to happen. I don't know when and I don't really know how. But do I think there will be an NFL team in London some day?  I think there will be and my hunch is that it will be sooner than most people think."
Earlier in the week Lewis said McCarron wasn't for sale in a trade. Brown pretty much agrees.
 "I agree with him mostly. Every football player is for sale if the right offer comes along," Brown said. "That's the nature of the business. Do I see something happening right now? I don't. Never is a word you want to be careful about."
Brown remains Lewis' biggest fan and is extremely impressed with how the Bengals played without quarterback Andy Dalton down the stretch. Lewis' contract is up after this season and asked about an extension Brown said it's part of the process.
"It's a process and we seem to go through our dance," Brown said. "He's going to be our coach this year.  That's in the bank. We'll see how it plays out."