While Vikings head coach Mike Zimmer feted both staffs at his New Kentucky Home Thursday afternoon with the Cincinnati delicacy Montgomery Inn ribs, their players cooled down from the last practice before Friday night's pre-season buffet (7:30- Cincinnati's Channel 12) at Paul Brown Stadium.
Zimmer and Bengals head coach Marvin Lewis oversaw a brisk one-hour set in shoulder pads Thursday morning on the PBS practice fields and then outlined their Friday plans to the media. Maybe the biggest bomb dropped was by former Bengals tackle Andre Smith, who revealed that Zimmer is "more relaxed," in Minnesota than Cincinnati.
"He still gets after you, but he's more relaxed," Smith said of The Volatile One.  
Lewis was not in relaxed mode Thursday. He only made one definitive lineup move, scratching WILL linebacker Vontaze Burfict from Thursday's practice and from the opener, making him the only defensive starter not expected to play Friday. Which is how they hope to line up in New Jersey for the Sept. 11 regular-season opener against the Jets, when Burfict begins serving a three-game suspension.
 But it's believed left tackle Andrew Whitworth (shoulder), out all this week, also won't play Friday, as well as slot cornerback Darqueze Dennard (ankle) and rookie defensive tackle Andrew Billings (knee). Lewis confirmed Billings' knee injury, but offered no timeline or MRI results. It's believed he'll travel to get a second opinion before they make the next move.
Also, scratch Pro Bowl cornerback Adam Jones from any punt and kick returns. But it could be anybody else out there returning for the Bengals, ranging from wide receiver Brandon Tate, the franchise's all-time punt return leader, to sophomore Mario Alford, to rookie receivers Tyler Boyd and Alex Erickson. Take away Tate and that's 0.0 NFL regular season NFL returns.
Lewis sounded as if he'll go by feel when it comes to playing time. Quarterback Andy Dalton's first team offense traditionally gets one series in the opener.
Last season after scrimmaging the Giants, the Bengals routed them, 23-10, in the pre-season opener and Dalton took a seat after he hit all three of his passes for 31 yards in the opening six-play 52-yard touchdown drive that never reached third down. And the defense sat down after two three-and-outs in what was arguably the fastest and crispest a Marvin Lewis team ever opened the preseason.
But things haven't gone as smoothly this week. Zimmer, the Bengals former defensive coordinator, had to take delight in the frustration flashed by Bengals perennial Pro Bowl wide receiver A.J. Green Thursday. In a red-zone drill the only touchdown went to a wide open Boyd down the seam from Dalton.
Dalton couldn't connect on three high throws over the middle to 6-5 tight end C.J. Uzomah and tight end Ryan Hewitt dropped another one. Tate was well covered in the back of the end zone on one incompletion and when Dalton had Green working open against second-round pick Trae Waynes on a fade route, Green couldn't track down a wide throw in the end zone and uncharacteristically yelled to no one in particular.
"We can't just miss the ball like that," said Green, also uncharacteristically quiet the last two practices.  "It's a combination of a lot of things. When we get down there we have to score. I want to be the guy that scores all the time.
"We didn't prepare for anybody," Green said. "We just came out and practiced, not changing anything. It's their scheme vs. our scheme and they got us. In a game, we prepare for everything."
The frustration continued into the final team drill, a hurry-up segment. Boyd made some nice catches that included some separation from Clemson rookie corner Mackensie Alexander, selected with the pick before Boyd at No. 54. But the last two plays in the red zone got blown up by coverage sacks.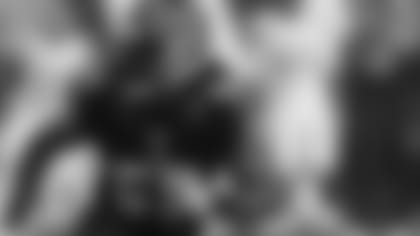 Marvin Lewis vowed not to play Vontaze Burfict much this preseason and he's iced him for the opener.
The Vikings were without starting cornerback Terence Newman and middle linebacker Eric Kendricks, along with two other backers. Uzomah, who has caught everything in this camp moving into a No. 1 role vacated by injuries to Tyler Eifert and Tyler Kroft, couldn't put away one of Dalton's three high throws.
He got one hand on all of them, but blamed himself on all three for not making the necessary adjustments against the looks of a new defense.
"It was just bad timing all on my part. Andy was throwing dimes out there like he always does," Uzomah said. "We made the adjustment. We talked about it. We've got it figured out. It won't happen again."
This is what Lewis was talking about Wednesday when he said in the joint practices his players "have to react differently to things much like you have to do in a real game, where everything isn't do scripted and you have to react. These are really good opportunities for our skill players to move forward and play against different personnel."
A guy like Uzomah, a fifth-round pick in 2015, came into this camp with just 50 snaps from scrimmage as a rookie, so he's not exactly used to seeing different schemes and teams on this level.
"I know what to do on certain routes against certain coverages, but we haven't seen some of these routes against these coverages and I need to adjust ever so slightly," Uzomah said. "I have to run it differently based on different looks if they play one high (safety), two high, press. I'm going to have to run a route a different way.  Be in the right spot."
Uzomah is going to be one of the few starters that plays with backup quarterback Andy Dalton Friday. The young tackles, Jake Fisher playing for Whitworth and right tackle Cedric Ogbuehi making his debut as the starter, also figure to get some extra snaps.
Ironically, the man Ogbuehi is replacing who started the five previous Opening Days, the aforementioned Andre Smith, lines up to start for the Vikings. Once the Bengals took Ogbuehi in the first round and Fisher in the second round in 2015, the Bengals didn't make a big move to re-sign the 29-year-old Smith. But after Thursday's practice he only heaped praise on Lewis with "no hard feelings."
"Coach Marvin did a great job raising me, helping me become the man I am today as far as being accountable on the field and off the field and making good decisions," Smith said. "I have nothing but love and respect for him. I just want to see him do well."
Smith would also like to see Bengals left end Carlos Dunlap do well, but not Friday. They had a re-union of their pass-rush skirmishes of the last six years and Dunlap had something new for him.
"He surprised me a couple of times when he pulled himself back underneath,' Smith said. "That was really good. I hadn't seen that from him. That's pretty good."
Cincinnati Bengals host joint practice with Minnesota Vikings at Paul Brown Stadium practice fields 8/11/2016