Tough break for Andy Dalton and his Bengals.
Since a cast encased the hottest right hand in Bengals history, Andy Dalton extended his left hand to AJ McCarron and a "good job," before leaving the Bengals locker room.
McCarron said, "I'll walk out with you,' and just like that the greatest start in club history during the 38-year era of the 16-game season is in the hands of a second-year quarterback making his first NFL start in San Francisco next Sunday (4:25 p.m.) with a victory putting the 10-3 Bengals into their fifth straight postseason.
On Sunday, the Bengals could have won the AFC North with a victory, but the only thing clinched was Dalton's throwing thumb, fractured when he made a tackle on defensive lineman Stephon Tuitt at the Steelers 7 after Tuitt made an alert interception on Dalton's quirky shovel-pitch pass to running back Giovani Bernard ten minutes into the game.
"He just made a great play. For a guy that big to go down that low is a great play on his part," said Dalton, holding out hope his Monday visit to a hand specialist will yield news that gets him back before the season runs out. "You don't go into any play thinking you're going to get hurt. That's the last thing you have to think. It's unfortunate that it happened."
No question the Bengals rocked back on their heels in the postgame as they absorbed the big body shot. "It's a huge blow,' said left tackle Andrew Whitworth. "It stinks." Or as wide receiver A.J. Green said, "To win a Super Bowl, you have to have luck on your side and it's tough to see your starting quarterback just go down."
Vegas, no doubt, has sent the Bengals' Super Bowl chances plummeting. But the Bengals also sounded like they still wanted to keep playing Sunday. They're still very much in first place by two games with three to play and have two games left against teams (the 49ers and Ravens) that scored a combined 16 points Sunday. And in two weeks they visit a Denver team caught in transition and tied with them at 10-3.
Rather than dazed by Dalton's injury, they sounded competitive Sunday. They're furious at themselves for allowing to be baited by late hits, tweet threats, and trash talk from the upper reaches of the opposing sideline. They're frustrated by their MVP candidate taken away from them in the midst of their best year.
And they're emboldened by the brassy play of McCarron that kept them in it until his second interception with 5:14 left in a 26-13 game where Green played his heart out, linebacker Vontaze Burfict played with his heart on his sleeve with a persistent game-high 11 tackles despite coming off the field several times to get checked by the medics, and the sold-out crowd of 65,564 offered a heart-felt thanks when safety Reggie Nelson made an acrobatic interception on quarterback Ben Roethlisberger's deep ball at the Bengals 4 with 7:28 left for one last shot down 13. 
"It's a huge frustration, but we have to channel that for positive,' Whitworth said. "Let that frustration be what we take out on other people when we play. That's the one thing I will say how the game went after (Dalton's injury). The passion, the energy, and the step-up we had, you can definitely see it was special. I think we'll go to San Francisco with a pretty big chip on our shoulder."
Green, a brilliant and gutty 132 yards that included McCarron's first NFL touchdown pass on Green's patented 66-yard Go Ball, could only shake his head.
"It's tough. It's the first time I've seen Andy hurt since our first game in Cleveland," said Green of the bruised wrist that knocked him out of the second half of his NFL debut in 2011. "It was kind of surprising. But it's the NFL. It's a crazy game it could be your last game as just as quick as that."
Indeed it was a crazy-quilted game that began 40 minutes before kickoff with a mid-field confrontation spurred by Burfict, which was spurred by Steelers linebackers Vince Williams' now deleted tweet that threatened Burfict physical harm in the offseason and ignited an ugly, chippy game. Even the implacable Green got taken for a late hit and thrown out of bounds and he responded merely by scoring a TD and punting the ball into the stands.
"Adrenaline. It just happens," Green said.
And he offered a classy reminder to his teammates and Steelers.
"I don't get into all that stuff on the field. I feel it's probably best to let my game speak for itself," Green said. "At a point, you can't fight on the field, so why do you get into it? Just go play. Let your game speak for itself. Just don't get into all that stuff."
So here is McCarron walking into the biggest passion play since, well, Alabama-Auburn. And not only that, he didn't have tight end Tyler Eifert, the NFL's leading scorer, knocked into concussion protocol by head-hunting safety Mike Mitchell. Without a rep of work against the Steelers schemes and four regular-season passes to his name, the 25-year-old McCarron hung in with two TDs, two picks and 280 yards.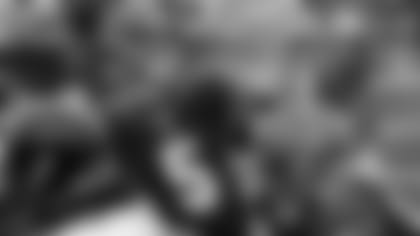 A.J. McCarron threw for 280 yards in his first extended NFL action Sunday against Pittsburgh. 
"I remember when I got here in '06; Sports Illustrated called this the nastiest rivalry in the game. I believe it," said nose tackle Domata Peko. "We got our starting quarterback hurt. Eifert went down. They had a couple of guys go down. That's the type of game it is. Very physical. It's a Bengals-Steelers game."
As he lingered in the locker room after his news conference, McCarron recalled the last time he came off the bench cold. He was at Alabama in the 2010 Iron Bowl, before he led the Crimson Tide to back-to-back national titles the next two seasons, and Greg McElroy had been knocked out with a shoulder injury with 51 seconds left and No. 1 Alabama down, 28-27, to No. 2 Auburn.
"We had to go something like 82 yards with no timeouts and Julio Jones was hurt . . . (Four) straight incompletions," said McCarron, still shivering at the memories of the sub-40 degree-game. "The warmest part of my body was the back of my calves. The heater singed the hair."
This is why they don't feel lost with McCarron. The kid from Mobile has been in the bright lights, it seems, forever. From his 36-4 record at 'Bama to his Orange Beach wedding to a former Miss Alabama.
"He's poised. He's played in a lot of big games at Alabama. No moment is too big for him," Green said. "We have great weapons around AJ. If we can rally around him, we'll be fine. He's a smart kid. If we have to stay after practice, we will . . . I think with a week (of practice) under him, we'll be fine."
Whitworth, his SEC uncle from LSU, agreed.
"He's played at the University of Alabama and won as many games he's won, I don't think there's a moment ever too big for him," Whitworth said.
Peko noticed the 66-yard dime to Green.
"AJ did a great job stepping in. He had a couple of mistakes, but he's a young quarterback. I have a lot of faith in him," Peko said. "He's got a good arm. He was slinging that ball around. For a first-year quarterback that was often."
Wide receiver Marvin Jones had one of his deep balls float out-of-bounds on him, but he liked the way McCarron extended the play on a scramble and looked for him deep.
"We're still a special team," Jones said. "We trust that AJ is going to come in and do what he has to do. We'll be all right. He's a playmaker. He's a natural leader. You can't win national championships not being a leader. We just have to rally behind him."
McCarron is bothered by his two picks and Steelers cornerback William Gay's 23-yard interception return for a TD was the killer, making it 23-7 just 50 seconds into the second half.
McCarron didn't mention that outside linebacker James Harrison shot in on him untouched, causing him to throw an out to the sideline intended for wide receiver Mohamed Sanu while backpedaling. Gay saw it coming a mile away, the throw had nothing on it, and he stepped in front and walked in.
"They just swapped coverage on me. They showed one coverage and I took my eyes down for the snap and came up. It was just a bad read by me," said McCarron, who said he should have handed it off. "Something like that won't happen again. I've got to learn from these mistakes and play better."
No one knows how long McCarron is in charge, but the fracture tells you it's going to be more than a week. Every school kid can tell you that Tom Brady was a second-year quarterback who threw just three passes as a rookie and came off the bench to lead the Patriots to the first of their four Super Bowl titles in 2001. Never mind that Brady started 14 games before heading into the postseason.
"You have to embrace it. I love it. You have to love pressured moments," McCarron said. "That's where the great ones really shine. I guess Tom Brady was in the same situation when he had the opportunity. I've got to make the most of it and do my job each week. I know we have an unbelievable defense and if we don't turn the ball over we have a great chance. Like I said, I promise to God I will work my tail off and be ready to go."
McCarron (middle) celebrates TD for Green (right) with Sanu joining in.
It starts at 8 a.m. Monday, when McCarron and practice squad quarterback Keith Wenning breakfast together at PBS and start looking at tape. Green is talking about staying after practice to get the timing down.
"I told Marv (Jones) and A.J. (Green) and Sanu in the fourth quarter, hey, you all need to rally around AJ. Don't let anybody bash him," said cornerback Dre Kirkpatrick. "Continue to uplift him. Because we're going to need him down the stretch? He got thrown in the fire today. I feel like with a little more repetition and preparation, he'll be all right for this team.
"It's a big blow. Don't get me wrong,' Kirkpatrick said. "The chemistry is going to be a little bit confusing now, but hopefully the offense can get it right. Hopefully the receivers can rally around AJ and hopefully he can step up to the challenge."
McCarron is looking at his wide receivers and running backs. He knows he's blessed.
"You definitely don't worry when you have those guys out there. Hopefully, we can get Tyler Eifert back," McCarron said. "But the guys I have out wide I know I can take some chances because they're going to go up and get the ball. They did an excellent job today and I was real proud. It was a real proud moment for me, although I had some mistakes. Just being out there playing with them and getting some big completions was an emotional moment."
It was downer and it stunk, but Whitworth, the wily veteran, won't give up on his best season.
"Let's face it, it would have been a miracle win," Whitworth said. "I don't know if we could have done much more in that situation. We fought our tails off . . . It's tough, but we have the kind of men who rise up, put your shoes on and let's go."
Suddenly, at least for the immediate future, this is McCarron's play-off run and he's tying his laces. The worst-case scenario card has just been played. The eerie similarity to the 2005 Wild Card Game when Pro Bowl quarterback Carson Palmer tore his ACL on the second snap against the Steelers had the faithful looking to the heavens Sunday.
But McCarron was mere a lad of 15 and could care less about ghosts and goblins and John Wilkes von Oelhoffen. This is his shot.
"Maybe being so young that you don't really realize how big the games are," McCarron said. "You realize what's up for it, but I always felt like when you are young you're going to make some mistakes, especially in that situation. You just go out and play and have fun. That's what I do. Like I said, we made some mistakes today and I'll learn from them. I'll be up here early in the morning learning from them and I will do whatever I have to do to lead this team and get the job done."
Cincinnati Bengals host Pittsburgh Steelers at Paul Brown Stadium in week 14 of the regular season.