In the 45 years since the AFC Central was formed and then spawned the AFC North in 2002, none of their teams have started a season 8-0. The Bengals have their chance Thursday (8:25 p.m.-Cincinnati's Channel 12 and NFL Network) at Paul Brown Stadium in a match with one of their age-old foes from that 1970 AFC Central in the Cleveland Browns.
A win would also tie the club record for most consecutive victories by the Bengals in the regular season, all but one of them registered by those '70 Bengals.
The Bengals.com Media Roundtable thinks they'll make history Thursday and that the 2-6 Browns are history because of an almost unbelievable spate of injuries that has devastated them in a short week.
Phil Simms, the Super Bowl MVP analyzing the game in the TV booth, doesn't make a prediction but says it will be big news if the Browns spoil the unbeaten season.
Mary Kay Cabot, who covered that AFC Central of the late 1980s for The Cleveland Plain-Dealer when both the Bengals and Browns were gunning for the title, thinks the Bengals passing game can take advantage of the Browns' banged-up secondary.
Tony Grossi, who also covered those days for The Plain-Dealer and now covers the Browns for ESPN Cleveland, believes the undermanned club needs its bye week to re-group physically and mentally.
Dan Hoard, the Bengals radio play-by-play man, notes that injured Browns quarterback Josh McCown is having a career year and the elevation of Johnny Manziel to starter shouldn't be much of an adjustment for the Bengals defense since they faced him back on Dec. 14 in Cleveland and racked up a 30-0 victory in his first NFL start.
Let's go around The Table starting, of course, with ladies and visitors.
Johnny Manziel is definitely a different player than when he last played the Bengals.  He will spend some more time in the pocket trying to read the defense and read his keys. He still has a penchant to run out of the pocket. But these guys have worked really, really hard with him. The new staff with quarterbacks coach Kevin O'Connell has held him accountable on the field. Everyone says the same thing. He's been in there working his tail off and studying and doing everything he's supposed to do.
He's still under investigation by the NFL (for a domestic incident), so he goes into the game with a little uncertain future. No one knows if he'll be suspended by the personal conduct policy or not. The other thing about Johnny is that he has suffered elbow tendinitis this year. It's something that they manage. It shouldn't be an issue Thursday because he has hardly played. But you almost have to keep an eye on that as you go through the game. He hasn't played much, so I'm sure the elbow is probably fine, but he's always on the injury report with it.
They are challenged at receiver and they're not great there to begin with. Brian Hartline is out. Andrew Hawkins is out. He doesn't have a whole lot to work with there. Dwayne Bowe should play some. At 6-2 he gives Johnny a bigger target. But he's been out of sync the whole season. He hasn't played hardly at all. I don't expect big things from him, but at least he'll be available to Johnny.
He has a couple of guys he can hit the big play. When he won the Titans game he threw touchdown passes of 50 and 60 yards to wide receiver Travis Benjamin. Tight end Gary Barnidge can get open against anybody and if he's not able to he can jump over a smaller DB.
Nobody has been able cover him this year. He has six touchdown catches. He's got more chemistry with Josh McCown, but he's catching everything that comes his way. I haven't seen anybody be able to cover him. Last week they had him singled up in the end zone on a 5-11 DB and he's 6-6. You have to roll extra coverage to him. They don't have that many weapons. Running back Duke Johnson is very dangerous as a receiver and I would expect him to be used more that way in this game.
The losses of cornerback Joe Haden and Donte Whitner are two huge losses. Joe hasn't been having a very good season at all. He's been injury plagued and you would think by now you could put Justin Gilbert in there and that's just not the case. Justin Gilbert isn't playing on defense at all. Johnson Bademosi is an undrafted free agent from 2012 who stepped in and replaced Haden last week instead of Pierre Desir, a 2014 fourth-rounder. That's a new development and I would guess Bademosi would do it again Thursday. But when you take out Joe Haden and start getting down to free agents and fourth-round picks that's going to be a pretty tough deal and one that Andy Dalton should be able to  take some advantage.
THE EDGE: Bengals, 30-17. The Browns defense cannot stop the run. They give up big plays and without Donte and Joe in there there'll be more of that. If the Browns are able to score 20 points, it will come on a Travis Benjamin punt return. It could come on Johnny making those big plays with Benjamin or Barnidge. They do get those big plays and offensive coordinator John DeFilippo will take those shots down field. If the Browns make some noise in this game it's going to be with Duke Johnson, Travis Benjamin or Gary Barnidge.
The Bengals offense working against a defense without two Pro Bowl defensive backs should get some opportunities for Andy to get A.J. Green and company in some mismatches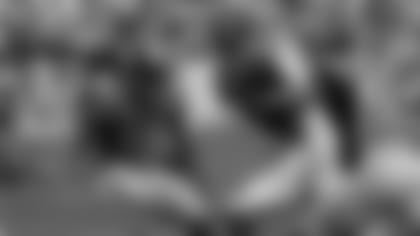 A.J. Green was fired up in Pittsburgh Sunday. How will he treat the Joe Haden-less Browns?
To me they really miss offensive coordinator Kyle Shanahan and the defense has been a complete failure and a big shock it's underperformed so badly.
Both sides of the ball have underperformed and yet they're getting the best play of quarterback Josh McCown's career and they're still able to win only two games.
They haven't been able to stop the run. Eight games and they've allowed five 100-yard rushers and two for 90. And it's not getting any better. The problem is teams hurt them on the perimeter. They have nobody to set the edge. Rookie nose tackle Danny Shelton is doing his job occupying his guys, but the backs are getting outside and their outside linebackers are struggling against the run. Nate Orchard is a rookie who is a pass rusher and Barkevious Mingo has never been able to set the edge. Outside linebacker Paul Kruger led them in sacks last  year with 11 and he's doing a lot of dropping into coverage.
The secondary was supposed to be a strength.  Before he got hurt, Haden had given up at least three touchdowns. Last year Tashaun Gipson was a Pro Bowler, a ball-hawking center-fielder. But he's been in and out of the lineup with injuries. The only guy that has been consistent is cornerback Tramon Williams. It's been a mess in the back end.
Their mantra going into the season was run the ball. In eight games they've passed for more yards than any Browns team in history and it's been because they can't run the ball. McCown has done well throwing the ball but they don't have playmakers like Cincinnati. Barnidge is having a career year and Benjamin has turned out be their No. 1 receiver. They don't have a lot of guys that can run with the ball after the catch.
The offensive line was supposed to be the strength. Their lowest pick is third-rounder John Greco, but they haven't been able to run the ball and I think the reason goes back to when Kyle Shanahan left.  He ran the stretch zone and the wide zone. When they replaced Shanahan with John DeFilippo they said they were going to keep the same scheme, but that lasted three or four games and they've kind of scrapped it. Now they don't have an identity on the offensive line. They were excelling last year and now they're scrambling. They're more of an athletic line that can move laterally. They can't pound the ball at you.
THE EDGE: Bengals, 31-10. The Browns are in such a bad state right now physically and mentally. They just need their bye week and it comes after they play the Steelers next.  They hit a wall and need to re-group.
Bengals running back Jeremy Hill, who went for 148 yards in Clevleland last year, goes against a defense ranked last vs. the run.
With Manziel playing, that changes how you play defense a little bit because you worry about him getting out of the pocket and making big plays and giving his receivers a  second chance to make big plays.
I really think that day (against the Bengals) changed him. What little he's played this year (one start, three relief appearances) you can see he's trying to do the right thing. What happened to Johnny Manziel happened early in training camp. He couldn't run around like he thought he was going to be able to do in the NFL. We're going to see a different quarterback than we saw back then. I would expect more trying to do the play, and if they force you to run, that's when you run. A little more of that. Some of those habits, you can't break them in one year. It takes longer than that.
If Dalton has struggled in the past against Cleveland, there are reasons. They're rivals. That only makes a game tougher. One thing about Cleveland over the years, even when they've had bad teams they've always seemed to have pretty good corners. They've covered people well and when you play a division rival, they're the teams you study the most in the offseason because your No. 1 goal is to win the division. So that kind of makes sense. Some of those games that he's struggled in, this isn't the Sun Belt so you can play in some bad weather up there for sure and even bad weather here.
Is Dalton different? Yes, he's physically more mature. There's no question he's more mature, tougher. I see a difference in his physical play and anytime you're physically better it's got to make you a better player on the field.
Not having Haden and Whitner will hurt them no doubt. Donte Whitner is playing well. Any time you're missing a good player, especially a safety, I won't be surprised if that's a factor in the game.
Joe Haden is one of the best corners in the league, but people have been going after him a little and had some success. I know he's had great success over the years against Green. But I get a different vibe from the Bengals.  A little more confidence. I was really interested in that matchup. I'm sorry it's not going to happen. I heard and was told A.J. was emotionally more involved than we expect last week. That's pretty cool. That says a lot about him and kind of says something about this team. They have a confidence. They have a little swagger, I guess you would say. And it shows on the field.
THE EDGE: No predictions. If Cleveland comes in and beats Cincinnati, that would be a pretty big upset. Manziel's at quarterback. You're missing key defensive players, you're missing two receivers. Those are some key things. If Cleveland finds a way to win, that's going to be big news. But the story would be, 'Oh, the Bengals.' You know the story lines. If they find a way to lose this game, the national press, the media, will come down on them like they haven't won seven games in a row this year.
More than anything else, I think the Bengals just need to play well. I know that sounds elementary. But they're the better team, the healthier team. Unless they have a stinker along the lines of last year's Thursday night debacle I can't see them losing.
They can't turn it over. That's the great equalizer. The three picks last year. The inability to take it away. They just have to play well.
The Bengals are going against an inexperienced quarterback that struggled mightily against them last year and they weren't thrown at all by his dual threat capabilities. They confused them, they hit him, they took advantage of his throws into traffic.
I don't know if people realize it because of the Browns' 2-6 record, but McCown is playing great. I watched that game from last week and they jumped out to the 13-point lead, and he was spectacular. Three touchdown passes, great throws, he had a great scramble. Averaging 308 passing yards the last six games. He's not the reason they're 2-6. He's played really well and that's a big blow. I know they won a game this year where Manziel started, but there's a reason Browns head coach Mike Pettine has not wavered in his support of McCown.
Losing Haden really hurts the Browns. Whitner is having a good year, he's second on their team in tackles, he's a veteran guy and he's had an excellent career. But Joe Haden is the closest thing that exists to Kryptonite for A.J. Green. He's one guy who consistently holds A.J. to below his numbers. The one time A.J. had a big game against him Haden was just coming back from injury and didn't seem to be himself. I have as much respect for Joe Haden as any cornerback in the NFL and losing him in this game is a huge blow for them.
THE EDGE: Bengals, 21-10. The Browns are good enough defensively to hold the Bengals under their average. I don't see Cleveland and Johnny Manziel erupting for a big offensive performance. They'll score this this time. I don't see a shutout, but I think the Bengals play well enough to hold serve and get to 8-0.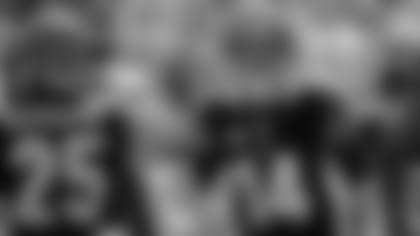 Andy Dalton said it himself. He wants to play better against Cleveland this year than he did last year: it won't take much.
You'd like to think it's going to be a walk in the park. The easiest three and a half hours of prime time since Norman Lear. But it just never is when the Browns come to PBS in the Marvin Lewis Era.
Lewis is 9-3 against the Browns at home and of those nine wins, seven have been by 10 points or less. Yes, the Browns are beat up in key spots, but this is a short week so everyone is banged up. This a true test of Lewis' sermons of focus and one game at a time.
Manziel isn't going to play as badly as he did last year in Cleveland and Dalton isn't going to play as badly as he did last year in Cincinnati. What the Bengals didn't do last year in the 24-3 loss at PBS was take advantage of Cleveland's poor run defense and it's in the same state the Bengals left it on the shores of Lake Erie back in December. The Browns are ranked last against the run.
On that day the Bengals rushed for 244 yards and it is the running game that has sparked the 16-8 dominance over the Browns in Lewis' 12 seasons. He's had five different running backs rush for 100 yards in 12 of the 24 games. If the Browns are that beat up, then the Bengals have to flex their muscles against a defense that has already allowed 100-yard rushing games to  Latavius Murray, Justin Forsett,  Ronnie Hillman, Todd Gurley, and Chris Johnson, as well as 90-yarders to Chris Ivory and Dexter McCluster (on 10 carries).
The Bengals pass defense stepped up and played its best game of the year on Sunday in Pittsburgh. There were no blown assignments and the only thing longer than 17 yards to the big-play threats of Martavis Bryant and Antonio Brown was the 21-yard run-and-catch under the Bengals prevent to Bryant on the next-to-last snap of the game.
They'll need that kind of effort again because Manziel seems to have a nice chemistry with Benjamin on deep balls. The 5-10 Benjamin, like the 6-0 Brown, is one of these smallish, speedy guys that tend to give the Bengals problems, rather than the taller physical guys they play well.
Plus, they'll need a big game out of linebacker Emmanuel Lamur. The 6-4 Lamur would seem to be the Bengals' answer to the 6-6 Barnidge, who has been the answer to the Bengals' Tyler Eifert. Each has six TDs.
But the big thing here is the run game, too. The Browns are basically one-dimensional. At 3.4 yards per rush, they are ranked next-to-last and in this stadium the Bengals pass rush has been deadly. In their three PBS games this season the Bengals have racked up at least four sacks in each game.
The run defense has been a bit of a mystery. It plays tremendous in situations (they are second in red-zone defense in the NFL), but in the last three games they've allowed runs of 69, 55, and 33 yards. Meanwhile, the longest Browns' run is just 32 yards and they've got two rushing TDs. So the numbers would at least suggest the Bengals can get the pass rushing going against Manziel.
The Bengals don't want to let the Browns hang around and give them a chance to win it on a big play late. Benjamin has caught TDs of 60 and 54 yards, although he hasn't scored since Sept. 27.
And just like the Bengals' Adam Jones, Benjamin is a threat at returning punts Benjamin leads the AFC with 13 yards per return and Jones is second at 12.8 . And they're right there when it comes to covering punts, Cleveland is ranked 14th and the Bengals 15th.
History says if the Bengals beat the Browns here, it is going to be close. The recent history of 24-3 and Dalton's 2.0 passer rating is fresh enough that they know what that would do to making history.