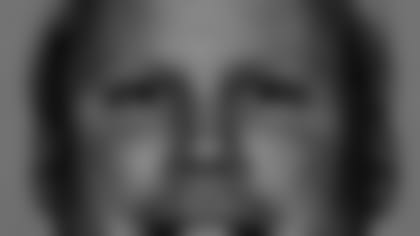 Defensive coordinator Chuck Bresnahan has gone from getting roasted on an open fire to Santa Baby after the best defensive month in Bengals history.
The first shutout in 17 years. The fewest points in three straight games. Four straight games under 100 yards rushing and whoever thought the Bengals rush defense (13) would be ranked high than their rush offense (22)?
Bresnahan talked to some beat reporters coming off the field after Thursday's practice.
What are the one or two things you can put for the turnaround since San Diego? CB:
Commitment. One word. Commitment. They've committed themselves to doing things right and putting the extra effort in and holding themselves accountable.
There's probably still a lot of people around the country still wondering about this defense. CB:
Lets see, let's see, let's see. I'll jump right on that bandwagon. Let's see what we've got on Monday Night Football. Let's see how we respond.
Last year going in you wanted to stop the run (when Peyton Manning threw for 365 yards). Do you still feel the same way? CB:
Absolutely. You have to stop the run because of all that hard play-action snaps they try to do. That's where they're going to get you biting up and he's got such an accurate arm he can pinpoint those little seam passes in there. If you take that out of there, that really helps you. They've got two solid backs.
They're not James. CB:
They're not Edgerrin James but they've got their own style and they're very effective in what they do. Go back and look over the last couple of weeks and they gashed people for 200 plus yards (237 against Philadelphia).
Last year was probably the one game (vs. the Colts) where the safeties, not having Madieu (Williams) and not having Dexter (Jackson) ... how big is it to have those guys back there? CB:
That's huge and not just the safeties. We've had a continuity now over the last three or four weeks that's building. That's confidence. You can feel it. It's just like you talk in the offseason, getting these guys in there and the closer you get to training camp and the first preseason game and then that first regular-season game. You gel. I feel like we're finally getting back to that gel. The guys are feeling comfortable who's on the field and (you're) being able to take advantage of your playmakers.
What's the key to getting pressure on Manning? CB:
You're not going to get a ton of sacks. It's not like we're going to sack this guy eight times a game. To me, if you just calculate it when you want him to throw the ball quick, when you think you can get something pressure-wise that may force him into one of his hot reads, or a quicker throw, so you're trying to get him to throw, not necessarily before he's ready because he's always ready.
You're watching him come off his play-action. He's as quick a release set-up guy as there is in the league. You're hoping that you get him a little bit quicker than when his receivers are ready. As good as they are, you've got to challenge their receivers.
Sam (Adams) looks like the knee is getting better and he's really making some plays. CB:
He's excited. He knows where we're at. He's been there and he knows what our chances are. He's been a great leader in the locker room, he's been a great leader in the meeting room. You take the plays he's given us in short yardage and those are critical plays in games. He needs to continue to work and get that knee back where it needs to be for the stretch. We've got basically a six-and-a-half, seven-week run you've got to go on and it's one game at a time, one week at time, and he's just to be ready to go each week.
The play he made on fourth-and-inches, really, is that just his quickness, his strength? CB:
A combination of everything. It comes with veteran (savvy); taking a little shot at the cadence. But he'd been out there, so he understands what their cadence had been the whole game. He knew how to attack and he made a hell of a play.
It looks like you've made a decision with Ahmad Brooks (The rookie middle linebacker hasn't played in two of the last four games and was inactive last week). CB:
That's a total package, total defense tied to special teams. That's not just a defense move. It's a defense slash special teams move and what's best for that week. It's a little bit of give and take. Would I like to have him up every week? Obviously, yes, but that's going to happen.
So it's not a reflection of him not playing well? CB:
No, No. He's a young guy that has to learn to mature as a total player. The first thing we tell these guys when they come in here is you've got to earn the job in special teams and when they start contributing on special teams it's easy for us to get them in. We'll find a role for him, but if he's not helping on special teams that kind of cuts our neck off right there
What are going to do with your three top cornerbacks? Do you make Johnathan Joseph a starter? CB:
We'll see on Sunday. Deltha is earning his way back on the field. Keiwan is right in that mix, too. We've got some ways to take advantage of all these guys.
Marvin didn't seem real happy with Deltha after he got beat on the long ball against San Diego. I get the sense he's trying to scratch his way back. CB:
He has to earn his way back on the field and that's big. That's big. When you have the people there that make you earn your way back, it's better (than) when you don't have those people and you give that guy that job back, that's not as good.
Some would say Johnathan has to get in the lineup for Tory or Deltha. CB:
We'll see. We'll see what happens.