Corey Dillon extends one of his famous stiff arms in the record game vs. Denver.
Carry 1 - 1-10: C34 right tackle for no gain (B. Romanowski)
Carry 2 - 1-10 C45 left end for 34 yards (E.Brown)
Carry 3 - 1-10 C29 up the middle for 31 yards (B.Jenkins)
Jeremy Hill is watching Corey Dillon's Big Game on his iPad, two generations of big Bengals backs separated by 15 years of technology and tactics. The man nicknamed "C.D." has been burned to wireless.
"I've never seen anything like this," says Hill and he's not talking about tape that has no HD and isn't digital and has none of the other comforts of the 21st century.
"There are nine, 10 guys in the box every play,' Hill says. "They're keying on the run every time. Never seen anything like it. Not in the NFL."
 This is the 15th anniversary season of the day Dillon shattered Hall-of-Famer Walter Payton's single-game rushing record that stood for 23 years. His almost supernatural 278 yards against Denver on Oct. 22, 2000 turned the Bengals' first win ever at Paul Brown Stadium into a historic buffet of stats and chills. Indeed, it may very well be the most obscure great moment in NFL history, 12.6 yards per every move imaginable, ranging from back-alley stiff arms to Music Hall pirouettes. 
It was the first time in 45 years a team had rushed for more than 400 yards in an NFL game and no one has done it since. Since then, they've come up with Twitter and Facebook and the spread and the zone read and still no one has done what Dillon and his blockers did that day by taking a 0-6 team that completed just two passes and ran off tackle with gods.
Two of 14 passing for 34 yards.
"Two completions," Dillon says. "Isn't that something?"
But that's what the Bengals did back then when they were struggling to win games and that's what they want to do now when they open the 2015 season Sunday (4:25 p.m.-Cincinnati's Channel 12) in Oakland as one of only four teams to make the playoffs four straight seasons.
Pound the rock. Run to daylight. Smash mouth.
The big back is supposedly back in the NFL. But in Cincinnati, he never left, thanks to a franchise right tackle named Willie Anderson.
"We were the only organization where if the running back didn't get 100 yards, the fans and the media would get on us. Nobody else in America cares about that," says Anderson, whose arrival in the first round in 1996 and Dillon's entrance a year later in the second round signaled the end of 67 straight games without a 100-yard rusher.
"We knew we had to run the football like crazy. And over the evolution of quarterbacks we ran it," Anderson says. "We ran it with Jeff Blake. We ran it with Boomer (Esiason). We ran it in the Akili (Smith) Era.  I took pride in that. I think we well did. We took pride in running the ball."
Their center that day, Brock Gutierrez, pinch-hitting for the injured Richie Braham, reflected the feeling.  "Willie was a first-rounder and I was a no-rounder and we were the last ones left," says the free agent from Central Michigan of that 1996 class.
Paul Alexander, the Bengals offensive line coach then and now, coached Gutierrez briefly in college, but when he looked at the Bengals' undrafted linemen he said, 'I know a guy better,' and called Gutierrez. Twenty years later Alexander still tells his linemen the story of Gutierrez's first camp, when he badly pulled a calf muscle and asked Alexander what would happen.
"When you get healthy they'll cut you because they don't know what you can do," and Gutierrez solved that by not missing a practice.
"Those were some tough times in Cincinnati. They weren't all good," says Gutierrez, whose honestly helps as the radio analyst for Central Michigan. "But we took a lot of pride in running the ball. . . . We always played hard. We didn't have lot of success and I can't tell you why, but it was a great feeling to have a day like that. It was a special game. Corey was a special back. . . .The thing I loved about Corey is he never ran out of bounds."
It's a pride that offensive coordinator Hue Jackson restored last season in his first year when the Bengals finished sixth in the league in rushing, their highest ranking since that 2000 season when they somehow finished second with Dillon averaging 4.60 yards per carry while Akili Smith averaged 4.69 yards per throw.
"Hue likes to run, which is nice,' Alexander says. "He really understands the finer points of the run game. Not a lot of coordinators do."
Jackson is a West Coast guy and a former college quarterback at Pacific. But he's got an offensive line coach who broke in on the hard noses at Michigan and Penn State and his own background is chiseled out of bedrock principles rather than the latest college fads.
"The passing game is pretty.  I love it," Jackson says. "But what wins is the old tired and true be physical, wear the other team out. I cut my teeth on that working under coaches like John ("Student Body Right") Robinson and Marty ("Marty Ball,") Schottenheimer.  And it hasn't changed with Marvin (Lewis). You have that element. In this day and age, you have to do both well. Or at least do one thing well and be good enough to counter it."
And he's got a big 6-1, 235-pound back (Hill) to team with a jet pack in 5-9, 205-pound Giovani Bernard.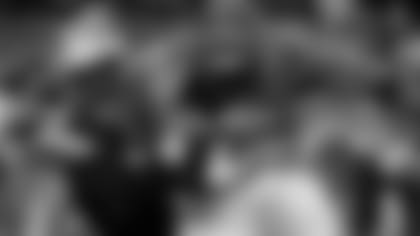 The 235-pound Jeremy Hill is a big back in the Bengals tradition.
Carry 4 - 2-10 D17 right tackle for 1 yard (H.Hasselbach)
Carry 5 - 2-7 D7 left tackle for 1 yard (A.Wilson)
Carry 6 - 1-3 D3 right end for minus 2 yards (E. Brown)
Carry 7 - 2-5 D5 left end for minus 1 yard (A. Wilson)
While Hill is checking out Corey Dillon's Big Game, Dillon sees a clip of it every day. It's a plaque the team had made for him the week he broke the record, a reproduction  of the front page of the Oct. 23, 2000 Cincinnati Enquirer sports section.
"What a rush,' bannered the headline and Bengals head coach Dick LeBeau gave it to him with a hug. It hangs today in the home just outside Malibu, Calif., that he shares with his wife and three girls.
"I see it every day," Dillon says. "I look at it every once in a while and I say, 'I did that. That was a good day.'
The magnitude of the 6-1, 225-pound Dillon's violent intensity on that day could be seen in his eyes. That's where Alexander had learned to look to gauge his moods. And Alexander didn't think it was a bad thing that he'd be in one of those moods maybe six times a year. Indeed, Alexander was amazed that anyone could be in such a mood at all, a state Alexander calls "almost superhuman."   
"You can't take that away, that's pretty damn good," Dillon says of that day. "The record has been broken and I get that. But I would take my record and match it up with any of those guys. Anyone of them. I think my yard per carry speaks for itself . . . I think my game was a little more impressive than theirs . . . I would have to say that's the best output, 278 on 22 carries . . . If you do the math, I had (four) carries for a loss. That's pretty amazing."
Dillon broke a record that stood for 23 years. His record stood for 41 games. The Ravens' Jamal Lewis rushed for 295 yards on 30 carries on Sept. 14, 2003 against a Cleveland team that finished 23rd against the run and 5-11 for the season. Then the Vikings' Adrian Peterson went for 296 on 30 carries on Nov. 4, 2007 against a San Diego team that won the AFC West before losing to the Patriots in the AFC title game.
And try this. Peterson had three runs of at least 30 yards. Lewis had two. Dillon had six.
"If it hadn't been broken so soon, you probably would have heard more about it," Anderson says. "I agree. It's very obscure. Very obscure. But that's the way it was for us then. There was no NFL Network. ESPN hated us. The only people that know what we did are in Cincinnati."
Dillon is used to running down icons. He broke Jim Brown's rookie record three years before, so he's got no problems with records.
"You know how I feel. Records are made to be broken. Nothing is forever," Dillon says. "I have a lot of respect for Jamal Lewis. Adrian Peterson is definitely a great back. I don't mind they broke it. They deserved it. I still like mine. "I like how I did it."
Carry 8 - 2-10 C44 left guard for 21 yards (B. Romanowski). Fumbles. Recovered by Denver
Carry 9 - 1-10 C38 left end no gain (T. Pryce)
End of first half: 9 carries 77 yards
Hill likes the way Dillon is doing it too, like on that early 34-yard run out of a three tight-end set, when he bounces off linebacker John Mobley at the line of scrimmage, veers outside and beats safety Billy Jenkins to the perimeter running out of his tackle.
"Nothing really on the play side," Hill says. "He broke a few tackles, got it to the second level."
Then on the 31-yarder, Dillon takes a draw behind fullback Clif Groce as wide receiver Peter Warrick goes in motion , re-arranges himself behind Gutierrez, cuts up field, runs through the arms of tackle Keith Traylor, and again runs away from the poor Jenkins as Anderson leads the right side blocking down.
"He makes some guys miss, uses the stiff arm," Hill says. "On that draw, he does a great job pressing the line and the offensive line did a great job getting to the second level."
When Akili Smith hits tight end Tony McGee on a 25-yard pass with 1:09 left, Hill is told the Bengals will complete one more pass the rest of the way and none in the second half. Hill likes that persistence. On 10 of Dillon's carries, he gets a yard or less.
"Same draw play, nothing there," Hill says. "It's tough sledding. They're just keying on the run right now. Everyone is running to the ball. I'd keep giving it to him if I was them.
 "Great run here. Oooh, you can't do that (fumble). He made a great move on the safety, he just didn't see the guy behind him. . . . They've got nine in the box every play and if you look pre-snap, they're running the safety down, so it's pretty much 10."
Hill watches Warrick reverse field on a Jet sweep and as he begins a 77-yard TD run he calls it with, 'That's a touchdown. They won't catch him."
It turns out that Warrick and his band of wide receivers, Ron Dugans, Danny Farmer, and Craig Yeast, make up for having one nine-yard catch among them.
Carry 10 - 1-10 C35 left tackle for four yards (B. Jenkins)
Carry 11 - 3-17 C28 left tackle ran OB for 37 yards (A. Wilson)
Carry 12 - 1-10 D35 up middle for 3 yards (E.Brown)
Carry 13 - 2-10 C47 up middle for 30 yards (B. Jenkins)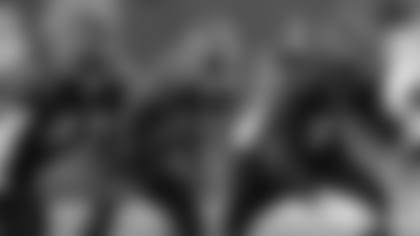 Willie Anderson, the best right tackle in Bengals history, helped fuel the record game and the present running tradition.
"They did something we've never seen before," says Trevor Pryce, the Broncos Pro Bowl tackle that day that now can be heard on NFL Radio on Sirius.  "They would take the wide receiver, motion him across the formation and have him block the linebacker as a fullback. That basically left Corey one-on-one on the safety and they couldn't find him. It's not that they couldn't tackle him, they literally couldn't find him. Before you knew it, Corey was through the line of scrimmage. It was an amazing thing to see.
"Our defense was designed as one gap for everybody but the safety," Pryce says. "But when they put a wide receiver at the line scrimmage, that safety now has a gap and he couldn't figure out what gap that was. There was one gap no matter what we did, no matter what defense we called. Cincinnati exploited that heavily and very easily. . . . People do it now, but back then we had never seen anything like that (with the receiver in motion). It threw the two guys in back end for a complete loop."
Willie Anderson remembers Paul Alexander telling his line that week if they stick to the plan, they'd rush for 200 yards. Anderson, who works with high school players in Atlanta and has a son who is a top high school receiver, teaches his linemen using the techniques that Alexander taught him, and they've worked on some instructional films together. They could use this tape even if it is video and doesn't have HD.
Alexander had worked with some of the Denver coaches with the Jets and one of them approached him before the game saying, 'You've got something up your sleeve, don't you?"
"It was a very unique defense," Alexander says. "It was designed to funnel the ball carried to the unblocked defender, the extra defender. We thought we could just figure out a way to block the unblocked defender and they'd be funneling him to nobody. That's ultimately what happened with a lot of formations and schemes."
Take the third-and-17 Dillon took for 37 yards early in the third quarter. Warrick motions from left to right and Dillon runs a lead draw to the left of the fullback Groce as he blows up middle linebacker Al Wilson. Again, Jenkins ends up diving and missing Dillon in the middle of the field as he motors untouched down the sideline.
"Third and 17. They'll probably run a draw," says Hill, who is right on top of it. "Now he's in a groove. The offensive line did a great job. He really just hit the hole hard and then just bounced it out. It looks like he's in a groove right now. He's starting to feel it more, cutting it back.  There's no safety high at all. All 10 are in the box. I would do the same thing if I was their defensive coordinator."
A few plays later on the 30-yarder, everybody gets their block out of two wide receivers and two backs. Warrick again goes in motion left to right and the right side of the line caves in a hole as Dillon runs a draw. The only guy near him up the middle is cornerback Terrell Buckley, drawn to the line of scrimmage with Warrick. Dillon incinerates him with one of his head-on shots, offers a stiff arm and is gone.
"I think I had one of the best stiff-arms in the game," says Dillon, but 15 years later he's still careful to parcel out credit even though he hasn't talked to Anderson and Gutierrez in more than ten years.
"I was always scratching and clawing, anyway, and we had a lot of guys that had pride," Dillon says. "They wouldn't lay down for anybody. There were a lot of guys on that team like that. Even though the end result didn't show that, we played hard all four quarters. It wasn't as if guys laid down and said, 'We're Cincinnati.' It wasn't like that. We believed we could win. I believed it, too. A lot of guys thought the way I thought."
Carry 14 - 1-10 C11 left tackle for four yards (B. Romanowski)
Carry 15 - 2-13 C8 up the middle for 1 yard (K. Traylor)
Carry 16 - 3-12 C9 right tackle for 14 yards (M. Reagor, K. Pittman)
Carry 17 - 1-10 C38 right tackle for minus 1 yard (K. Traylor)
Carry 18 - 1-10 C34 _ right tackle for 1 yard (B. Jenkins)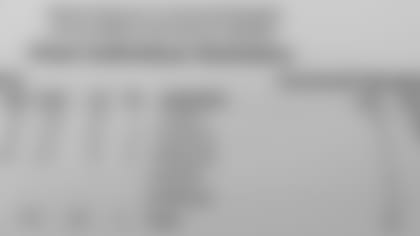 The stat sheet says it all.
It was a big day for everyone, from a grizzled veteran like Jim Anderson, in his 17th season as the Bengals running backs coach, to Lindsay Patterson, a 12-year-old girl from Sabina, Ohio.
"I blame my dad," says Patterson, Cincinnati's ubiquitous sports radio producer and football sideline reporter for Time Warner. "It was the first Bengals game I ever went to. My brothers didn't want to go. They figured they would lose again. It was another tough year. They hadn't won yet and I think they won four games. But my dad always went. He asked me if I wanted to go and I said yes because I wanted to spend the day with him."
The beauty of it for Anderson was that he had seen it all before. On Dillon's tape at the University of Washington and in the Jimmy Brown game against the Oilers in '97.
"No one wanted a piece of him that day," Anderson says. "The things he did were unbelievable. It legitimized what kind of back he was for his size and ability and he did it his entire career. In college, anywhere he'd been."
Lindsay Patterson vaguely knew who Dillon was. The running back. Her dad got her there early for the tailgate and brought her in immediately when the gates opened so could roam the new building. She couldn't help but feel the energy from those seats her parents still have in the end zone of the Bengals locker room, section 102, seats one and two.
She remembers the scoreboard flashing that Dillon had broken the all-time rushing record and she remembers the yellow Gatorade being poured all over him and she remembers the bolt of that orange-and-black stripe of electricity that rocked the crowd.
"It's a good question. What if it had been just a regular game?'  Lindsay Patterson says. "All I know is when I left I wanted every day to be like this where I get to do sports every day. And it's never changed."
Jim Anderson knows exactly what she means.
"I couldn't think about the record. We were still trying to win the game," Anderson says. "But it was one of those days where things would happen and you'd ask yourself, 'What did just see?' "
Carry 19 - 2-9 C35 right tackle for 65 yards and TD
Carry 20 - 1-10 C31 left end push OB for minus 2 yards (M. Reagor)
Carry 21 - 2-12 C29 left end for 4 yards (J. Mobley)
Carry 22 - 2-8 D41 left end for 41 yards and TD
Hill says it looks they've run only three plays the whole game, the zone, the stretch, and the draw. They look familiar because the concepts are the same, but in the last year and a half Jackson and Alexander have beefed up the run game with diverse looks and runs. The Bengals barely ran out of three wide receivers back then, a formation that sees the run a lot more nowadays. But Jackson is as diverse as anyone. They don't buy into the notion spreading it out opens running lanes all the time. They keep it flexible, often running out of those circa 2000 two-back, two-receiver sets.
Hill knows the stiff arm of Buckley works in any scheme.
"He just went straight through him,' Hill says. "He's got deceptive speed. Everybody is more aggressive. Everybody is seeing blood in the water. Ten in the box, again. The thing about that, if you get through the first level, you're gone. They're doing a lot of damage on third down. I don't know why the defense is getting out of the 10-man fronts. I'd stay in it."
The Bengals are holding a 17-14 lead as the game ticks under six minutes and even though Hill had turned eight just two days before in Baton Rouge, La., he remembered Dillon scoring a touchdown late down the right sideline on the highlights.
"He should score on this. Perfect blocking," Hill says. "He didn't have to do anything. They just sealed everything off. That's the thing against this defense, you make one man miss and you're off the house."
Dillon remembers that the hole on the right side on the 65-yard TD run "was big enough to drive a trick through." It looked like an outside zone, but who knows? Paul Alexander said Willie Anderson and Dillon were so good, they just made up a play where Anderson would simply block and Dillon would simply run behind him. They called it "16,' to give it some kind of legitimacy.
"We had a hybrid inside-outside zone that was unique to us," Jim Anderson says. "The angle point and how we chased the leg of the tackle. Them the athleticism of the runner kicked in."
Talk about a hat on a hat. The 340-pound Willie Anderson blocked down and enveloped 285-pound Montae Reagor. Right guard Mike Goff pulled and stood up outside linebacker Bill Romanowski. Gutierrez reached and sustained a block on middle backer Al Wilson. That left poor Jenkins one-on-one in a gaping hole and Jenkins could only dive at his feet as Dillon danced through untouched for a 24-14 lead with 5:43 left.
Then it took Denver just 70 seconds to cut it to 24-21, so when the Bengals came out of the two-minute warning facing a second-and-eight from the Denver 41, there was a lot of angst. Why not call the same play as the TD from a few minutes ago?
They did. But instead of running it out of two backs and two receivers, they went with two backs, two tight ends and a receiver. But this time one of the tight ends allowed penetration on the right side and Dillon just took off the other way.
Safety Eric Brown tried to grab him around the shoulders as he raced to the left perimeter and that was a bad move. By the time Dillon got rolling down the left sideline, Mobley, the linebacker, could only wave at his back and he froze Buckley with a cut and then pushed him before falling into the end zone with the record and 1:49 left in a 31-21 victory.
"He cut it back to the house….Doooo," Hill says. "Great run, great stiff arm. If you get through that first level, that's a wrap. He showed a lot of great moves, made a lot safeties miss. That's what you want to do to be great in this league."
Dillon: "My vision. That's what makes a running back. I don't care how fast and strong you are. If you can't see it, if you can't see the play developing, it's going to be pretty tough for you. It's just instincts for me. Pre-reading stuff. I'm pretty sure I see it happen and then my instincts kick in. See me cut back the other way? That was instinct and I was right."
Walter Payton, Bears Nov. 20, 1977 vs. Minnesota 40-275
Corey Dillon, Bengals Oct. 22, 2000 vs. Denver 22-278
Jerome Harrison, Browns Dec. 20, 2009 vs. Kansas City 34-286
Jamal Lewis, Ravens Sept. 14, 2003 vs. Cleveland 30-295
Adrian Peterson, Vikings Nov. 4, 2007 vs. San Diego 30-296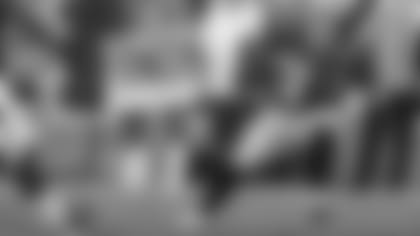 Corey Dillon never had a speed merchant like Giovani Bernard as his running mate.
Brock Gutierrez has to laugh. He remembers late in the game that he finished a block on Romanowski and Romanowski came flying over the pile and kicked him in the groin. He saw a flag and thought he was going to get a late hit. Instead, they got Romanowski for the groin shot and gave him 15 yards.
"That was fantastic," says Gutierrez, who has a couple of pictures in his office from that game.
There's a shot of Gutierrez and quarterback Scott Mitchell greeting Dillon in the end zone and another of Gutierrez combo blocking with left guard Matt O'Dwyer.
"I think about that game a lot, honestly," Gutierrez says. "A long time ago a buddy came over and wanted to see that game. I popped in the VHS. I do a lot of radio and whenever I'm asked about my best memories in the league, I for sure talk about that game."
Gutierrez, the undrafted center in the middle of the best rushing day in the past 60 years, is married with two kids and is a sales rep for a manufacturing company living near the Central Michigan campus. He never played baseball and basketball, but wouldn't you know he's coaching his daughter in softball and basketball?
Dillon isn't coaching. His two youngest girls, 10 and 8, "are girly girls and do girls stuff."  But he's golfing enough that he recently broke 80 for the first time. If he's not golfing, he's driving the girls to and from school, or working out, or doing whatever. Saving his money, he says, wasn't a problem. His oldest is 16 and "thank God,' she doesn't drive yet, but she's a good volleyball player.
"I can see my DNA," he says.
He also knows in his DNA, at least when he was younger, is the short fuse of his infamous temper. He walked off the field before a play in Baltimore a month before Denver not because "I quit" but because he felt there was no direction while the Bengals were getting four yards rushing in a game "somebody could have got killed." 
In his last game as a Bengal in 2003, he threw his pads and jersey into the stands, one last act of defiance that got him traded to the Super Bowl champion Patriots.
"That's like a haze of smoke over him," Jim Anderson says. "It's like we can't appreciate the quality of back he was because of that moment. But I think you can appreciate the things he accomplished on the field before that."
Dillon tells you flat out, "I'm older and I wish I had done some things differently." But he also hesitates.
"At the end of the day I look at it like if I didn't do that, I wouldn't have been able to enjoy the other stuff.  I have to accept it. If I hadn't had done that, I wouldn't have been able to go and do this. As I get older, I realize I did play with some good people. At the end of the day, I have to accept it. If I hadn't done that, I wouldn't have been able to go and do this. As I get older, I realize I did play with some good people, there were good times, and there were some situations I wish I could have handled it differently."
He's thankful he's got both Oct. 22 and a ring.
"Let's be real. Nothing trumps the Super Bowl to me. If I didn't have the Super Bowl, I would trade all the stats for it," Dillon says. "I'm friends with Eric Dickerson and he says all the time. 'I'd trade the (single-season rushing record) in a heartbeat to win a Super Bowl.' That registers with me. I'm fortunate. I've had some monster games and I've been able to win a Super Bowl.
As a rookie I broke Jim Brown's record and then I broke Walter Payton's record. Not bad."
Dillon has actually bumped into Jim Brown on a few occasions out in California and gets the thrill of a lifetime when he says, "Corey, I like the way you played.'
"That means more to me than a Super Bowl or any record to me," Dillon says. "He's the dean. He is the father of running backs if you ask me. . . .He's my hero.  He was the first, he was an original and when he looks at me and says, 'Corey, you're the bad boy,' that speaks volumes. I'm fortunate. I can't complain all."
Hill gets the idea of passing it on and passing it down.
"I don't try to mold myself like somebody else,' he says. "I just try to be me and do my thing. But I definitely appreciate the guys who paved the way for me, the guys who have done it before me."
He hears the talk that the offense runs through him. Yes, his running mate, Bernard, is a great James Brooks-ish weapon. A.J. Green is one of the best receivers in the league and Tyler Eifert is one of those 21st century tight ends. But doesn't it all start with the down-Hill running game?
 "I wouldn't go as far as that," Hill says. "It has to be a team effort. I've been saying it since last year. Every game presents its own challenges. Every game is different. It might be Gio one day, it might be A.J. We have to be ready to go."
Hill gets the Brown treatment from Dillon with a gentle reminder that he won't be facing 10-man fronts.
"Not bad at all. Not bad. I like his game," Dillon says. "They've got a lot of weapons on that offense. They'll be OK. My man should be happy he didn't play in my era. He's in a better situation. Make the most of it."