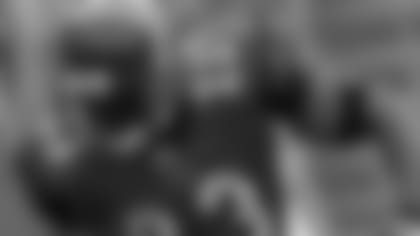 Chris Perry saw his first action of the season. (Bengals photo)
In a dizzying four-minute span of the fourth quarter Sunday, the Bengals turned a three-game losing streak into a share of the AFC North lead and a come-from-behind victory over a Super Bowl favorite in Carolina, 17-14.
"We put a little penicillin on the virus," said head coach Marvin Lewis after watching his defense blank the Panthers on third down in the last three quarters and his offense convert the gutsiest fourth-and-one call this side of Bill Parcells.
"It was past (gutsy)," said wide receiver Chad Johnson, who caught the stunning 32-yard play. "That was Scarface (stuff)."
Staring at a fourth-and-one from the Panthers 35 and tight coverage from cornerback Chris Gamble, Bengals quarterback Carson Palmer lofted a ball down the right sideline and Johnson made a diving, stumbling catch to set up Palmer's ensuing one-yard touchdown pass to wide receiver T.J. Houshmandzadeh with 8:07 left to give the Bengals their first lead of the day at 17-14.
"I love that call," said Palmer, who hit eight of nine passes for 93 yards in what amounted to a 96-yard drive, and right tackle Willie Anderson said the play amplified what Lewis talked about all week.
"Attack. He talked about getting into an attack mode and that's what that call did," said Anderson, who blanked NFL sack leader Julius Peppers.
To cap off the Bengals' best defensive stand in recent memory, safety Kevin Kaesviharn leaped in front of Panthers wide receiver Keyshawn Johnson in the back of the end zone for an interception with 3:50 left on a third-and-10 play that prevented the Panthers from trying a tying field goal.
The Bengals moved to 4-2 and into a first-place tie with Baltimore after raising their record to 14-0 when running back Rudi Johnson carries at least 25 times. Against a Carolina defense that hadn't allowed 100 yards rushing in the previous four games, Johnson rung up 101 on 26 carries.
The Panthers' feared front four, anchored by Peppers, got just one of their two sacks and none from Peppers or right end Mike Rucker working on rookie Andrew Whitworth in his first NFL start at left tackle.
"The line played great," said Rudi Johnson, who got 63 of his yards on 16 second-half carries. "They got used to each other and the guys they were playing against about the second quarter."
Palmer gutted out a big win with a 94 quarterback rating on 23-of-39 passing for 240 yards that was unremarkable except for his clutch play when needed most. Houshmandzadeh led with seven catches and Johnson had the most receiving yards with 73.
"The offense isn't where it needs to be yet," Johnson said.
As it did all day, the Bengals defense responded on the series after the touchdown as rookie cornerback Johnathan Joseph tipped away a third-and-four pass intended for Keyshawn Johnson with 7:11 left.
The Bengals held the Panthers to 3.8 yards per their 16 carries and while wide receiver Steve Smith Pro Bowled them for 126 yards on eight catches, the Panthers couldn't find him on three shots from the Bengals 10. It was sweet redemption for a secondary that saw Tampa Bay beat it last Sunday on an eight-yard touchdown pass with 35 seconds left.
"I don't want to say I knew it was coming," said Kaesviharn after his third interception of the season. "Last week we lost because they ran a similar concept where they had a high-low route. So we kind of anticipated, 'All right, that worked for another team, they're going to try it.' They tried it. It didn't work this time."
But Keyshawn wasn't as charitable.
"I think he just got lucky, and fell off into position," Johnson said. "Sometimes guys just get lucky. In the film, he was never there."
The Bengals opened the game by missing their first four third-down tries, and they missed a third-and-seven on their first drive of the second half when Houshmandzadeh got his feet tied up at the Panthers 35 and fell down before he could make the catch.
"My fault; new shoes," said Houshmandzadeh, who promptly changed them and he came back to keep the next series alive on a leaping catch on third-and-6 and secured the first down when he muscled away from Gamble.
The Bengals came into the game with only two runs of at least 20 yards, the sixth fewest in the NFL. But Rudi Johnson popped up the middle for 21 to put the Bengals at the Carolina 11.
Yet this was a day Palmer wasn't at his sharpest and it showed on the next snap when he rolled out. He led wide-open running back Chris Perry too far on the sidelines for an incompletion, and the Bengals had to settle for kicker Shayne Graham's 23-yard field with 7:09 left in the third quarter that cut Carolina's lead to 14-10.
But that was only after Rudi Johnson got stuffed up the middle for a two-yard loss on third-and-two from the 3.
Palmer missed two more throws on the next series with the wind in the third quarter when he overthrew Houshmandzadeh wide open over the middle after Palmer's play-action fake.
Then on a second-and-four, Palmer badly underthrew Chad Johnson to set up a third-and-four and that became nothing when Palmer ended up eating the ball scrambling out of the pocket as Johnson turned to block instead of going out on a route.
Until it blew a coverage with 47 seconds left in the first half on running back Nick Goings' wide-open 20-yard catch for a touchdown that gave Carolina a 14-7 lead at halftime, the defense was superb.
With Goings split wide, strong safety Dexter Jackson and cornerback Deltha O'Neal looked at each other as Goings went unchecked into the end zone, a devastating score considering the Bengals had just scratched back to tie the game.
The Bengals should have been blown out instead of hanging around at the half, thanks to another dreadful offensive outing. Their much-maligned offense, which had failed to convert 20 of its last 25 third-down tries over the previous two games, whiffed on the first four Sunday inside their own 30 and were just 1-for-5 when Palmer threw a 16-yard touchdown pass to tight end Reggie Kelly on third-and-seven with 3:16 left in the first half to tie it.
On the first 3rd-and-two of the first quarter, Palmer was able to hold the ball but underthrew Houshmandzadeh over the middle. On the second third-and-two, the Panthers blitzed but their coverage was still good enough to make Palmer throw it away as he backpedaled into the zone. On the third down try, Panthers defensive end Mike Rucker came inside and blew up Palmer's back as he threw an incompletion to Chad Johnson.
The fourth third-down miss was the toughest to take. On another third-and-two try from the Cincinnati 26, Palmer tried to run a fake and flipped a pitch to running back Kenny Watson that looked like some kind of option play. But the measurement was inches short.
It took until 7:50 left in the half for the Bengals to record their initial first down, a 12-yard pass over the middle to Perry on third-and-11 at the Bengals 31.
Three Carolina penalties, including a costly one, aided the drive. On third-and-four from the Bengals 47, cornerback Ken Lucas was called for illegal contact on Chad Johnson, negating his interception.
Forget the long-ball woes, the Cincinnati offense couldn't do much of anything else for much of the first half. With 335-pound defensive tackle Kris Jenkins overpowering center Eric Ghiaciuc to drop Rudi Johnson for one three-yard loss, Johnson found the going tough with 38 yards on 10 carries in the half. But Ghiaciuc and the inside of the line adjusted to the Panthers stunts designed for the interior.
Palmer, who almost threw another interception when Lucas dropped one on the sideline, was just seven-of-13 for 56 yards with his long ball the 16-yarder to Kelly. His wide receivers, Johnson and Houshmandzadeh, had just three catches for 14 yards in the half with Johnson getting two of them for 10.
Sunday's scoring began the way last week's ended when the officials rejected a Bengals challenge to a touchdown as the Panthers jumped took that 7-0 lead with 2:09 left in the first quarter.
On third-and-goal from the Bengals 7, Carolina tight end Kris Mangum caught a pass over the middle from quarterback Jake Delhomme and before free safety Madieu Williams and strong-side linebacker Landon Johnson could wrap him up, Mangum stretched the ball long enough to break the plane of the goal line.
But the Bengals defense executed a yeoman effort in face of the offense's woes and made a nice stop with its first stand when weak-side linebacker Caleb Miller led a group pursuit on third-and-two from the Panthers 47 and held running back DeShaun Foster to a one-yard gain.
Steve Smith had a rough start with the Bengals blitzing Delhomme frequently on the first two series. On third-and-eight, Smith dropped a ball over the middle throw with a gusty wind. Smith finished the half with just four catches for 38 yards.
And defensive end Justin Smith ended another Carolina drive when he pushed back left tackle Jordan Gross flush into Delhomme for his 40th career sack.
But on the touchdown drive, Delhomme was able to find Smith for a 19-yard gain in front of Williams and cornerback Tory James, and then in place of a blitz of the middle hit Keyshawn Johnson for a nine more.
Perry made his first appearance of the season on the second play of the game and caught a three-yard flip that Peppers smothered in the flat. On the next series on second-and-one, Perry got his first carry but got cut down for no gain on a play designed for the left perimeter.
Jackson and middle linebacker Brian Simmons were both active for Sunday's game against the Panthers and were expected to play but weren't in the starting lineup. And they did check in early as Jackson appeared for the first time since injuring his ankle Sept. 17.
Rookie Ahmad Brooks drew his second straight start in place of Simmons and had five tackles in the first half including his first career sack. While Simmons sat last Sunday in Tampa with a neck injury, Brooks had 14 tackles in his first NFL start. He finished with five tackles, the sack, a hurry, and he tipped another pass like last week.
PREGAME NOTES: For the third straight game, Landon Johnson started at strong-side linebacker and Caleb Miller on the weak side with Rashad Jeanty (foot) inactive again.
With wide receivers Kelley Washington (hamstring) inactive, Chris Henry suspended and Tab Perry on injured reserve, rookie wide receiver Glenn Holt was active after signing off the practice squad, and rookie receiver Reggie McNeal was again listed as the third quarterback.
Chris Perry, just off the physically unable to perform list (PUP), was active for his first game this season.
Peter Schaffer, the agent for wide receiver Tab Perry, applauded the Bengals for taking the cautious route and putting his client on season-ending injured reserve with a partially dislocated hip.
"We think there was a pretty good chance he could have come back late in the year," Schaffer said. "But the Bengals needed the roster spot and they also felt with that type of injury rest is the best thing for it."
Schaffer and Perry both believe he'll be back for the first minicamp in the spring after an offseason of rehab. Perry called it "a subluxation," where the bone slides out and then back in.
"When that happens," Perry said, "it messes up things inside your capsule (which contains ligaments). You've got things that are loose, things that are bruised. You have to wait for all that to clear out."
Former Raiders running back Bo Jackson's career ended with a similar dislocation, but Perry and Schaffer said the Bengals believe it's because he came back too soon and didn't take the proper time.
"We think that Tab should be back on time next year," Schaffer said.
Also inactive for the Bengals were cornerback Greg Brooks and safety John Busing. Rookie linebacker A.J. Nicholson was activated for the first time this season.
The Bengals looked to extend their streak to 5-0 wearing their orange jerseys. They are 3-0 in orange tops and black pants, 1-0 in orange and white.
Marvin Lewis' captains Sunday were defensive end Justin Smith, right guard Bobbie Williams, Landon Johnson, wide receiver T.J. Houshmandzadeh, and running back Kenny Watson.