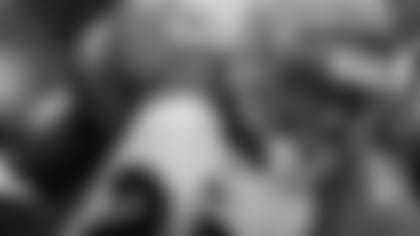 Keiwan Ratliff and the Bengals are 3-0 for the first time since 1990. (Jonathan Daniel/Getty Images)
CHICAGO - On a day the Bengals became the AFC North's only undefeated team, wasn't it fitting that they won a division preview with a grinding 24-7 win over a Bears team that plays like it lives in Baltimore and Pittsburgh?
"Right down to the weather," said Bengals running back Rudi Johnson of Sunday's division likeness in the gloom of Soldier Field. "They've got a great defense. A bunch of fast guys that fit their scheme well."
The Bengals rode their opportunistic defense (like the Ravens) and a persistent running game and big arm of quarterback Carson Palmer (like the Steelers) to post a road win despite failing to convert 12 of 14 third-down tries in amassing just 244 yards. It was Cincinnati's fewest yards in a win since quarterback Carson Palmer's first NFL victory, the 16-13 win over Miami in last year's home opener.
"We won today with defense and big plays on offense. That's what good teams do," said right tackle Willie Anderson. "Marvin is always bragging about the AFC North. Marvin always wants us to let them know how the AFC North feels. And it was an AFC North-type game. It comes down to defense, stopping their running game, and you making plays."
Lewis, who coached in Pittsburgh and Baltimore, loves that style. Taking care of the ball. Creating turnovers. With a whopping turnover differential of plus-12 for the season, the Bengals are 12-1 in games under Lewis in which they cause more turnovers than they make. His makeover looks to be complete.
Lewis saw it coming Saturday night.
"I told them last night," Lewis said. "We're going to play field position, we're going to play the weather, the wind, and see how it plays out and that's the way it played out. I'm pleased with that."
The Bears did that AFC North thing and put eight men in the box to stop the run. Of course, so did the Bengals. Cincinnati won because its cornerbacks made plays a lot of times in one-on-one coverage while the Bears didn't make many on the perimeter against Cincinnati's trio of wide receivers that were all in on throws of at least 35 yards. Chad Johnson caught a 40-yard touchdown, Chris Henry caught a 36-yarder for his first NFL score, and T.J. Houshmandzadeh drew a 35-yard pass interference penalty on cornerback Charles Tillman.
Everybody came into this game raving about Bears rookie quarterback Kyle Orton's game management, but it was Bengals quarterback Carson Palmer who gave one of the NFL's most ravenous defenses nothing to feast upon. Bears strong safety Mike Brown dropped what would have been Palmer's third red-zone interception of the season but that's as close as Chicago came to picking him. Running back Chris Perry's fumble turned out to be the only Bengals turnover as Palmer kept it away from a defense that has seven touchdowns in the last two seasons.
And the one risk he took maybe wasn't a risk for him. He threaded an 18-yard needle to Chad Johnson in the game's first two minutes in the end zone. It looked like two Chicago DBs both had a chance at it. But Johnson caught it.
"Not many guys make that throw," Johnson said. "He put it low, where I could only get it."
"We knew the type of game it was going to be," Palmer said. "We knew that we'd have to keep plugging away. We knew if we didn't turn the ball over, we would get some turnovers with the young quarterback and it played out the way we expected it to play out.
"We harped on it all week. I'm glad I didn't do anything stupid. That's the thing you don't want to do against a very good defense. That defense is going to stop a lot of good people."
Rudi Johnson kept banging the wall against the eighth man in the box, and managed to churn out 4.4 yards per carry in the second half when it was at its tightest. He got 25 of his 84 yards on his last run of the day on the first play after the two-minute warning, but 84 yards are huge in the AFC North against those stingy defenses.
"That's 300 yards. That's a 100 average," said Johnson of his 1,600-yard pace. "That's a good pace, but we're going to crank it up more than that."
The AFC North recipe serves teams well on the road. When Lewis arrived in 2003, the Bengals had been 4-20 on the road in the previous three seasons. Now they have won five of their last six road games.
"I guess you could say it was like (a division game)," said linebacker Brian Simmons. "But we don't get any credit for it."
No credit, but maybe karma.