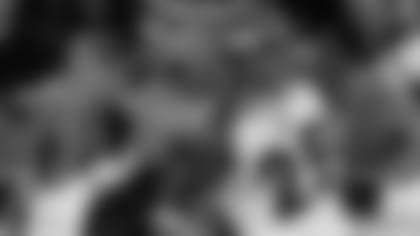 Keiwan Ratliff celebrates after his 26-yard TD return off an interception. (AP photo/David Duprey)
BUFFALO - The Bengals' strip search revealed Friday night in their 44-31 win here over the Bills that the their defense has as much capacity to make a big play as it does to give one up.
While they're still trying to figure out how to prevent the big pop (Buffalo chewed up 197 of its 366 yards on five plays), the Bengals scored two defensive touchdowns and then sacked and stripped quarterback J.P. Losman twice in the final 2:07 of the first half to stun the Bills first-team offense for 20 points.
"When you run to the ball, good things happen, and tonight was a prime example of people running to the ball," said safety Dexter Jackson, after he ran to cornerback Deltha O'Neal's forced fumble and took it 72 yards for a touchdown in the game's first three minutes.
This is one of the reasons Jackson made the move in free agency from Tampa Bay over the winter. The Bengals have developed a bit of a reputation over the last two seasons, when they have tied Carolina by forcing the most turnovers with 80 and they've kept rolling this preseason with seven in the first two games.
The cult is spreading to the younger players. After watching veteran defensive end Justin Smith sack and force Losman to fumble to tackle John Thornton at the Buffalo 35, rookie tackle Domata Peko teamed with end Robert Geathers to sack Losman and get the ball out to another rookie, end Eric Henderson, at the Bills 12 with 35 seconds left in the half.
Both recoveries ended in Shayne Graham field goals that gave the Bengals a 27-17 halftime lead.
"We do the turnover circuit drill in practice every day and we carry it over into the game," said Peko of the brisk five-minute drill in which each defensive player goes to all three of his position coaches and goes through a line of tips, strips and fumble recoveries.
O'Neal's strip of running back Willis McGahee came right out of secondary coach Kevin Coyle's drill of punching the ball out from behind the ball carrier. Losman's fumbles were offshoots of defensive line coach Jay Hayes's drill of slapping the ball away from the quarterback.
"(Hayes) says if we take the ball from them, then they can't score," Peko said.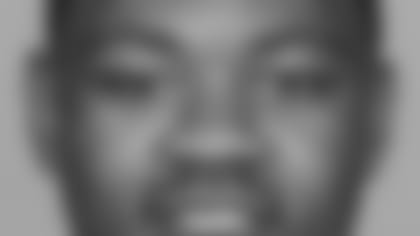 The Bengals are finding out they can score, too, once they take it away. Five days after igniting the Bengals on the first series of the season with a 52-yard interception return, cornerback Keiwan Ratliff read Losman's eyes and mind on the perimeter and jumped a route in front of wide receiver Josh Reed to return it for a 26-yard touchdown to give the Bengals a 21-10 lead.
"It's one of those things we saw on film," said Ratliff, who had just checked in for O'Neal at left corner as the second secondary took the field. "Coach Coyle has been talking about formation, formation, formation and recognition. I saw the formation and went back to the film work we watched during the week and tried to make a play."
But the big play giveth and the big play taketh away. Coyle, whose unit has been at the forefront of the Bengals leading the NFL with 51 interceptions the past two seasons, has always warned not to get too infatuated with making interceptions. A mere 90 seconds after making his big play, Ratliff gave up one to speedy Buffalo wide receiver Lee Evans.
Sensing Ratliff wanted to jump another route, Evans reeled him in with a double move, hesitating and then high-tailing it past him for a 46-yard touchdown catch. When Evans hesitated, so did Ratliff as he thought about another pick.
"I think he did," Ratliff said. "It was a double-move play where the quarterback pumps and I was getting a little greedy trying to jump on the out route. I was thinking of getting another one instead of doing what the coaches tell me and playing fundamentals. Sometimes you're in the right spot at the right time and if you guess right, you win. And sometimes you're in the right place, and sometimes you guess wrong and you get beat for touchdowns." The Bills' other long touchdown came on free safety Madieu Williams's missed tackle on McGahee's longest run ever as a Bill, a 61-yarder early in the game's first five minutes. Williams came flying up the field, but let McGahee cut back to the middle on him. But Williams, who had an overall good night with four tackles, also didn't get any help.
"We made some big plays and we gave up some big plays. The good thing is its preseason and we know what we did wrong the minute we came off the field," Williams said. "When I'm coming up the field, I have to slow down. I have to remind myself to slow down because there is a potential for a cutback play. Even with the cutback, we didn't run to the ball. We didn't run to the ball like we should all night."
Even though the Bengals have emphasized how poor they were giving up the big play last year, the numbers aren't that bad. They gave up nine runs of at least 20 yards, tied for sixth best in the league. They gave up six passes of at least 40 yards, which was tied for fourth best in the NFL. Williams and Jackson are supposed to change that.
But on Friday, they gave up three of those plays with McGahee's run and Evans's 47- and 46-yard catches.
"That's the thing thinking back to last year," said Williams, when he played only four games because of a shoulder injury. "There were always three or four plays we could have had back. It's something we have to work on to try and eliminate. Imagine if we had limited the big plays, they could have had only 21 or 17 points. We're still a work in progress."
But Jackson likes the progress. He was a major reason Tampa Bay led the NFL last year in allowing the fewest 20-yard plus runs with three, and he likes what he sees here. He's careful to downplay his enthusiasm and leadership, but the defense does seem to be playing edgier. You hate to say it, but take away McGahee's run and the Bills don't get 100 yards rushing on 29 carries five days after Washington gained just 30 on the ground.
"It's not just me; it's a collective group effort of guys getting better from last year," Jackson said. "That's the goal. I'm just helping them and telling them how to practice. The little details in what they do and they're doing a great job running it right now."