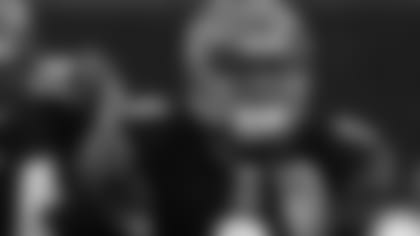 Carson Palmer passed for 302 yards and three scores. (Bengals photo)
After securing a curious but necessary 42-29 victory over the Ravens that Bengals linebacker Brian Simmons said "went from shutout to shootout in five minutes," the Cincinnati locker room buzzed about next Sunday's AFC North showdown in Pittsburgh.
"I got my Terrible Towel," said wide receiver Chad Johnson as he twirled the symbol of Steeler dominance after another long-distance celebration. "That's what I call focus. We finished playing Baltimore what? Thirty minutes ago."
The Bengals finished off the 3-8 Ravens to make their first-place record 8-3 by scoring their most points ever against Baltimore in the decade since the Ravens moved from Cleveland. The 437-yard festival against the NFL's second-ranked defense saw running back Rudi Johnson log his second 100-yard rushing day of the year (114 on 27 carries), wide receiver T.J. Houshmandzadeh's second 100-yard receiving day of the year (147 yards on nine catches), and quarterback Carson Palmer's third 300-yard passing day of the season with 302 and three touchdowns on 22-of-30 passing.
It marked the first time since a 44-30 victory over the 49ers on Dec. 5, 1999 that a Bengals quarterback threw for 300 yards (Jeff Blake for 334) on the same day a running back ran for 100 (Corey Dillon for 133) and a wide receiver caught 100 (Carl Pickens for 107).
"This will be the biggest game I would say the majority of us have played in next week, so we have to approach it that way," Houshmandzadeh said of Steeler week. "It's fun. Next week will be, I couldn't say the telltale of our season, but it will be a big mark on our season whether we win or lose, so we've got to prepare, get ready to play. It's going to be a tough game out there."
The Steelers, sitting at 7-3 and playing the undefeated Colts on Monday night, gave the Bengals their worst loss of the season back on Oct. 23 in a 27-13 loss. But with the Steelers and Bengals both losing last week, head coach Marvin Lewis told his team they hold their fate in their hands and he reiterated the notion Sunday.
"We still have an opportunity to control our own destiny and that's the best thing," Lewis said. "We stil have an opportunity to win this division - control our destiny - and that's what we have to keep working at."
It was a weird game that started out as a stunning domination of the Ravens that at one point reached 34-0 and ended up with the Bengals reaching down for another touchdown with 6:03 left in the game.
Rudi Johnson pushed in the final touchdown on a three-yard sweep left as he carried defensive back B.J. Ward into the end zone to stem a 21-0 run by Baltimore and jack the lead back to 42-21. Ravens quarterback Kyle Boller threw his third touchdown pass of the game to tight end Todd Heap with 1:57 left from 17 yards out, but Houshmandzadeh, fittingly, fell on the ensuing onside kick.
Houshmandzadeh did take a blow to the head in the second half and his return was doubtful, but he came back and caught two balls for 16 yards in the final touchdown drive. Rudi Johnson saved his best for last in that last march, spinning away from linebacker Bart Scott for his longest run of the year, a 28-yarder up the middle in one of his six carries on a 61-yard drive he accounted for 40 on the ground. His TD run was his fourth straight carry as the Bengals got the Ravens for a 100-yard game for the first time since Dillon went for 102 in a 2002 loss.
"(When) you're up that much, and when you're playing against a team that has nothing to lose, they're going to come out slinging the ball and trying to make something happen," Palmer said. "We needed to keep pounding the ball away, and in the end ... we controlled the line of scrimmage and ran the ball to win the game."
Palmer's third touchdown pass of the day, a dart to rookie wide receiver Chris Henry beating Ravens cornerback Deion Sanders inside for a 27-yard touchdown pass that lifted his passer rating to 151.4, gave the Bengals a 31-0 lead with 11:10 left in the third quarter. When Palmer hooked up with Chad Johnson (five catches for 88 yards) on a 13-yard gain despite a holding penalty on cornerback Samari Rolle, Shayne Graham kicked a 31-yard field goal that made it 34-0 with 6:18 left in the quarter with Palmer's 144 rating pitted against Boller's 0.0.
But the Ravens parlayed two Bengals turnovers (a Houshmandzadeh fumble and Palmer interception) and Boller's 28-yard touchdown pass to wide receiver Derrick Mason on fourth-and-four over cornerback Tory James into 21 points in 4:49. It marked the first time all season the Ravens scored 20 points in a game, and this didn't even take five minutes.
But the Bengals defense carried most of the day, converting three more turnovers into 17 points that give them an NFL-high 115 points off turnovers going into Sunday's next set of games.
An interception by safety Ifeanyi Ohalete turned into the Henry touchdown and a fumble forced by rookie middle linebacker Odell Thurman tackling Boller on a handoff that was recovered by rookie linebacker David Pollack became the Graham field goal to make it 34-0. It was another miserable day for Boller despite the three scores. He threw two interceptions, got sacked three times, and completed just 18 of 32 passes for 211 yards.
After a week sabbatical from the trench wars of the AFC North in that ABA game against the Colts, the Bengals waded back into the divisional fray and slugged their way to a 17-0 first-half lead against a decimated Baltimore club poised to run the ball and keep Cincinnati's high-powered offense off the slick field in the steady rain of PBS.
But the Ravens got nothing in a half that featured Bengals cornerback Deltha O'Neal's NFL-leading seventh interception and Chad Johnson's 54-yard touchdown bomb from Carson Palmer that he celebrated by pulling an end-zone pylon out of the ground and using it like a putter on the ball.
After Johnson pumped a Tiger Woods-like fist, Palmer was a masterful 12-of-16 for 177 yards with a 131.5 passer rating that summed up the state of the two franchises when stacked up against the 0.0 rating Boller had at that moment.
Boller finished the half at 8.0 (four of 12, 37 yards), while the Bengals uncharacteristically eschewed a no-huddle, hurry-up offense with 1:52 left and were content to go into the locker room with the 17-0 lead, and Palmer rolling at 14-of-19 for 176 yards.
Boller had two huge overthrows in the half and O'Neal, going step for step with rookie wide receiver Mark Clayton down the right sideline inside the Bengals 20, got one of them. He turned into the receiver, dove in front of Clayton at the Cincinnati 11, and caught it for the Bengals' league-leading 31st turnover and 22nd interception.
And Palmer quickly turned it into the Bengals' NFL-leading 105th point off a turnover when he found Chad Johnson for his seventh touchdown of the season. Johnson, covered at times by 270-pound linebacker Adalius Thomas, found himself matched up against veteran cornerback Dale Carter. Carter, apparently thinking he had help, let Johnson get inside him and Palmer lofted it over Johnson's shoulder for the duo's second plus-50-yard score in as many weeks.
True to his word, Johnson proved "uncoverable" this day for the Ravens. On the second play of the drive, his cousin/cornerback, Rolle, was called for a 20-yard pass interference on Johnson. Palmer then hooked up with Henry on a nine-yard timing route to the sideline that converted a third-and-seven before he went calling for Johnson.
The Bengals survived a Henry fumble and an illegal contact call on linebacker Brian Simmons that gave the Ravens a first down when it should have been fourth-and-32 as a sack by James was negated. The Bengals turned to Houshmandzadeh to go up 10-0 on two throws that picked up 42 yards, one a 28-yarder in which he and Palmer fried McAlister on a double move and a pump fake, respectively.
That set up Rudi Johnson's six-yard touchdown run on a sweep led by left tackle Levi Jones's block on Rolle for a 10-0 lead with 7:24 left in the first half.
The Ravens' opening 11-play drive got nothing when Boller overthrew wide-open wide receiver Derrick Mason in the end zone after O'Neal got his feet tangled with Mason and went down at about the Bengals 15.
Palmer responded from his own two-yard-line and hit his first seven passes for 56 yards in taking the Bengals to Graham's 26-yard field goal with 50 seconds left in the half for a 3-0 lead.
Palmer's incompletion came on a third-and-one shot from the Ravens 7 when he went for Chad Johnson working against Rolle on a fade to the left corner, but the ball was overthrown.
Earlier in the drive, Chad Johnson went over 1,000 yards for the fourth straight year when a quick timing sideline route against Rolle produced a seven-yard pickup on third-and-two. The Bengals showed more sure footing than the Ravens on the slick FieldTurf with Houshmandzadeh picking up 23 yards when McAlister, struggling with a thigh injury, slipped. McAlister, the Pro Bowler, had a crucial penalty on a second-and-nine with the Bengals backed up on their own three and was called for illegal contact for an automatic first down.
Also in the drive, running back Rudi Johnson logged his longest run since Game 3 with a 21-yard bust up the middle following fullback Jeremi Johnson and Houshmandzadeh beat his idol, cornerback Deion Sanders, on a third-and-seven over the middle on a marvelous 11-yard throw by Palmer with Thomas boring into his chest. Rudi ended the half with 50 yards on 12 carries and Chad had three grabs for 67 yards as Palmer played pitch and catch with frightening ease out of primarily the no huddle.
After another career game against the Ravens, Houshmandzadeh reached another milestone when Sanders sent the shoes he wore Sunday over to the Bengals locker room at the request of Houshmandzadeh. The gift came a few hours after Sanders's 52nd career interception in the second half.
With Bryan Robinson inactive with a foot injury, Shaun Smith got his first start of the season in Robinson's spot at left defensive tackle in Marvin Lewis' starting lineup. While the Bengals hoped Smith could beef up their run defense, the Ravens sat injured running back Chester Taylor (ankle) and his 4.5 yards per carry average.
The Bengals stood up to running back Jamal Lewis working solo in holding him to 37 yards on 14 carries in the first half, although he did shake loose for his first 100-yard day of the season in finishing with 113 yards on 23 carries in his eighth 100-yard game against the Bengals in nine games.
Shaun Smith held up his end with four tackles on a stat sheet led by linebacker Landon Johnson's nine tackles and Thurman's eight. Thurman left with cramps, but came back in the next series.
The Bengals also wasted no time activating rookie cornerback Patrick Body and playing him in all of Reggie Myles's positions on special teams. Body, on the practice squad all season, signed to the 53-man roster Friday when Myles was released, and he ended up spraining his ankle on a kickoff in the second quarter and leaving the game.
With Body and cornerback Rashad Bauman active, Lewis deactivated cornerback Greg Brooks for the first time Sunday since the opener. Despite Robinson's injury, second-year defensive tackle Matthias Askew remained inactive for every game this season.
Injuries clearly affected the Ravens' ability to run the ball early. Taylor had started to rotate with Jamal Lewis and had racked up 300 yards on 67 carries. While Lewis had 28 yards on 13 carries in last week's overtime win over Pittsburgh, Taylor went 59 for 19.
Plus, right guard Brian Rimpf and right tackle Tony Pashos made just the second starts of their NFL careers Sunday.
PREGAME NOTES: Pashos, a third-year player, went into his 17th game while the man opposite him, left end Justin Smith, came into this matchup off what Marvin Lewis says is his best game of the season. But Smith wasn't very impressed with his seven-tackle, one-sack game against the Colts.
"It's funny, at defensive end, you get judged a lot of times in a game if you get a sack," Smith said last week. "But I think I've had better games than that one, I just didn't get a sack."
Smith called this Sunday "an old-fashioned slugfest," and came in concerned about Boller's ability to move around in the pocket.
"They're a tough, physical team that's going to come in here and try pound it on us. They're going to try and run it," Smith said. "Even the quarterback. If he gets pressure, he takes off running. Last time we held them to (58 yards rushing) and (backup quarterback) Anthony Wright got close to 40 yards on two carries. That's the way it's going to be. We're going to have to keep the quarterback in the pocket. He's a fast, athletic guy."
Three weeks ago in the Bengals' 21-9 victory in Baltimore, the Bengals held Jamal Lewis and Taylor to a combined 58 yards rushing, but Wright and Kordell Stewart went for 60 on seven carries from the quarterback spot.
The 6-2, 192-pound Body, out of Toledo, is making the transition from his college career as a safety to cornerback. He joined rookie receiver Tab Perry as the gunner on punt coverage against the Ravens' B.J. Sams, the NFL's second-leading returner. He was also going to be a key member on the punt return team as one of the four men on the outside. The Bengals feel Body's size and 4.3-speed in the 40-yard dash, along with what he has shown in practice, makes him a potential special teams standout.
Joining Robinson, Brooks, and Askew on the Bengals' inactive list were fullback Nick Luchey, defensive lineman Jonathan Fanene, wide receiver Kelley Washington, and linebacker Larry Stevens.
The Bengals introduced their defense as a unit dressed in all black, a uniform combination in which they now have a 4-2 record after Sunday's win. Lewis sent out for his game captains Landon Johnson, Chad Johnson, center Rich Braham, and safeties Kevin Kaesviharn and Anthony Mitchell.
For the second straight game, Landon Johnson, who had five tackles last week, got the start at strong side linebacker in front of Pollack.