Bengals tight ends coach Jonathan Hayes salutues the Steelers' new left tackle.
Jonathan Hayes, the Bengals tight ends coach who once played for the Steelers in his hometown of Pittsburgh, meets yet another old friend this Sunday (1 p.m.-Cincinnati's Channel 12) when left tackle Alejandro Villanueva makes his second NFL start against Cincinnati.
"This is a small world," Hayes said after Wednesday's practice. "Smaller than you think."
As far as Hayes knows, the starting Steelers left tackle had been known to hand out Bengals gear to his platoon.
You have to go back five years. That's when Hayes coached the 6-9 Villanueva (somewhere in the 260-270-pound range) after he surfaced at the Bengals 2010 rookie minicamp straight out of West Point on a tryout. Even though he was soon ticketed for duty in Afghanistan as an Army Ranger.
Bengals East Scout Greg Seamon had been intrigued by his NFL hugeness, of course, but also his rugby-swimming athleticism that came along with what Seamon knew as a former  Army assistant coach was impeccable character. And the Bengals needed tight ends.
"That's why I went to West Point. To serve my country. To protect freedom," is what the man said when he arrived at PBS. "I don't regret that I could have gone to a civilian school. I'm proud and happy with the choice that I made."
Even though he had a four-year commitment to the army, the Bengals were honored to give him a five-practice tryout before he deployed as a second lieutenant and rifle platoon leader of the 2nd Battalion, 87th Infantry Regiment, 3rd Brigade Combat Team. It was the first of three tours where the man his men called "The Giant,' won a Bronze Star.
"It's unbelievable. Now here he is. He's worked his way back," said Hayes, who has kept in touch with Villanueva via e-mail. "He's gained some weight and gotten bigger and stronger and now he's playing  left tackle. It's awesome.
"You knew he led great men. He's already done a lot of great things. I'm just happy for him. He's a neat guy that has accomplished a lot in a short period of time."
Hayes was always amazed by the E-mails. One that sticks in his head is a picture Villanueva sent of his platoon marching through a poppy field and the tall plants dwarfing them.
When Villanueva returned from duty that included carrying one of his wounded men out of a firefight, he hooked on with the Eagles at their 2014 training camp as a defensive lineman and when Philly cut him the Steelers signed  him to their practice squad and made him an offensive tackle.
"You can't be happier for a person that has done the things he's done for our country  and now to come back and still play in the league, that's awesome," Hayes said.
Steelers head coach Mike Tomlin had also been intrigued by "The Giant,"  when he looked over to the Eagles sideline during the national anthem of a pre-season game and saw the biggest salute he'd ever seen.
During this offseason Villanueva put on 65 pounds and made the Steelers roster. When they lost starting left tackle Kelvin Beachum for the year, Villanueva made his first NFL start in Kansas City and did well against sack ace Tamba Hali until late in the fourth quarter.
That's when he allowed two sacks. One limited the Steelers to a field goal and the other ended all hopes in a 23-13 loss to the Chiefs when quarterback Landry Jones was sacked and stripped.
But if you listen to Hayes in Cincinnati and his teammates in Pittsburgh, they're pretty sure he can bounce back from something like a football game.
"I'm not going to sit here and say he could have been this, he could have been that," Hayes said. "All I know is if he put his mind to it I knew he'd be successful. I did know that."
Hayes is going to kid him when he sees him Sunday.
"I'm going to ask him if he has all the Bengals stuff I sent him that he passed out to his platoon,"  Hayes said. "It's an awesome thing to see."
How about some more small world?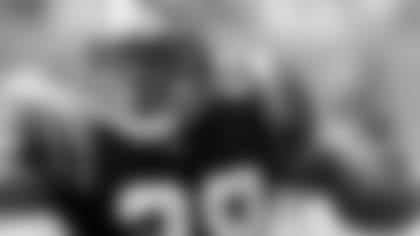 Steelers running back Le'Veon Bell says he modeled some of his game on Bengals all-time rusher Corey Dillon (above).
It turns out that Steelers running back Le'Veon Bell, who has already run the Bengals out of one AFC North title, borrowed some of his game from Cincinnati's all-time leading rusher.
The Bell-Dillon model is on display Sunday in Pittsburgh, where the Bengals knocked him out of last season's regular-season finale with a knee injury after just eight carries for 20 yards.
That came three weeks after he lit them for 185 yards at Paul Brown Stadium in the Steelers' 42-21 victory. And don't forget his 50 yards receiving.
"Corey Dillon was an amazing player. Growing up, he was one of my favorite running backs to watch in the league,' said Bell Wednesday on a conference call with the Cincinnati media.
Bell, a native of Columbus, Ohio, spent his childhood being told by his mother he was destined to play for the Steelers. So he didn't exactly follow the Stripes.
"I watched them a lot because they were always on TV. But I wouldn't say they were one of my favorite teams or anything like that, but I definitely watched them a lot growing up," Bell said. "I watched them, especially when they had Corey Dillon."
At  6-1, 225 pounds, Bell has the same specifications as Dillon. He doesn't run with the same fury, but he has the same blend of big-man power and small-man quickness.
"He was really the last franchise type of running back the Bengals really had," Bell said. "He was a big guy, he was physical, he was strong. He was also fast and he protected the ball well. Did everything all-around. He was a player that I kind of modeled my game after a little bit."
Bell wasn't always so svelte. When the Steelers made him the 48th pick in the 2013 draft (he was the second back taken behind the Bengals' Giovani Bernard), he was seen as pretty much a banger befitting his 240 pounds. But he changed his body and turned into the NFL's biggest dual threat.
Bell had the conference call awed when he announced his body fat at 2.9 percent.
"Don't you have to be four percent to be alive?" wondered Bengals radio analyst Dave Lapham.
"I guess not," Bell said.
"That was the best decision I made in my life," he said. "I always look back on my film to try to see the little things I could have done better and I always wondered how it would be if I had a little more explosiveness or how would it be if I was a little quicker. I trained the same way, maybe a little more intense. I think the biggest thing was changing my diet. I really tried to take a lot of bad carbs out of my diet. Not too much breads or condiments on my meals. I'm only strictly drinking water, not drinking juice or pop or things like that -- icees. And not eating ice cream and desserts and things like that. Just taking all that stuff out of my diet and it really helped shaped me into who I am today."
It will be a veritable running backs delight Sunday. Bell leads the AFC  in rushing with 511 yards on five yards per carry and Bernard is fifth with 5.5 yards per that is second best among all backs with at least 70 carries. And  Bernard's partner, Jeremy Hill, is the co-AFC leader with six touchdowns after a season he led the NFL in rushing for the last nine games of his rookie year.
"They're both good, young players," Bell said. "(Bernard) is a really good scat back. Not really big, but he's a physical, strong guy. Breaks a lot of tackles. Has a good center of balance. Jeremy Hill is more a physical, downhill runner. More of a one-cut guy. I think both of those guys together are a really good, dynamic duo. It's going to be tough to stop those guys and tackle those guys because they're both so good at what they do."
And there is even more small world, as provided by the head coaches.
It's the first time since Pittsburgh native Marvin Lewis' first season as the Bengals head coach in 2003  that  former Bengals head coach Dick LeBeau isn't calling the defense for the Steelers.
But wouldn't you know it? Last week a freshman running back from Pittsburgh's Bishop Wuerl  North Catholic by  the name of Michael Tomlin scored the last touchdown in a 50-7 rout of Fort Cherry High School.
Yes, the son of Steelers head coach Mike Tomlin scored against Lewis' old school.
"Tell Marvin he went 65 on his alma mater," confirmed a proud Mike Tomlin during Wednesday's conference call with the Cincinnati media. "He's a young guy . . . he's just getting his feet wet. So far it's the highlight of his high school career."
Tomlin says he won't give Lewis the message before the game.
"Marvin and I are going to have bigger fish to fry on Sunday,' he said.
In conjunction with the Salute to Service game, the Bengals and USAA honored the airmen and women at WPAFB.