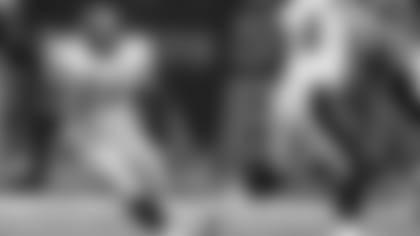 Jerome Bettis runs through a gaping hole during last season's Bengals-Steelers game at PBS. (Getty Images)Now you really know the Steelers are going to come out breathing black and gold Sunday at Paul Brown Stadium. Not only has head coach Bill Cowher taken the blame for last week's loss, but in two different news conferences this week he has semi called out his marvelous offensive line that is the first in the long and glittering smash-mouth history of this franchise to send three to the Pro Bowl.
"We're not performing to the level of expectation that we had for our football team," Cowher said in Pittsburgh this week. "We all recognize that and our offensive line would be the first ones to tell you that." And then he told the Cincinnati media Wednesday, "We have not played as consistently as we feel like our standards are around here."
But, never mind all that. The Bengals still have to answer the biggest question of the season Sunday against a Pittsburgh offensive line that is at the heart of a Steelers running game that has dominated the Bengals defense and most others in the NFL since Cowher arrived in 1992. Have the Bengals upgraded enough since last season to finally best them?
If the Bengals are looking to shift the balance of power in the AFC North, they have to go through the Steelers front. In the 26 games Cowher has coached against Cincinnati, five different players have rushed for 100 yards 18 times and the Steelers have won 15 of them.
Jay Hayes, the Bengals defensive line coach, watched them work for three of those years as the Steelers special teams coach from 1999-01. He saw Kent Stephenson leave after nine seasons of coaching the offensive line, then watched Russ Grimm in his first year coach them, and now in Year 14 of Cowher it's all the same.
"They have a system and stick to it. They believe in it, and the coach hasn't left," Hayes said after Wednesday's practice. "They find the people to put in their system and if you look at where they've been drafted, you know they're good players."
Hayes calls two of the Pro Bowlers, left guard Alan Faneca and center Jeff Hartings, the heart and soul of the unit.
"Faneca because he's been there so long and Hartings has come in and fit into the system. He's a smart guy and tough guy who works hard and fits into the mold of Dermontti (future Hall of Famer Dawson) and the other centers that have been there before."
Steelers 100-yard games vs. Bengals under Cowher:
10-19-92: Barry Foster, 24 carries for 108 yards in 20-0 Steelers win at Pitt 11-29-92: Foster, 25-102 in 21-9 Steelers win at Cincy 9-19-93: Foster, 23-103 in 34-7 Steelers win at Pitt 11-7-93: Foster, 25-120 in 24-16 Steelers win at Cincy 12-4-94: Bam Morris, 24-108 in 38-15 Steelers win at Cincy 11-19-95: Morris, 16-101 in 49-31 Steelers win at Cincy 10-13-96: Jerome Bettis, 28-109 in 20-10 Steelers win at Pitt 11-10-96: Bettis, 21-111 in 34-24 Bengals win at Cincy 10-19-97: Bettis, 34-135 in 26-10 Steelers win at Cincy 11-16-97: Bettis, 25-101 in 20-3 Steelers win at Pitt 10-11-98: Kordell Stewart, 7-103 in 25-20 Bengals win at Cincy 12-20-98: Bettis, 21-104 in 25-24 Bengals win at Pitt 10-17-99: Bettis, 26-111 in 17-3 Steelers win at Cincy 10-15-00: Bettis, 29-101 in 15-0 Steelers win at Pitt 10-7-01: Bettis, 23-153 in 16-7 Steelers win at Pitt 10-13-02: Bettis, 21-109 in 34-7 Steelers win at Cincy 10-3-04: Duce Staley, 25-123 in 28-17 Steelers win at Pitt 11-21-04: Bettis, 29-129 in 19-14 Steelers win at Cincy Bengals radio analyst Dave Lapham, the former pro offensive lineman, calls Faneca the best guard in the league because of his "ratio of speed and movement," and he won't get any arguments in the Bengals locker room.
"Faneca is their pull guy, but they run the ball where ever," said Bengals defensive tackle Bryan Robinson.
The 6-5, 307-pound Faneca arrived via the first round in 1998. Hartings, a first-round pick in 1996, came via free agency in 2001. The other Pro Bowler, left tackle Marvel Smith, arrived in the second round of the 2000 draft, four picks after the Bengals nearly pulled the trigger until opting for safety Mark Roman.
Right guard Kendall Simmons, the third first-round pick of the group, started 14 games as a rookie in 2002 and right tackle Max Starks, a third-rounder from '04, is making his debut this year.
"I'm not going to tell you who we vote for the Pro Bowl, but we know they're good players," said Bengals defensive tackle John Thornton. "If you have a line that's spent a long time together, they're going to be good regardless who they have. They've been doing it for years. It's nothing new to them."
There are rumblings in the 'Burg. The 6-8, 337-pound Starks, son of former Bengal Ross Browner, is bigger than the prototypical Steelers lineman and is trying to adjust to the speed of the game. He got ripped in the local media for his work in last week's loss to Jacksonville, the second time in three games the Steelers failed to rush for 100 yards, and leaving them in an uncharacteristic 13th place in NFL rushing.
Last season, with the help of two 100-yard games against the Bengals (one each by Jerome Bettis and Duce Staley), the Steelers finished second in NFL rushing for their sixth top five finish under Cowher, and no team has rushed for more yards since he took over in 1992.
But Pittsburgh hasn't had a 100-yard rusher in three games and is averaging a un-Steelerish 3.8 yards per carry. Bettis has yet to have a breakout game this season and it's likely the Steelers are going to roll out his 11 career 100-yard games against the Bengals (one was with the L.A. Rams for goodness sake) on this field trip for "The Bus."
All the more reason the Bengals have to decipher the offensive line and penetrate. The 290-pound Thornton really wasn't kidding all that much when he said he's not sure if the 260-pound Bettis is bigger than him.
"He has good feet," Thornton said. "Usually when our linebackers and secondary take him on most of the time, he has the advantage in that situation because he's so big. That's why it's so key to make him move his feet in the backfield and make him make his cuts before he gets to the line. Once he gets to the line, he'll get three or four yards."
Simmons is trying to come back from reconstructive knee surgery (the Bengals line knows how knee injuries can affect it), some Steelers observers have wondered if Hartings has lost some athleticism, and Starks has moved back to a position he last played as a University of Florida sophomore.
Bengals linebacker Brian Simmons isn't sure about all that after playing against Pittsburgh 12 times.
"They've got guys who can pound it out and guys who can get on guys out in space," Simmons said. "They can do a little bit of everything."
Fellow backer Landon Johnson only needed to play the Steelers twice as a rookie last year before capturing their strength. "They work well together as a unit," he said. Defensive end Justin Smith said, "They've got some big boys running behind guys who are athletic and tough and I think those two things work together."
"That's their bread-and-butter. They can throw it, but when all is said and done," Hayes said, "if you don't stop them from running, you don't have a chance to beat them."
Of course, the Bengals are extremely sensitive about their ability to stop the run. Asked about the club's 21st ranking against the run head coach Marvin Lewis fired back, "What's the scoring defense?" because he knows it's fourth at 14 points per game. The Bengals are giving up an AFC-worst 4.9 yards per rush and Brian Simmons knows why the heat is coming.
"People just want to look at the bad," Simmons said. "We've won five games and played the run pretty good here. In the last couple of years when we had a good per carry average, people wanted to look at the yardage and it was a lot because we were down and people pounded it against us. Now that we've been ahead and we're not giving up a lot of yardage, they're looking at the yards per carry."
Thornton looks at last year's 19-14 loss to the Steelers in which the Bengals sacked quarterback Ben Roethlisberger seven times while allowing the Pittsburgh offense just one touchdown, and says Cincinnati got hurt more by big passes.
Such as Roethlisberger passing for that touchdown on an eight-yarder to fullback Dan Kreider on third-and-two. Or the 26-yarder to tight end Jerame Tuman a few snaps before the touchdown.
"They had the same rushing attack and a better record (8-1). Jerome Bettis had (129) yards, but we kept them out of the end zone," Thornton said. "They ran the ball to kill the clock once they got the lead ... you're not going to stop their running game cold. ... You can't get fixated on the run because if you load up on them, they'll throw it around to Hines Ward and (Antwaan) Randle El."
The Bengals have been banking on their new-look defense to be stouter than years past against the run. It's the Steelers' first look at the re-tooled line in which Thornton has moved to right tackle, Smith has moved from right to left end and been replaced by Robert Geathers, free-agent Robinson has filled the power point at left tackle, and all have rotated more than usual with Shaun Smith adding some quality snaps at tackle.
They're backed up by rookie middle linebacker Odell Thurman, the NFL Draft's top inside backer from Georgia who knows next to nothing about the Steelers and the rivalry.
"They tell me it's like 'The Cocktail Party,' " said Thurman of the Georgia-Florida game.
Robinson, the nine-year veteran who played against the Steelers last year with the Dolphins, can tell the kid all about it. This game is one of the reasons he signed on to play with the Bengals. He came here vowing to help this team stop the run, and this is the game.
"This is the kind of game I love," Robinson said. "There are no secrets. You know exactly what they're going to do and we have to stop it."
Some would argue that the Bengals new-look front has yielded the same results and has failed to stop the run because of that 4.9 average. The Bengals would argue they've stopped it enough to win five out of six games.
"I think we'll have some kind of an answer Sunday," Lapham said.