While the 3-2 Bills try to scrape together a quorum from their injured list, the 5-0 Bengals look to adjourn for the bye week with a tie for their best start ever when they gather in the old meeting house Sunday (1 p.m.-Cincinnati's Channel 12) in Western New York's Ralph Wilson Stadium.
The Bengals.com Media Roundtable has decided to avoid the trap of picking the trap game and opts for the empirical evidence that has emerged in the last month.
Buffalo News sports columnist Jerry Sullivan, whose wit and wisdom has blanketed the lakefront for a quarter of a century, doesn't believe Bills head coach Rex Ryan's defensive scheme has yet to take root and that the Bengals' Andy Dalton becomes the latest quarterback to break up the Orchard Park bash.
John Kryk, The Toronto Sun NFL reporter whose fascinating book on football's first hurry-up offense from more than 100 years ago is on the shelves (Stagg vs. Yost), doesn't see the Bengals going a point-a-minute. But he does see more than enough to win a slugfest.
Coley Harvey, who covers the Bengals for ESPN.com, used to cover Florida State and has some insight on former Seminoles that have made the NFL journey to Buffalo. But there's not enough of them to score the required points he thinks it will take to beat the Bengals.
Jim Owczarski, one of The Cincinnati Enquirer beat men, notes the focus that has marked the Bengals' unbeaten open and says it will be sharp enough to carry the day.
With an anticipated kick-off temperature of 41 degrees, let's go around the camp fire with visitors, naturally, leading off:  
It doesn't look like Bill starting quarterback Tyrod Taylor is going to play with the sprained knee. He's also had an ankle injury. He won't be the same guy. It looks like we'll see EJ Manuel, which is an uninspiring choice. It's politically charged here in Buffalo with a small contingent of fans that think he deserves a chance to prove himself. There aren't a lot of people, including the coaching staff, that has a lot of faith in EJ. In three of the last four games Taylor has done virtually nothing in the first half and in the last game he pulled it out with his legs. I'm not sure either quarterback should frighten the Bengals.
The bigger issue is can the Bills defense that likes to consider itself elite, and at times has shut down good quarterbacks, keep up with a very talented and multiple offense? The Bills don't cover tight ends well traditionally. Giovani Bernard can hurt them out of the backfield. They'll try to play man at the corners. That's Rex Ryan's way. From what I can see of Bengals quarterback Andy Dalton, if he gets rid of the ball the way Tom Brady and Eli Manning did, they're in trouble here. They've lost two in a row at home to good quarterbacks.
The last four quarterbacks to come in here are Aaron Rodgers, Andrew Luck, Brady, and Manning. They beat Rodgers and Luck and made them look pretty bad. So if the home crowd is going here, they can be pretty dangerous. If they get pass rush they can cause problems for a quarterback and I imagine Dalton can be flustered.
But I think the book is out on this defense and I also think they're struggling to adapt to Rex's ways. Some people think they were better under Jim Schwartz last year in a more conventional 4-3 that lets the front go instead of the zone blitzing. There's a big question if they can get to a quarterback like Dalton and rattle him.
This crowd can be tough like a lot of places in the league.  The thing that happens here is the quarterbacks can take them out. The Bengals are outscoring teams, 42-13, in the first quarter and that's a good recipe here. That's what Brady does, that's what Manning did. Get them early, take the crowd out of it, make them play from behind and they're just not as formidable.
We had a similar scenario last year. Great opening win against Miami. Very emotional. Right after the Pegulas won the bid for the team. Then San Diego and Philip Rivers comes to town and beats them, and then Brady comes in and beats them. They lose two in a row at home. Same thing this year with Brady and Eli Manning. They're looking at three straight home losses. It makes you wonder if the home advantage here is really that great.
One thing I've learned about Rex Ryan in his press conferences since the season started. He always seems to show up with an agenda. He called out the fans before the opening game to come out and be loud. He specifically told them to create a play-off atmosphere this Sunday. I wonder if that was a direct shot at Dalton, 0-4 in the playoffs, and trying to create a scenario where Dalton plays down to that level.
But it looks to me like this is a different Dalton. I've said for four years, would you rather have Dalton getting you to the playoffs or have you seen a quarterback here in Buffalo the last 15 years?  And he's playing at an elite level this year. That's not exactly a bad defense he beat last week. And weapons are important. As mediocre as their offense is, last week the Bills had no LeSean McCoy, and no Karlos Williams at running back and no Sammy Watkins at wide receiver. It was a joke. They had nobody. Nothing like having receivers. That's why they reached for Sammy in the draft, which is another issue.
You look at the Bengals' weapons with the tight end Tyler Eifert and it's hard to screw that up. With safety Aaron Williams out again, that hurts them down the middle of the field. I don't think their linebackers drop very well. If Dalton gets time and releases the ball quickly and hits those intermediate zones and uses everybody, I think the Bengals can cause this defense problems.
THE EDGE: Bengals, 23-13. Even though Watkins and McCoy and are going to play, with the quarterback situation I just don't see them scoring. I know two years ago against the Bengals Thad Lewis put up two touchdowns late to put it into overtime, but I don't see them scoring a lot of points and the Bills hold the Bengals seven points under their average. The Bills defense has to prove to me its elite. The minute you believe they are, they let you down. They need to figure out what they're doing with Rex in a hurry and get to the quarterback or they could give up 30 here Sunday.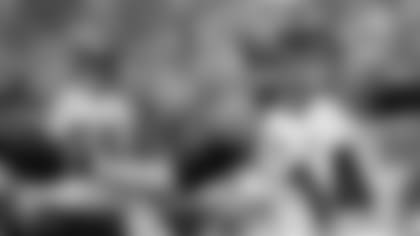 Andy Dalton is trying to follow Tom Brady and Eli Manning with a victory in Buffalo.
It starts with the Buffalo quarterback. If Taylor doesn't play, Manuel has had up and down performances in the regular season. He's probably been better in some games than most people give him credit. He's been bad in some.
But he led them over Carolina when the Panthers won the division and made the playoffs. He's had some good wins.  But we don't know what we're going to see from Manuel under new offensive coordinator Greg Roman. In the preseason he led them to a win down the stretch over Cleveland and he was fantastic in the third preseason game against Pittsburgh when they gave him a start and he threw for two touchdowns.  He probably couldn't have done any more in the preseason. That's probably what compelled the team to hang on him. He earned his spot.
Those in EJ's camp are stridently for him and they think last year's head coach, Doug Marrone, was too quick to pull the trigger.  It was a panic move, they say. There are some that think he can still be a face of the franchise guy. But I don't think Rex Ryan thought he was going to be his starter.
If Manuel is given time, I think he can do some damage. And that's the big if we saw against the Giants two weeks ago. The Bills' interior line has not been playing well. Left guard Richie Incognito has played quite well. Center Eric Wood has shown this year and in the past he's vulnerable to the bull rush up the middle and Cincinnati certainly has that ability.  Manuel can be accurate. He's got a deep arm. He's not afraid to throw it deep. If big plays have been the Achilles' for the Bengals defense, wide receivers Sammy Watkins, Percy Harvin, and Marquise Goodwin could hurt them.
They might be able to squeeze out some big plays, but will they be able to run? That's always the key for this Bills offense because it's built a lot like Seattle. It's all predicated on hurting you with play-action passes and we saw when they couldn't run it against the Giants the whole thing kind of falls apart.
Watkins has to be healthy to be an impact and if he is the Bengals are probably going to have to put two guys on him and that changes everything. That's how Harvin gets his big plays because they're doubling Sammy.  
 The game will be lower scoring than Cincinnati is used to this year. The Bills defense is real. The two cornerbacks are really playing well. Profotballfallfocus.com has Stephon Gilmore and Ronald Darby playing as well as any tandem in the league. Rex put Darby, the rookie, deliberately out on an island with no safety help in the preseason and he looked pretty bad at times. Pittsburgh's Martavis Bryant just carved him up in the preseason. But once the regular season started and he got some safety help, he's showed he's more than up to the task. Gilmore is playing better than I thought he would. I thought when the league cracked down on defensive holding that would impact him because he isn't the most athletic of corners and he's not going to win a race against most receivers in the league. But he's got a couple of picks and has defensed a lot of passes.
With those two guys, it's just not their defensive line that's excellent. And their line, actually, might have underachieved more than any unit on the team because they're just not getting consistent pressure from series to series that I think everyone expected from Rex Ryan schemes.
THE EDGE: Bengals, 24-17. They probably pull it out. They don't have anybody hurt and the Bills are the antithesis. They're one of the most banged-up teams when it comes to prominent players in the league. They're unsettled at safety. In training camp they had five running backs and everybody said they had the deepest stable in the league and now they might have the thinnest.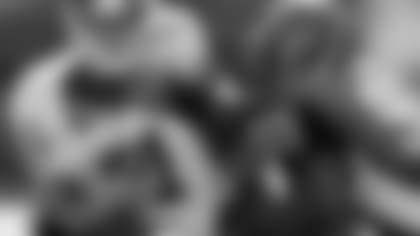 Bengals defensive tackle Geno Atkins leads a battle of two talented defensive lines.
There is so much uncertainty surrounding this game. It may change Sunday morning but there are a lot of ifs.
It's like Florida State north up there with EJ Manuel, Karlos Williams and Ronald Darby. EJ has regressed since he's been in the NFL, which is strange to say. He wasn't an elite quarterback in college, but he was good enough there with those weapons in that system. That's the thing. You have to have a coach who's going to put him in the right system that's going to put him in the right places and he hasn't had that in Buffalo with all the changes throughout his career. I expect him to stay in the pocket a lot. He's not going to run a lot, but he is mobile and when he does run he's got that size and it's like trying to get down Ben Roethlisberger. Manuel went absolutely bananas in the preseason against Pittsburgh. He's got the skill set, but it hasn't translated to the league yet.
 The big thing we do know is the Bills have a good defense and the question is if the Bengals can get the run game going.  This may not be the week it happens against the No. 3 rush defense in the league. It's like the Seahawks, Ravens, and Chiefs in the sense they're going to stack the box and make it tough for both backs.
Even though it hasn't looked pretty, what Gio has been able to do has been good enough to get them by at this point. That's what everyone is losing sight of because the run game has been serviceable enough.
It may be the best defense they faced because of the two corners. I covered Darby at Florida State for one season when he was a freshman and even then he was one of the best players on a field full of NFL talent. He's got his hands on the ball. Both corners have two interceptions. What changes for them is what happens at safety with Aaron Williams out. It could be an Eifert game, it could be a Marvin Jones game, too, partly because we saw him score four touchdowns against Rex when he coaching the Jets. I think we'll see somebody other than A.J. Green have a big day.
THE EDGE: Bengals, 24-14. I'm having a tough time picking against the Bengals until they actually lose. They've just looked so good front to back the first five weeks. The trap game concerns me when it comes to picking them, but I have to see it first before I believe it.  
You talk about playing another great defensive front four. You wonder if there's a cumulative effect. How many weeks in a row have the Bengals played a defense like this? As offensive coordinator Hue Jackson likes to say, it's the attempts in the run game. Is this another one of those games you literally beat your head against a brick wall and hope something breaks or hope it sets something up? Still, they've been good so far.  They've protected Andy well.
But I'll tell you, Buffalo's front four, they're good. They make something like $200 million. It's unbelievable. For me what separates them are the two guys inside get to the quarterback, too. It's just not Jerry Hughes and Mario Williams on the outside. It's pass rush ability up the middle. Maybe practicing against Geno Atkins has prepared those three guys (interior Bengals offensive line), but it will be tough.
Fans might say it's a classic trap game. But I do think the Bengals are a better team. As good as that front four is, the Bengals have better talent. Especially when you flip the field and you're talking about an injured Tyrod  Taylor, or an EJ Manuel who hasn't played, or a running back situation that is in total disarray due to injury. Sammy Watkins has missed a week and a half with a calf injury. Is he 100 percent? There are just some things on the other side of the ball, I don't know how the Bills score enough even though the Bengals have given up some plays.
THE EDGE: Bengals, 28-13. Maybe EJ Manuel hits Percy Harvin on a busted coverage like we've seen the last few weeks. But I don't think they can do it enough. I think the Bengals offense has done it enough against good defenses to score points. Their offense is rolling. They've done it on the road already. Until proven otherwise, I've seen enough from these guys they are so focused that they'll get over the trap game. Maybe because everyone wonders if it will be a trap game, maybe it will be the other way. If they start fast and bury them like they've done, I don't know if Buffalo has the talent on offense to come back from 14 or 14-3 down.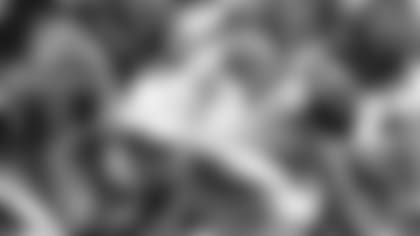 Bengals center Russell Bodine's interior group needs to have a big game Sunday. 
Sure, this is a game you'd never pick the Bengals to win on a day forecast to be as blustery as Rex Ryan.
Letdown after a huge overtime win against a Super Bowl team. On the road. A ferocious pass rush fueled by a crowd that views a visit to Ralph Wilson Stadium as the second religious experience of its Sunday. And wouldn't it figure if a week after they turned Thomas Rawls into Marshawn Lynch they transform EJ Manuel into Jim Kelly?
At .618 (21-13) Dalton has the fourth best road record among active quarterbacks behind Tom Brady, Peyton Manning, and Tony Romo.
When the Bengals have had their first-string quarterback during the regular season against a Rex Ryan defense in the past 10 years, they hold their own with a 6-4 record and a passer rating of 86.3 with 16 TD passes. It's all or nothing. When the Bengals have had three legit wide receivers, the man coverage dictated by the blitz causes Rex problems.
And, all is not well in Buffalo, where the starting quarterback is a runner and has a sprained knee, as well as an uncomfortable restlessness with Rex's scheme.
But the Bills are dangerous because of that crowd and defense and if the Bengals don't start fast and assert themselves early, it's a game that can quickly get out of their control because of the aggressive defensive style. If the Bengals get behind, now Rex can unleash his $200 million front four like some island dictator 
But the matchup seems to fit Dalton. Brady and Eli Manning went into The Ralph this season and threw three TDs each with quick throws that kept the pass rush at bay
 According to profotballfocus.com, Dalton spends the least amount of time in the pocket throwing the ball, quicker than the magician Brady after he ripped the Bills to shreds on 466 yards while passing to nine different receivers. Eli went to five different receivers two weeks ago for 212 yards.
Neither the Pats or the Giants ran the ball that well, but they did try because they'll smother you with the pass rush if you don't. The Giants went for 28 times for 92 yards and the Pats went 15 for 56. Just enough. And that would seem to fit Hue Jackson's model against these eight-in the-box defenses.
The Bengals wide receivers face their biggest challenge of the season with rookie Ronald Darby and Stephon Gilmore rated 2 and 4, respectively, as cover corners by PFF. But Buffalo has middle of the field problems with safety Aaron Williams out for the next two months. When Williams missed the New England game, Brady had no problems  finding tight end Rob Gronkowski for 113 yards and a TD on seven catches. This game has Tyler Eifert's name written all over it.
Where the Bengals have to be extremely carefully is guarding against the big plays no matter who the quarterback is because the Bills have a penchant for making the 20-yard-plus play and the Bengals have a penchant for giving it up.
With Taylor running around pretty effectively, the Bills have launched the second most big plays in the NFL with 26 while the Bengals defense is tied for 12th giving up the most with 16. They've also given up the third most of plus-40 (five) and Manuel can go deep.
Of course, it also helps Dalton is tied with old friend Carson Palmer in Arizona for generating the NFL's most big plays with 27. Keep an eye on Bengals' second-year cornerback Darqueze Dennard in the slot with Leon Hall (back) limited this week.
The big question? How badly hurt are the Bills' playmakers? Running back LeSean McCoy (hamstring) and starting wide receivers Sammy Watkins (calf) and Percy Harvin (hip) were limited this week and if they can't run as fast as usual, that changes a lot of it.
The Bills are in the middle of the pack covering punts while Adam Jones has put the Bengals punt return back into the top ten at No.  9. Whenever matched against a good defense, the hidden yards are huge and that's one of the major reasons they survived Seattle.
This one is going to be just as hard, given the venue and the opposing defense. They can't fall behind. No 17-point comebacks at The Ralph against this front four. It's going to take a rock-ribbed no-turnover effort from the get-go, but looking at Dalton's record, they know how to do that on the road. Three TDs should be enough.