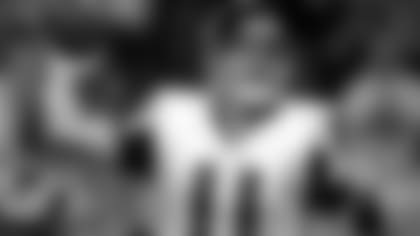 Johnson has thrown for 2600 yards in six seasons with Atlanta, Tennessee and Cleveland. (Getty Images)
The one thing Doug Johnson has never had a problem doing is throwing the ball. That became quite evident last week when the veteran quarterback arrived at Paul Brown Stadium and zipped the ball well enough to earn a one-year contract.
"I think I'd thrown once since November," said Johnson on Tuesday after the club announced the deal. "I can roll out of bed and throw the ball. ... February isn't the normal time for workouts, but I know they're in a unique situation."
You can say that again and even Johnson, 28, a six-year veteran, expects the Bengals to sign somebody else. They don't know when starter Carson Palmer (knee) can be ready. They don't know if they'll have No. 2 Jon Kitna (free agent) as the backup. And No. 3 Craig Krenzel hasn't taken a game snap since he signed here last June. He and Johnson are the only healthy quarterbacks signed for next season.
Indications are the Bengals are going to continue looking at quarterbacks as Palmer rehabs from reconstructive knee surgery and his status for Opening Day remains in doubt. It doesn't appear that the addition of Johnson precludes the Bengals from re-signing Jon Kitna, or another unrestricted free agent, or taking one on the second day of the NFL Draft.
"I would expect they're going to sign at least one more guy since it's just me and another guy right now, and I would think they'd try to re-sign Jon," Johnson said. "I don't think anybody really knows because (of Palmer's injury). They're looking for an experienced guy who can come in and play if needed, and I've played in the league for seven years."
Johnson says the Bengals wanted to get somebody in the fold as quickly as possible in order to learn the system from offensive coordinator Bob Bratkowski and quarterbacks coach Ken Zampese. With Kitna telling the team he wants to test free agency, any quarterback signed after March 3 is going to be on the fast track getting ready for the May and June camps.
"I've got calls in to Ken and Bob now to set something up and sit down with them and get going on the offense," Johnson said.
The 6-2, 220-pound Johnson has plenty of experience in a variety of passing offenses, starting with his career at the University of Florida. He's 2-9 as an NFL starter with eight starts coming in place of the injured Michael Vick in Atlanta in 2003. He threw eight touchdown passes and had 12 interceptions that season to go with his NFL total of 13 and 18, respectively. The Falcons were 1-7 in his starts and he got replaced by Kurt Kittner for a stretch. But Atlanta also scored at least 26 points in three of the losses Johnson started.
He's thrown just 12 passes since '03, all coming with Tennessee in 2004 before signing with Cleveland. The Browns released him back in September.
After his initial meeting with Bratkowski and Zampese, Johnson already feels comfortable with the scheme.
"They do some of the things that I'm used to doing," Johnson said. "I'm excited with what they let the quarterback do. They give him a lot room out there making calls and put a lot on him."
Johnson, who signed as an undrafted free agent with Atlanta when he got out of Florida in 2000, is simply looking for a niche.
"It's about opportunity," Johnson said. "I got my chance in Atlanta and it didn't work out, and now I'm here and I'm going to do the best that I can to get ready if they need me.
"I think this is Cincinnati's time. Every team goes through peaks and valleys with the salary cap and free agency. But this is their time and I'm excited about it."