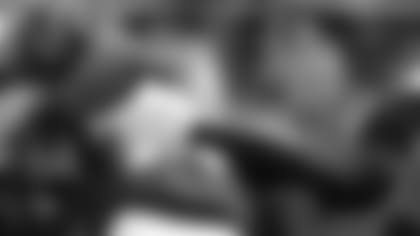 Rudi Johnson powered his way to 97 yards. (AP photo)
BALTIMORE - If the season were over, the Bengals would host a playoff game. They head into the last bye week of the season at 7-2, with the second best record in the NFL and with as many wins as the undefeated Colts and with fate in their own hands.
Two months into the season and they have won on the road (4-1), at home (3-1), against the NFC North (3-0), the AFC North (2-1), with the league's fourth-ranked offense and with a defense that has allowed more than two touchdowns just once all season.
But Sunday's 21-9 win here against the Ravens sent the biggest message of all and seemed to supply the most satisfaction to a locker room tired of the whispers. When push came to shove, the Bengals won one of these AFC North brawls.
"That's OK. We're a finesse team. You guys can write that," said defensive tackle John Thornton with a face straighter than the goal line the Ravens never crossed. "We must be the best 7-2 finesse team in the league."
Two weeks after the Steelers raised all the questions by steamrolling the Bengals on 221 rushing yards, Cincinnati raised up and held running back Jamal Lewis to 49 yards and 3.3 yards per carry in the first game in eight career appearances that it has held him to under 100 yards. Six days after the Ravens held Pittsburgh running back Fast Willie Parker to 63 yards, the Bengals' Rudi Johnson came within a three-yard loss of becoming only the second running back to rush for 100 yards against the Ravens this season.
Johnson finished with his most carries of the season with 29 for 97 yards, making the Bengals 8-0 when he carries at least 25 times.
"A lot things were being said about were we physical enough to come in here and run the ball on these guys and we proved those guys wrong," said quarterback Carson Palmer. "Offensively, we're a physical front five guys. We've got size and we're athletic on our offensive line, and you give the ball to a guy like Rudi and he's a beast in the backfield. He's always moving forward and running people over. You're going to get three, four, five yards a pop running it."
Jamal Lewis didn't. Six times he carried for two yards or less. Including the first play of the game when rookie middle linebacker Odell Thurman and free safety Kevin Kaesviharn came up to wrap him for no gain. Lewis, clearly struggling, doesn't have a 100-yard game this year and it was the fourth time this season he's carried for less than 50 yards. But he's the kind of big back that has bedeviled the Marvin Lewis administration and it didn't happen here Sunday.
"We're a physical football team and we came out and showed it today. That's the question you all raised," said Thurman, who had six tackles. "We all know in our locker room, all 53 or how many we've got, that we're a physical football and we'll show it every week from here on out. Mark my word on that."
The win seemed the most gratifying to the old war horse of what has now officially turned from an outside shot into a team gunning for a home playoff game. Pro Bowl right tackle Willie Anderson has never heard his team called "soft," but he hasn't heard the other word either.
As usual, Anderson summed up 60 minutes of twists and turns and sub-plots and themes into one bold headline.
"It's big to come in here and win a game like this against a team that has done it for years," Anderson. "They're always well-coached and disciplined, and physical.
"It kind of makes you mad when you're a big guy and your offensive line isn't talked about as a physical group. We're not a finesse team. You can't play in the AFC North and be a finesse team. Most teams that have a great quarterback they don't think are a finesse team. We take pride in our physical practices ... our 9-on-7 is a physical day for us."
From the looks of the media schedule for the upcoming bye week, the man who leads them through that regimen, Marvin Lewis, looks to be giving his team nearly a week off to soothe the muscles. Asked about all this AFC North smashmouth talk, Lewis smiled politely and ticked off some wins this year that he thinks came courtesy of that style: Chicago, Houston, Tennessee.
"It could easily have been a game they came in and dominated us," Anderson said. "Today that wasn't the case. When Rudi went running through for four, five yards, that kind of irritates great defenses. Teams like them and Pittsburgh, you get a 90-yard rusher, you better be happy."
Johnson was mad at himself for taking a 10-yard loss on one run (he also had a three-yard loss), and he said after doing the same thing last week, "I've got to stop doing that, but I was trying to make a play and they made a play.
"We had good game plan and we stuck with it," said Johnson, who praised the coaches for having a strategy that took him to the edge as well as up the middle.
The Bengals offered a seven-minute display of their toughness, led by their bullet-proof calm quarterback in the clinching 91-yard drive. Left tacklle Levi Jones went down for a few plays with a knee injury. Running back Chris Perry writhed on the turf for a few scary moments when someone stepped on his ankle. Wide receiver T.J. Houshmandzadeh left when cramps prevented him from ending the drive with a touchdown catch.
"It was funny. I knelt down next to all three guys and said a prayer and they all jumped up," Anderson said.
"We're not supposed to talk about injuries," said Jones, brilliant again in blanking a Pro Bowl sacker for the third straight week when Terrell Suggs didn't come up with a sack. "It's football. Guys get hurt."
It's that mentality that caused Palmer to tap each of his linemen and tell them this win belonged to them before the final kneel down.
"That's great coming from your quarterback," Anderson said. "It makes guys like Levi want to get back out there and protect him."