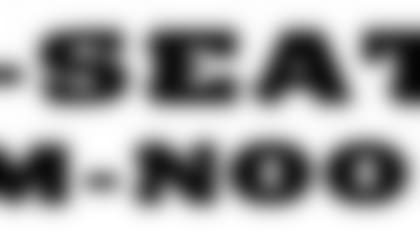 Fans who are interested in acquiring new Season Tickets will be able to personally inspect and choose from the best available seat locations on Saturday morning, June 20 from 9 a.m. - Noon.
This Select-A-Seat event will open Paul Brown Stadium to new Season Ticket buyers and the best remaining season ticket locations will be marked for sale so you can personally select your favorite seats.
Season tickets are the best way to guarantee your spot in "The Jungle" for the entire 2009 home schedule that includes great games against the Pittsburgh Steelers, Cleveland Browns, Baltimore Ravens, Chicago Bears and Denver Broncos.
Available seating on all three stadium levels will be marked, and members of the Bengals sales staff will be available to answer questions.
The Bengals will conduct a full team practice on the stadium field from around 10 a.m. - 11:30 a.m.
To beat the rush and get your Season Tickets before the Minicamp Select-A-Seat, please call the Bengals Ticket Hotline at 513-621-TDTD (8383). For more information regarding season tickets and ticket prices, click here.
The Select-A-Seat Event is free and open to the public.  Free parking for the event will be available at PBS Lot 1, located on the northwest corner of the stadium at Central Avenue and Pete Rose Way. From Lot 1, fans will proceed to Gate B of the stadium, where they can enter the seating bowl and easily see the tags marking the seats available for new Season Ticket sales.
Fans desiring further information on the Select-A-Seat program may contact the Bengals Ticket Hotline at 513 621-TDTD (8383).