Jordan Evans: from no combine invite to four NFL starts as a rookie.
More than veterans like 49ers safety Eric Reid are touring Paul Brown Stadium these days. 'Tis the season of the kids and the Bengals have until April 18 to interview and examine 30 prospective rookies in their building.
With the NFL Draft starting two weeks from Thursday, the Bengals seem to be putting the veteran free-agents on the backburner and are focusing on the visiting prospects. And there will be the usual suspects that are to be plucked on the first two nights in the first three rounds.
But there'll also be that gaggle you can't google as easily. They call them the non-combine prospects, the kids not invited to the scouting combine. The group that tests the mettle of all 32 NFL personnel departments. And it's a class of player that has figured rather prominently on the last day of the Bengals' recent drafts.
"We don't rely on the combine to define the universe we're looking at," says Duke Tobin, the Bengals director of player personnel. "We define it based on our scouting through the course of the year. The moral of the story is the combine isn't a qualifier."
Or as one Bengals scout asked, "What's the first you look at to see if a guy can play?"
"Right," the scout said. "And don't forget it."
Back in September the Bengals' Opening Day lineup featured at least one starter in all three phases that didn't attend their combine: right guard Trey Hopkins, linebacker Vincent Rey, safety Clayton Fejedelem, and kick/punt returner Alex Erickson. Also playing in that game from scrimmage and in the kicking games was tight end C.J. Uzomah, a fifth-round pick in 2015 that didn't go the combine.
And that didn't even count their final three picks in the last draft. Sixth-rounders Jordan Evans, an Oklahoma linebacker, and Houston safety Brandon Wilson, as well as seventh-rounder Mason Schreck, a University of Buffalo tight end, all were non-combiners. As injuries piled up, Evans started four of the last five games of the year at SAM while Wilson was a special teams staple in the last eight games. Schreck missed the entire season with injury but he's back looking for a practice squad spot.
Clayton Fejedelem has turned into a special teams maven despite no combine invite.
"Duke does a good turning over rocks," says linebackers coach Jim Haslett. "Yeah, I think he works well with the coaches and he does a good job not tipping his hand."
Most of the non-combiners come in together and are counted as part of the group of 30 they are allowed to invite in and it's usually toward the end of the process.  The way Evans remembers it last year, "There was a big group of us. It was in and out. I think the time I spent traveling was longer than the time I was there."
Evans, flying from Norman, Okla., got delayed in Chicago, missed prospects' dinner at the stadium, and went right to the hotel. When he got there in the morning, there was a physical, one-on-one chats with Haslett, and special teams coordinator Darrin Simmons. Head coach Marvin Lewis spoke to the group. Then he was suddenly back on the plane after lunch. (Everyone gets a physical, even those who attended that exhausting exercise at the combine.)
"And getting back home to wait for the next team to call or just having that long wait for the draft," Evans says.
But before he left, he was impressed with how much the Bengals knew about him. Talk about testing a scouting department. Evans not only didn't get a combine invite, he didn't get a spot in any of the post-season all-star games. When he met with Haslett, he had already been vetted by the scouts and coaches and his tape was already qued up. The only other visit was to Green Bay.
"When people asked me where I thought I was going I told them the Bengals seemed very interested and I thought there was a chance I'd end up out there in Cincy," Evans says. "From what I know the Bengals do a really good job of the coaches, the owner, and (the scouts) all talking through who they want. It was a good feeling it wasn't just one guy interested in me."
The scouts felt they had a guy on the ascent, one of those classic diamonds in the rough. Evans had been a high school cornerback and was learning linebacker at Oklahoma even as he made eye-raising plays in space with his speed.
His pro day confirmed he was a legit prospect. The problem was, he was so good it alerted everyone else. The school workout turns into the combine for the non-combiners. Evans' game tape had the Bengals already interested. He's big (6-3, 245) and fast, but when he ripped off a 4.51 40-yard dash that would have led all linebackers in Indy, it had the cell phones ringing. Only Michigan backer Jabrill Peppers' 4.46 was faster, but he belonged with the defensive backs.
Here's the irony. Evans trained for that Pro Day in suburban Cincinnati at Ignition Sports under trainer Clif Marshall. Also working out at Ignition was long-time Bengals linebacker Vincent Rey, another non-combiner that caught the Bengals' eye on tape and in a Pro Day at Duke that verified his speed and athleticism. Seven years before Evans, Rey ran a 4.58 40, put down a nice 10.5 vertical leap, 10-6 in the broad jump, and bench pressed 225 pounds 20 times.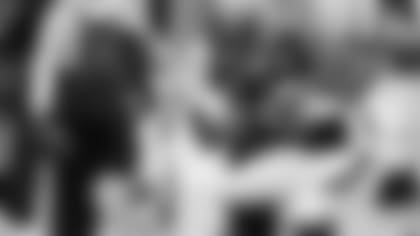 Back in 2010, Vincent Rey (57) didn't need a combine invite to become a seven-year vet.
Evans? Along with the 4.51 he also went 10.5 in the vertical leap along with 19 reps of 225 and 9-11 in the board jump. 
(Uzomah also had a great day at Auburn back in '15. According to a published report, he ran the 40 in 4.63, faster than all but one tight end at the combine. His broad jump, 9-foot-10, would have placed fourth and both his bench press and vertical would have been ninth.)
"My agents started getting calls halfway through the Pro Day," Evans says. "That's exactly what you're trying to do. You know you're under the radar, but you know you've got every team there and if you do well, they'll see it and take another look. After that, by the end of the process I probably had some kind of communication, mostly my agents, with every team. It gave (the Bengals) a reason to go back and look at the tape and all you're looking for is a chance and I'm happy they gave it to me … I really have to thank the people at Ignition for getting me ready for that pro day."
Maybe Haslett's best move in the scouting of Evans was not going to Norman to watch. Talk about not tipping your hand. Just like he didn't go the year before to Utah State to see Nick Vigil, a backer they drafted in the third round.
"We had enough people at Oklahoma," says Haslett of the group of Bengals coaches and scouts that attended. "If you go to enough of them, that can tip off another team. 'Maybe there are guys I should be looking at that I'm not.' I had already looked at the tape."
But the visit was an important piece, too. And he's still not quite sure why Evans didn't get the call to the combine, although he's got an idea.
"He was a sharp guy. You get him up close and you see how big he was," Haslett says. "I see the list of guys that make the combine and I'm not sure how they come up with that. This guy can play. You look at the schedule and it's not a pounding conference. That was kind of the knock on him. They didn't know if he was physical enough. They play a lot of open offenses, 70, 80, 90 plays a game, no lead (blocking) back. It's harder to judge. But he was 245 pounds and a good athlete."
Evans knew the knock. He laughs because he knows the irony.
"Now I'm playing in one of the most physical divisions in the NFL," Evans says. "Marvin and Coach Haslett both believe I have those qualities. I played corner in high school and moved to linebacker in college, so it was all new to me and now its technique things I'm trying to work on over the year and the offseason. In college I could get away with a lot of things. I could beat the O-linemen to the spot and shoot the hole. In the NFL, everyone is great. That's where physicality has to come in."
If there's a guy that defines Lewis' roster mantra of "It doesn't matter how you get here, it's Evans.
"It's like a dream to go to the combine and then I had aspirations to compete against the best at those bowl games to put my name out there. It's like a shot in the face," Evans says. "But if you know me in sports, you know I have a chip on my shoulder. I worked harder than I ever worked. It paid off. It doesn't really matter. You get that one team, get to camp and solidify that spot on the team."
But there has to be that team turning over rocks.
"It's a matter of information," Tobin says. "You bring them in, get a physical, take a look. If you have enough information, you can make the best decision possible."