If this is an AFC North game, then the Bengals.com Media Roundtable must be splintered like a congressional vote. That's how we start the season Sunday (1 p.m.-Cincinnati's Local 12) in Baltimore's version of Death Valley.
We go to the bookends with Bengals radio analyst Dave Lapham starting his 29th season and The Cincinnati Enquirer's Paul Dehner Jr. making his debut as the Bengals top beat man out underneath the very large shadow of Joe Reedy.
Lapham gives the edge to the Bengals because they won the AFC North last season. Dehner looks at how the Bengals have been a) blown out, b.) run over and c.) overtimed in Baltimore the last four years and doesn't like the M&T Mojo, so he goes with the Ravens.
Alex Marvez, Fox Sports' ultimate NFL insider who also excels on the other side of the ball as a host for Sirius' NFL channel, plans to put Nicholas Marvez in his No. 14 Bengals jersey small enough for a four-month-old this weekend. Nick's Dad, who broke into the NFL as the Bengals beat man for the Dayton Daily News, thinks the Ravens have undergone more changes than the Bengals and picks Cincinnati for stability.
Aaron Wilson, the ubiquitous Ravens beat man for The Baltimore Sun, believes the Ravens have upgraded their running game enough and that, along with their edge for an always stingy defense against Bengals rookie center Russell Bodine, is going to be enough for a tight win.
Let's go around the table:  
There's a little bit of transition going on in Baltimore and the Bengals might be able to take advantage. They've got a new offensive coordinator in former Texans head coach Gary Kubiak. The Ravens can say the same thing about the Bengals, but the Ravens hired Kubiak from outside and he runs a totally different system. He's going to run his West Coast stuff and he's going to run it no matter what.
New Bengals cornerbacks coach Vance Joseph is coming from Houston where he was Kubiak's secondary coach and I think he'll help big time. He's sat in rooms and been on the practice field. He knows exactly what Gary Kubiak is thinking about. He won't change because Vance Joseph is on the sidelines.
I think it comes down to the tight end position. I wouldn't be surprised to see the Bengals in two tights a lot and I wouldn't be surprised to see the Ravens in two tights a lot. Kubiak picked up Owen Daniels, he knows the system cold. Which two tight-end set is going to perform better? That might be a big, big factor in this game.
I think Kubiak will try to isolate his tight ends on linebackers. I think Bengals SAM linebacker Emmanuel Lamur is going to be in a lot of key matchups. Will the Bengals tight ends be able to beat the linebackers or safeties or will the Ravens tight ends beat linebackers and safeties? At some point you have to block in the running game. How will the tight ends block?
New Bengals offensive coordinator Hue Jackson is a bigger X factor than Kubiak because Kubiak is going to run his stuff.  You put in the Houston tape and that's Kubiak's stuff. Oakland, Atlanta, what is Hue going to use? He uses personnel so well. He could unleash a whole new dynamic on the Ravens that they don't know and haven't seen. Kubiak may have some wrinkles, but you pretty much know what he's going to try and run.
I give the edge to Hue. I have confidence he's going to have a few surprises for them. I think he'll unleash himself in this one.
Ravens running back Ray Rice isn't playing, but I thought Bernard Pierce was better than Rice last year by far. And their offensive line is better. They were terrible last year. When I watch Baltimore, they're trying to do the exact same stuff as Houston. The Texans center, Chris Myers, is as good as there is in the league getting to the linebacker level.  The thing that separated Houston was their lateral movement in the running game. Baltimore doesn't go sideways like Houston. The offensive lines are night and day. They may be trying to do it, but it's going to look a lot different.     
THE EDGE: I have to give the edge to the Bengals as defending AFC North champs. They understand the importance of the game and how tough it is to play down there.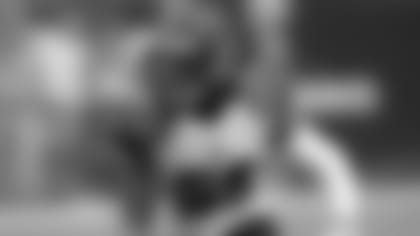 SAM backer Emmanuel Lamur has some big matchups.
I don't think gambling lines should be part of the game storylines, but what type of disrespect is it that the Bengals are an underdog? I can't figure this one out. I just look at this Bengals team and say they didn't lose a whole heck of a lot. They're ready to play.
I'm just curious to see how different the offense is going to be under Hue Jackson. Will the Bengals be more balanced and how good can Giovani Bernard and Jermey Hill be running the football? Especially with rookie center Russell Bodine making his first start.
Plus, I want to see if Geno Atkins is the old Geno Atkins who was one of the best if not the best pass rushing defensive tackle in football, or is he still trying to find it after the ACL tear?
The loss of Bengals defensive coordinator Mike Zimmer is a curious one. It's the same scheme, by and large, but a different play caller. That one may be a little bit easier of a transition. When to blitz, when not to blitz? When to go with the nickel package. That one is easier. If Paul does well, it will be 'Oh, he's running Mike Zimmer's defense.'  If they struggle it will be, 'Oh, Paul Guenther's terrible.' Damned if you do, damned if you don't, but that's the legacy he's been left behind.  I'm not as worried about that. We know, I think, what the Bengals are going to be defensively. They're really good on defense.
They know what this Baltimore offense is under first-year coordinator Gary Kubiak. It's not like Jeff Tedford or Chip Kelly. The problem is that Gary Kubiak always beat the Bengals in the playoffs in Houston. He knows some things about this team and the question for the Bengals is how do they overcome that? What is it the Bengals can do against a Gary Kubiak offense that it didn't do when it was in Houston? Will they be able to stop the tight ends? New wide receiver Steve Smith is the wild card in all this. How will he fare?
THE EDGE: Bengals, 24-20. There are more moving parts in Baltimore that need to come together than in Cincinnati, where there's a lot more cohesion. The stable team that makes prudent off-season moves instead of the overhaul gets less respect than those who make the bold splashes. I think that's why the Bengals are running under the radar a little bit. I feel like there is a little dis-respect there, too.
To me the telling stat is going to be the running game. If Hue and the Bengals can get out there with an average four to 4.5 per carry, you have to like them. They can set the tone and play their game. If they go out there and get stuffed and can't get any movement, it's a long day. That's the way it always is in this division. You've got to be able to do it in this division and they didn't do it last year. That's why they went 3-3 in the division.
I think the Bengals will have the ability to attack their safeties, but at the end of the day it's been no secret during the offseason that the Bengals want to establish the run and it's going to be the centerpiece of this offense. It's got to start there.
I think it will be a tough day for Bodine. That's just asking a lot of anybody. I don't care who you are. Even if you're a first–round pick. Your first game. You didn't make line calls in college. M&T Bank Stadium is always insane. Ngata and those big guys up front. Everything Ravens defensive coordinator Dean Pees does. He's not exactly tame. He likes to bring it. Maybe Bodine holds up fine. A bad day wouldn't be a reflection on his career, but it's a tough spot for him.
The Ravens have done a good job improving their run game. Like the Bengals, they've focused on it.  They tried to beef up their line, which was a disastrous area last year. I think they'll have more success there.    
THE EDGE: Ravens, 23-20. A bounce here, a play there. It will come down to turnovers as it always does. I think Hue Jackson would love to see Andy Dalton come away from this clean with no picks like the preseason. It certainly hasn't been that way in the past. It will certainly be a big reflection on him if Andy comes out of there with no interceptions. You've got to feel like you've got a pretty good chance given how much turnovers come into play in this series.
It's more about playing in Baltimore. Even when the Bengals have the better team, it seems like the Ravens always find a way. You've lost four in a row there. Green and Dalton have never won there. You've lost four of the last five over there. Those aren't just coincidences. It just seems like it's something about that place that is bad mojo.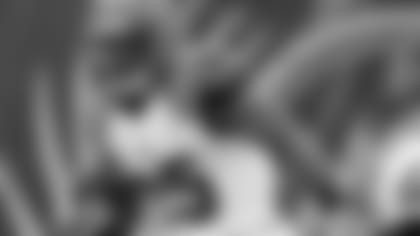 Can Giovani Bernard get some running room? He doesn't need much.
The Ravens upgraded their running scheme and the blocking techniques. It's more productive than it was in the past. It will be a lot like when the Bengals played the Texans with Kubiak there. The Ravens don't have a sub-standard center there now like they did last year and you saw what Domata Peko did to Gino Gradkowski. It made it tough to get anything started with the ground game.
They've got a solid to average center now. Jeremy Zuttah isn't the biggest guy in the world, but he's short and gets leverage and is a better athlete. Kelechi Osemele is back so you get some punch back at left guard. The only guy who is unproven on the line is right tackle Rick Wagner. He looked OK in the preseason. He's a Wisconsin guy who's pretty technically sound, but he's not the biggest guy.
Pierce isn't going to break a long one and he has some issues catching the ball, but he can grind out some yards and he's a little lighter and a little healthier this year.
The Ravens will put Pro Bowl defensive tackle Haloti Ngata over the middle a little bit, but I think he'll play mostly tackle. You've got Tim Jernigan, you also have Brandon Williams. It will be tough for the rookie center.
Their three cornerbacks didn't practice for much of the preseason. Lardarius Webb is questionable. His lower back is still tight. I don't know how effective he'll be. Jimmy Smith says he's 100 percent. Jackson (ankle) is cutting fine. He looks OK to me. They began practicing Friday and Saturday last week.
They've got two guys at safety, Matt Elam and Darian Stewart, are strong safeties who can tackle a little bit and blitz but they don't cover very well. They've got a combined two career interceptions. Not really ball hawks.
C.J. Mosely is a real natural at linebacker. Daryl Smith is good inside. They've got bookend pass rushers in Elvis Dumervil and Terrell Suggs and Courtney Upshaw is real solid, too.
THE EDGE: Ravens, 23-20. A Justin Tucker field goal. If they don't turn it over like they have the last couple of times against the Bengals they should win.   It comes down to if Andy Dalton is able to keep them off balance with quick throws and gets the ball out of his hand. There will be a lot of pressure with their front seven.
Sure, the Bengals have issues.
No one really knows what to expect from two-time Pro Bowl defensive tackle Geno Atkins in his first game in nearly a year after playing just 13 snaps this preseason in his ACL comeback. That's 13 more snaps than right tackle Andre Smith (concussion) and 13 more than Bodine has ever played in the NFL as he faces the maw of the M&T crowd and the paw of Ngata and Co. up front.
 But there is a sense of unease in Baltimore after a miserable offseason plagued by a series of arrests and spring camps dotted with multiple absences from veterans.
Like the Bengals, the Ravens have a new offensive coordinator in Kubiak, but unlike Hue Jackson he came from the outside and ripped up the system with a new-look offensive line. How much chemistry will they have early in the season?
Plus, their starting cornerbacks barely worked during the offseason with injuries and just came back to practice late last week.
The Bengals' struggles in Baltimore the last four seasons have been man-made. Last year they openly flaunted two rules of playing at M&T, where the Ravens have lost just 18 times in the last decade and have never lost in September under head coach John Harbaugh.
First, they let the crowd get into the game when they blew a fourth-and-one at midfield right off the bat and gave the Ravens an easy touchdown in a game they lost in OT. The second rule they broke is giving dangerous defense ammunition to play with in their own building and the Bengals played into their hands by throwing it 51 times.
Jackson won't do that. He's spent the offseason pounding the run, but his debut is against of the NFL's best run defenses. Still, the switch should be good news for Smith and left tackle Andrew Whitworth.
The Ravens pass rushers won't be able to tee it up like they have in the past. Whitworth was victimized by not only his bad knee last year in Baltimore, but a sequence late in a one-score game in which Dalton dropped back 12 straight times to pass. Whitworth's knee is healthier and they hope so is the run game.
This is just the defense and the venue Jackson had in mind in advising Dalton, "Sometimes you just have to say 'Uncle.'" Since Marvin Lewis became the head coach in 2003, the Ravens lead the NFL in home interceptions and are second in home sacks.
There are times on Sunday "Uncle Andy," is going to have to take a sack, or throw it away, if the Bengals are going to win.
If you're a Bengals fan, you have to have some anxious flashbacks to late 2012, when on back-to-back weekends the Ravens and Texans shredded the run defense for nearly 400 yards. But the Ravens don't have running back Ray Rice and Kubiak doesn't have running back Arian Foster or center Chris Myers. Baltimore has effective tight ends, but the underrated matchup of the game is the speedy 6-4 240-pound Lamur showing off the experience he didn't have in his first NFL start when the Bengals lost to Kubiak's Texans in the 2012 Wild Card Game.
Plus, this Bengals defense is better and deeper than that one. They finished fifth against the run and third overall last year with without Atkins and cornerback Leon Hall playing half the year.
This is also the kind of one-score game that Ravens return man Jacoby Jones can tilt with one play. Only Devin Hester has more punt returns for TDs since 2007, but it is on kick returns he is a handful. Bengals kicker Mike Nugent has to kick it out of the end zone Sunday.
  But if he doesn't, special teams coordinator Darrin Simmons has pretty much the same crew as last season to cover it. The challenge is the Ravens have pretty much the same guys blocking for Jones that were working the final five games last year when he averaged 31.6 yards per return and had a touchdown. The Bengals did better than most in the season finale. Jones averaged nearly 29 yards, but they kept him out of the end zone on six tries and held him to a long of 35. If they have to kick off six times, they'll take the trade.
So what else is new in this series? Fireworks may start the game, but they won't win it. Competent, mistake-free offense, bend-but-don't-break defense, and rock-ribbed special teams.
It must be an AFC North game.