Andy Dalton leads the NFL in passing yards, but they're 1-1.
Despite boasting two of the best young running backs in the NFL, their quarterback is on pace to break the NFL record for yards passing in a season while the Bengals stare at a running game that is ranked next-to-last in NFL rushing yards per game and 30th with a jarring 2.8 yards per rush on just a combined 30 rushes from Giovani Bernard and Jeremy Hill.
"Obviously," said right guard Clint Boling, "as an offensive lineman you'd rather lead the league in rushing and not passing."
It is only two weeks in, but with Andy Dalton on pace to break Carson Palmer's Bengals record for most passes in a season by 86 with 672, there is angst sweeping Bengaldom. Now comes the obligatory chicken-or-the-egg question whenever teams struggle in the running game.
Are the limited rushing attempts because they gave up too soon on the run? Or because if they stuck with such a poor running game they would have got blown back to Cincinnati before 2:30 p.m.?
"It just hasn't happened the way we wanted it for two weeks, and it will be better this week," vowed offensive coordinator Ken Zampese Monday of the run game after a week his offensive line bounced back from a seven-sack opener to allow just one while Dalton fired a career-high 54 passes.
"One of those things got handled and this coming week we'll get the other one handled," Zampese said. "I think anytime there's something that hasn't gone right that gets put up in front – you haven't done this or you haven't done that. The best golfer to never win a major. That's just part of the deal and that's what the challenge is. It's nothing new to the guys; it's just here's what's on the forefront now."
Zampese has been quietly saddled with a tough assignment in his first season and we're seeing it play out in the red zone, where the Bengals have scored just one touchdown on one of six tries this season. He's the offensive coordinator for a talented contender, but one that has many new faces on offense.
 Five of the six receivers weren't on last year's Opening Day roster, Pro Bowl tight end Tyler Eifert (ankle) has yet to play and may not return until October, and Cedric Ogbuehi is making his third NFL start against the latest Face of the NFL in Von Miller this week.
The kids have flashed, led by rookie wide receiver Tyler Boyd's 78-yard effort Sunday in the AFC North cauldron. But, fumble or no fumble on the last play, it shows you they're going to be up and down, especially guys like Ogbuehi and tight end Tyler Kroft who missed most of the preseason and/or spring ball.
"(Ogbuehi) and a few guys are basically on practice number 10 now. Of training camp. That's good," said head coach Marvin Lewis. "We're going to keep getting better, and you have to feel good about that. You have to feel good about him and Tyler Kroft that way-- Darqueze (Dennard) too. There's nothing but improvement ahead for those guys. We're obviously going to have a handful this week as well."
The difference between Cincinnati and Pittsburgh in Sunday's 24-16 Steelers' victory? There were a few. Quarterback Ben Roethlisberger got the ball to his tight end in the red zone and Dalton couldn't. Of the Steelers' 74 plays, 40 were QB drop-backs and 34 were runs. Of the Bengals' 73 plays, 55 were drop-backs and 18 were runs. The Steelers didn't run it that much better than the Bengals since the Cincy front seven held running back DeAngelo Williams to less than three yards per on 32 carries.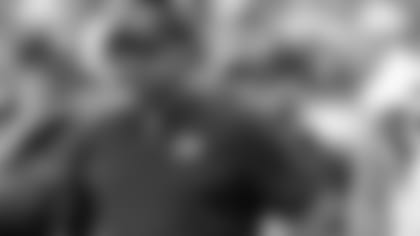 Marvin Lewis likes Dalton's decision-making in run game.
Asked if he thought they should have run it more, Lewis said there's more to it than that.
"Our offense and their offense are two different offensive schemes. They're going to do what they feel successful at; we have to do what we feel successful at." Lewis said. "We have about three, four, five plays each week where the quarterback has chosen to throw the football and been very productive. Those are good things. He has the ability and chooses and goes up and does his thing. We're comfortable with Andy doing that. When we do choose to run it, we can't have one-person breakdowns and instead of it being a 10-yard gain, it's a three-yard gain. We have to do better at that all the way around. That recognition and execution is important."
Even though Bernard has more catches (11) than runs (10), he called himself out Monday. Even though he had just four carries for seven yards before his 10-yarder against the Steelers' prevent near the two-minute warning.
"I can only speak for the running backs. I know myself I have to break a little more tackles," Bernard said. "I have to help my offensive line out even if they do miss a guy or even if a guy is in the box that they don't account for, I have to make that guy miss. Got to handle that."
The Bengals are ranked 11th in the league on first down even though it seems like they spent all day Sunday in third and long while converting just four of 16 third-down tries.
"The biggest thing for us is we haven't been putting ourselves in good position on first and second down to be able to run the ball on third down." Bernard said. "We've gotten behind the chains a lot and that's something we definitely need to work on."
There are times when Hill simply has to run a man over for five yards instead of juke for two. Or there are times when the play is blocked well by five blockers but the sixth doesn't finish and his man makes the play.  Or there are times, like on the key play of the game, when the defense has guessed right on one of the Bengals' signature runs, which blitzing Steelers linebacker Ryan Shazier did when he came in untouched on the Steelers 1 on the power play when he dropped Hill for a two-yard loss  and the Bengals losing, 17-6.
"Each guy has to emphasize doing his job as well as he can," Boling said. "Because we're close."
Zampese showed tremendous creativity in New York with screens and quick throws when they couldn't run the ball and he did it again Sunday coaxing 100 receiving yards out of Bernard. But you can only be so creative in the red zone. Plus, the situations in each game have taken them out of run-favoring formations. Fullback Ryan Hewitt has barely played this year because they've been in three-receiver sets so much.
"Situations in the first game we had some productive things in the second half with the three wide receivers," Zampese said. "This game we were in a two-minute situation in both halves, so those numbers jump up, as far as what's on the field."
If there are a batch of reasons why they haven't been able to run it, then it is unanimous that Dalton can't continue to lead the league in passing yards like this and they're going to win.
After back-to-back 366-yard games, Dalton, tied with Ken Anderson for second on the Bengals all-time list for 300-yard games with 19, is on a scorching pace at 5,856 yards. He'd break Peyton Manning's NFL record of 5,477 yards set in 2013 for the Broncos, a record that probably wouldn't help the Bengals because of the way they're set up offensively. Anderson is the last Bengal to lead the league in passing yards when he won back-to-back NFL passing titles in 1975-76.
"You'd love him to lead the league in passing, just with less attempts, have things be a little more balanced," Zampese said. "There's no problem leading the league in passing, it's just you'd like to see the ledger a little bit more on the other side as well."