If there is angst over the impending deactivation of Vontaze Burfict, a big concern about A.J. Green's big toe, and a sense of trepidation over the return of Titans head coach Ken Whisenhunt's play calling, it didn't surface in this week's Bengals.com media roundtable.
As head coach Marvin Lewis would say, The Table didn't blink in making the Bengals the unanimous call in Sunday's game (1 p.m.-Cincinnati's Channel 12) against the Titans when the Bengals try to set the franchise record for consecutive home victories with an 11th straight victory at Paul Brown Stadium.
Coley Harvey, ESPN.com's sophomore sensation, has yet to cover a regular-season home loss on the Bengals beat. After watching how they dismantled the high-powered Falcons, he thinks their defense carries the day again.
Jim Wyatt has covered the Titans exhaustively this century for The Tennessean, from Miracles to Munchak, and now he's chronicling The Whis Kids. He thinks Titans quarterback Jake Locker playing at PBS is a tough matchup.
This week Sports Illustrated picked the Bengals No. 1 in the NFL power rankings  for the first time ever, a vote that had Lewis saying, "The only ranking that counts is the second week in February." Whether S.I. league insider Don Banks agrees or disagrees, he does give the Bengals the nod this week because their program is ahead of a Titans team in transition.
Dan Hoard, the Voice of the Bengals, called last year's Wild Card loss to the Chargers with his estimable brew of passion and reporting and so he has high regard for what Whisenhunt hatched last year as the Chargers offensive coordinator. He also has a tough time seeing Jake Locker do what Tom Brady, Aaron Rodgers, and Matt Ryan couldn't.
Let's go around The Table. As always, visitors first.
The big key is if the Titans can stop the run. In week one against Kansas City they did a great job there holding Jamaal Charles to 19 rushing yards. You thought the run defense was going to be one of the strengths this year and then they come back against Dallas last week and allow Demarco Murray to run for 167 and the Cowboys got 220. I think we'll find out quickly if they've fixed it. I think it was more gap issues than tackling.
They lost linebacker Zach Brown in week one and I think that's a reason they did take a step back in run defense. They had issues beyond him, but I don't think Zaviar Gooden held up as well as Zach Brown would have and he needs to get used to playing more. But I think the issue was more of the gaps up front.
No. 2 is the play of Jake Locker. He looked really good against Kansas City. He didn't make any mistakes and then comes back against Dallas and has one of the worst halves of his career in the first half. And the Titans fell into a hole. He'll have to play a heck of a lot better to give the Titans a chance. He's been hit too much. You look at Dalton who has not been sacked and Locker has been sacked six times and hit too much early on and this week he'll face his toughest test to date.
The third key is if the Titans are able to run the ball themselves. They pretty much abandoned the run last week and that put all the pressure on Locker. The Titans need to establish the run with Shonn Greene and Dexter McCluster. That's easier said than done. Life after Chris Johnson is still a bit of an unknown. You kind of knew what you were going to get every Sunday and he was the offense most of the weeks. Now they've got three backs.  We haven't seen a lot of Bishop Sankey, the first running back drafted with the 54th pick this year. He's been very limited, but I think they'd like to get all three involved and the only way to do that is to have success staying in games. One week they did it and one week they weren't able to. Sankey has been very quiet and I get a sense he will be until one of those other guys maybe falters. They like Green and McCluster.
Jurrell Casey is their best defensive player. He has two sacks already. He's very disruptive. I think a lot of people wondered how he would do going from playing tackle in a 4-3 to playing a 3-4 end and he's really done well. He's had no issues at all. He's a quick, athletic guy who beats his guy off the snap on a lot of plays. He's a guy to watch on the defense. He's good against the run. He gets in the backfield in a hurry.
This is a big stretch for the Titans. They go to Indy after the Bengals and they'll be underdogs in both and they could be sitting at 1-3 at the quarter mark and there'll be pressure on them. They need to right the ship quickly and they feel like it's going to be a backyard brawl-type of game. They're going to have to be a lot more physical this week than they were last.
THE EDGE: Bengals, 27-20. The Bengals are the better all-around team at this time. They'll be able to run the ball against the Titans, control the clock, and put pressure on Locker.
The Bengals took care of business last week against a team that people thought could really push them in Atlanta. Obviously the A.J. Green situation bears watching, but if he can play I think they have way too many weapons for Tennessee to defend. Especially since Tennessee got the ball run right down their throat last week against the Cowboys. I would think that gives Cincinnati another way to attack Ray Horton's defense.
If wide receiver Mohamed Sanu continues to be somebody that Tennessee has to worry about, that's a pretty good option. They've got a two-headed backfield, the tight end, and enough receivers even behind A.J. If A.J. can do anything, I don't see Tennessee being able to match scores with them.
Titans head coach Ken Whisenhunt was there in January and offered a pretty impressive game plan as the offensive coordinator when the Chargers beat the Bengals in the playoffs. But I still look back at that day as more what Cincinnati didn't do than what San Diego did.
THE EDGE: Bengals in a two-score margin of victory.
I think this is a Tennessee team still trying to find its identity and what it does well. As good as their opening week win looks, and I actually did pick them to pull that upset in Kansas City, but it was more about where the Chiefs are at than the Titans. I picked them to win again last week by a comfortable margin and they got their doors blown off, 26-10. That makes you wonder who Tennessee is. I like Ken Whisenhunt and I think he'll probably get Jake Locker playing the best of his career, but it may be the kind of first season that takes a month or so for this team to sort things out and that's to Cincinnati's benefit because the Bengals clearly know who they are and how they want to go about it and how to attack people.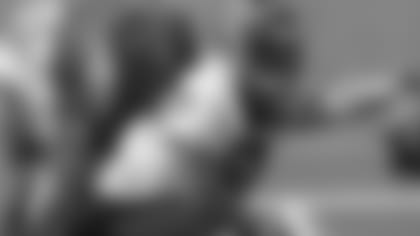 The Bengals offensive line is going to be looking for defensive end Jurrell Casey.
I believe the Titans are ranked ninth in number of blitzes. They've been effective with it. Five of their eight sacks have come off the blitz, but the Bengals have obviously done well against it. I think the big matchup is going to be continuing to respond to the blitz. Andy Dalton did that last week vs. the Falcons and he'll have to keep dumping those screens to his running backs and they have to continue to run the ball well. And if you get ahead early, you're very flexible.
It's going to be interesting to see how the Bengals  handle Derrick Morgan and the others that play the hybrid stand-up defensive end/linebacker role.
Honestly, just looking at what the Bengals did last week is enough for me to know this defense is going to be fine this year. They're going to get after the quarterback. Titans quarterback Jake Locker is a guy that might benefit from getting outside the pocket using some of his mobility. He's got some of that in him, too. It might be incumbent on him to mix it up against some of the pressures. I just can't see the Bengals defense giving up too many yards this week. It was too strong against the Falcons last week and that's a good, potent offense.  I know the Titans won that first game, but they don't have the same firepower that four receiver-set had last week.
The Bengals don't have WILL linebacker Vontaze Burfict and that's problematic in the fact he's head and shoulders the leader on that defense. But when you've got Reggie Nelson in the back end and you've got defensive end Carlos Dunlap playing the way he is up front and appearing to lead the way he's leading, I think you take care of some of that. Vinny Rey, of course, has been giving quality minutes as a backup linebacker for the last couple of seasons. I don't think the Bengals should be concerned about that. I imagine there'll be a little bit of a drop-off because you do lose that hard-hitting, physical presence that Burfict has.
Dallas had 220 yards rushing against the Titans last week. The Bengals' two backs combined for 164 last week and ran it 45 times. We've talked about it all the time, how you have to continue to run the ball. You just can't sit back and pass 50 times a game when you have a matchup like that. And the Bengals exploited it against the Falcons. They had given up five yards a carry coming into the last game. They have to do the same thing this week and not over think it. They can't not run it because they think that is what Tennessee is going to expect. You have to run with the way they blitz.
THE EDGE:  Bengals, 24-10. Last week's score. Maybe Tennessee gets in the end zone once. But I can't see the Bengals defense giving up too many points. It's a little concerning how A.J. Green's toe is going to respond, but I see their offense getting into the end zone two or three times.
With Marvin Jones and Tyler Eifert out and A.J. with the toe issue, then they've got to take the page from last week's playbook and try to dominate in the run game if they can. Based on what Dallas was able to do against Tennessee last week that seems to be a very realistic possibility. You know Titans defensive coordinator Ray Horton will adjust. They're not going to allow the gaping holes that Demarco Murray ran through last week, but I think there's a very realistic possibility the Bengals can gain 150-plus on the ground.
I think Ken Whisenhunt has deservedly earned a reputation as a great quarterback guru if you look at how Ben Roethlisberger played when he was on the Steelers staff and getting to a Super Bowl with Kurt Warner in his later years with Arizona. Last year, in San Diego, Philip Rivers completed 69.5 percent of his passes. And when we talked to Locker Wednesday, he talked about how Whisenhunt has made the game much simpler for him. I think Locker will be much improved this year. I think he looked very good in Kansas City and I don't necessarily expect him to be terrible on Sunday.
Having said that, if Aaron Rodgers, Tom Brady, Ben Roethlisberger, Joe Flacco, and Matt Ryan struggle at Paul Brown Stadium against a Mike Zimmer/Paul Guenther defense, I would also find it hard to believe Jake Locker will light them up.
THE EDGE: Bengals, 27-17. Clearly they're the better team playing at home in a game they should win.  I think this team has the maturity to overcome the injuries to get the job done.
There is enough on the table to make Bengaldom uneasy.
A much needed bye week at 3-0 is so tantalizingly close.
Yet their best player is fighting through an injury.  They're playing a game without their defensive leader for the first time. They're nicked on both lines and in a coach's league they're going against two in Whisenhunt and Horton that have been successful in this building.
And Jake Locker's ability to get away from the rush and get out of pocket bears just enough of a semblance to the last opposing quarterback to beat this defense at PBS in the regular season to offer some angst. Tony Romo of the Cowboys, way back on Dec. 9, 2012,,  bobbed and weaved to a fourth-quarter winning drive.
But the one thing the Bengals have been able to avoid in this 10-game home winning streak is The Egg Game. A game they should win when it comes down to comparing the flip cards, but they lay an egg instead.
Yet they haven't come close in this streak to laying an egg.  They've always had an answer and it's usually been decisive. By an average of 32-16. It not only shows the breadth of their talent, but it reflects their maturity and self-esteem. They've taken the old Mike Tyson motto and made it their own: "Everybody has a plan until they get punched in the mouth," and with each win the confidence keeps reinventing itself.
With physical play yields the running game and as we found out last Sunday, having a reliable running game solves more problems than cash.
Ray Horton? Run the ball to keep him from coming up with those confounding blitzes that have already delivered eight sacks.
Ken Whisenhunt? Beat him to the punch with your own running game. You know he's going to come in here and try to do what he did last time, when he brilliantly held off Mike Zimmer's werewolves by max protecting quarterback Philip Rivers with 16 passes in a game plan designed to do just enough in the running game.
No Burfict?  Keep the defense off the field.
A.J. a little gimpy and Marvin Jones still two weeks away? There are two kids not yet 23, running backs Giovani Bernard and Jermey Hill, just waiting to carry the day a week after Demarco Murray did it for the Cowboys in Tennessee. You'll need fireworks this season, but maybe you have to keep them dry this Sunday.
It will be interesting to see how Bengals defensive coordinator Paul Guenther handles Locker. Locker won't hesitate to pull down the ball and run against the blitz. You may want Locker looking at seven and eight man coverages as the NFL's third least accurate quarterback, according to profootballfocus.com. Maybe they don't want him on his back and maybe he turns it over with one of those throws.
Since this is a coach's league, Guenther and offensive coordinator Hue Jackson aren't going to let Whisenhunt and Horton have their ways. If Horton is looking to bait Dalton into late throws like he did last year with Browns cornerback Joe Haden, then Jackson's mantra of throwing it away if it's not there must be strictly adhered. This is just the kind of tough, intricate pass defense Jackson is talking about when he speaks of not turning it over and going to the next play. It may not be pretty, but there's nothing wrong with a 23-17 victory.
As much as it is a coach's league, the depth charts decide it. Whisenhunt doesn't have Rivers or Keenan Allen and Horton doesn't have Haden or Patrick Peterson. But Marvin Lewis has a businesslike, confident band of pros that understands just how important home games are against an AFC team with a resume to match.