More than 300 Bengals Season Ticket Members traveled to Indianapolis for the NFL Combine.
Season Ticket Members learned about the history of the Combine and heard from former players on their Combine experiences.
"Our experience was incredible," said Jill Oester. "The NFL Legends speakers at the VIP breakfast were great at setting the tone of how serious the Combine is for these young athletes, telling of their personal experiences from the past and relaying in a positive way the importance of the code of conduct for the day."
David Wright added, "It was great to see and hear John Randle, Rod Woodson, and Mark Brunell talk and interact with the fans. Lucas Oil Stadium is very impressive, the seats were great, and the combine enjoyable."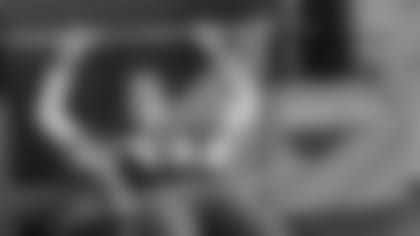 After learning about the Combine, Season Ticket Members got to watch the athletes in action.
"The time spent actually sitting and watching the drills in the bowl was incredible," said Oester. "It was pretty amazing to see a behind the scenes look at the level of commitment these young athletes possess to prepare for the NFL Draft. I also now have a handful of players that I am keeping my fingers crossed for the Bengals to draft this year!"
Lynn and Dennis Schaber added, "It was a well-run event and very interesting to see the NFL from a completely different angle. Truly impressive to not only see the skilled display of athleticism on the field, but also the respect that was given to the athletes."