In conjunction with our current home page fan poll, over the next several days we will be taking a look back at the most memorable games of the Marvin Lewis era. First up: The 28-20 win over the Steelers in Pittsburgh on September 24, 2006 that gives the Bengals a perfect 3-0 mark coming off their 2005 playoff season and stamps Cincinnati as a bonafide Super Bowl contender in the eyes of many national pundits. Here is a reprint of the game summary as written by bengals.com's Geoff Hobson. *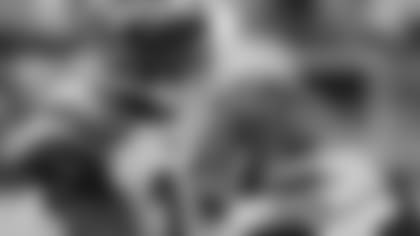 Chris Henry and Chad Johnson celebrate Henry's second-quarter touchdown reception. (Greg Fiume/Getty Images)
PITTSBURGH - What a difference 259 days makes.
The Bengals, who saw last year's wild card game against Pittsburgh slip because of a lack of composure, survived six sacks, three turnovers, and just one catch from wide receiver Chad Johnson to post a 28-20 come-from-behind fourth quarter victory Sunday at Heinz Field over those same Steelers.
Trailing 17-14 in the middle of the fourth quarter, the Bengals forced two fumbles and turned them into 14 points in a span of 54 seconds.
"I don't know if a couple of years ago we had the confidence and resiliency to come back like that," said wide receiver T.J. Houshmandzadeh, who scored both of those touchdowns on throws from quarterback Carson Palmer. "I know last year in the playoff game we were losing and, myself included, we got frustrated."
But the Bengals hung in there with Houshmandzadeh celebrating his 2006 debut with nine catches for 94 yards and Palmer beating his old nemesis with four touchdown passes to tie a career high.
"It shows how good your team is when you're playing a good team and the quarterback doesn't play very well and you still get a win," said Palmer, who was intercepted twice and lost one of his three fumbles. "I'm just proud of the way the guys stepped up around me."
For the first time in four years and two days Johnson had just one catch in a game. The last time was against the Falcons on September 22, 2002. He had zero the next week against Tampa Bay, and has had at least two catches a game since.
The win marks the Bengals' sixth straight in the AFC North, and sixth straight division win on the road.
Palmer finished 18-of-26 passing for 193 yards, with the four touchdowns and two interceptions.
The key play of the game came in the fourth quarter. With Pittsburgh ahead, 17-14, and chewing up more than five yards per carry on the ground (running back Willie Parker had 133 yards on 31 carries), Steelers punt returner Ricardo Colclough let a Kyle Larson punt go through his hands and Bengals tight end Tony Stewart recovered at the 9. On the next snap, Palmer pulled a play-action fake and hit a wide-open Houshmandzadeh over the middle for the go-ahead score that Houshmandzadeh promptly celebrated with an imitation of Steelers linebacker Joey Porter's sack dance.
Then seconds later fullback safety Kevin Kaesviharn forced fullback Verron Haynes to fumble and linebacker Brian Simmons recovered at the 30.
It wasn't over until the end because free safety Madieu Williams was called for roughing Steelers quarterback Ben Roethlisberger, who then completed a 16-yarder to Haynes to put the ball on the 16 with 16 seconds left, but Kaesviharn picked off a pass in the end zone to seal it. Kaesviharn said after the game the play was the same one the Steelers ran to score a touchdown in last season's playoff game.
As hot as Palmer and the Bengals offense finished the first half, they went stone cold in the third quarter as the Steelers took command of the game at 17-14 heading into the fourth quarter.
The Bengals offensive line just couldn't protect Palmer against a carnivorous pass rush that dumped him six times in the game's first 50 minutes, the most in his career.
Already without center Rich Braham (knee), the Bengals had to replace left tackle Levi Jones with rookie Andrew Whitworth early in the fourth quarter when Jones appeared to re-injure his ankle, but he did return.
That move came after Steelers linebacker Clark Haggans shot by right tackle Willie Anderson for Pittsburgh's fifth sack.
On the previous drive, the Bengals missed a great chance to take the lead or at least tie it at 17 when cornerback Deltha O'Neal returned Steelers quarterback Ben Roethlisberger's ill-advised downfield fling 42 yards to the Steelers 29. But cornerback Deshea Townsend came unblocked on a blitz for a sack and stripped the ball from Palmer for a fumble that was recovered by linebacker James Farrior.
Palmer, who hit his last 12 passes in the first half to give the Bengals a 14-7 lead, threw an interception on the first series of the second half when he overthrew wide receiver Chris Henry over the middle. A leaping Henry got an arm on the ball, but was popped by safety Ryan Clark and the dislodged ball went into the arms of cornerback Ike Taylor and his 36-yard return went to the Bengals 7. When Parker beat some fourth-down penetration for a one-yard touchdown run, the Steelers had the lead at 17-14 with 5:43 left in the third quarter.
Palmer gets hot in second quarter
The Bengals got off the mat after falling behind, 7-0, to the Steelers and took a 14-7 lead at the half when Palmer sifted a three-yard touchdown pass to wide receiver Chris Henry with five seconds left.
After throwing an interception in the middle of the first quarter, Palmer regrouped to hit 12 straight passes not including two spikes in a back-breaking hurry-up drill that took just 1:03 after defensive tackle John Thornton's leaping tip of Jeff Reed's 48-yard field goal try with 1:13 left gave the Bengals the ball at their own 38.
Cincinnati also relied on trickery when with 25 seconds left and no timeouts, Palmer handed off to running back Kenny Watson on a extra long delay run that chewed up 18 yards and got the Bengals to the 3 before Palmer spiked the ball.
Palmer then found Henry in the end zone for the second time when he rammed in a slant to Henry breaking free of Colclough.
Safety Madieu Williams' end-zone interception turned around a 7-0 Steelers game when Palmer's flawless 97-yard drive consumed 14 plays and 8:19.
Palmer's 16-yard timing heave in the face of a blitz to Henry reaching over Taylor at the first pylon with 6:34 left in the half tied it at seven and capped off Palmer's 8-for-8, 87-yard drive. Houshmandzadeh, playing for the first time this season, immediately paid dividends on the front of the drive when he converted a third-and-seven with an 18-yard catch-and-run to put the ball at the Bengals 24.
Wide receiver Chad Johnson could get free for just one catch for 11 yards in the half, but Palmer found Henry for a 20-yarder in the scoring drive, as well as Houshmandzadeh for four balls for 38 yards.
Henry finished the half with five catches for 69 yards and made a juggling 21-yard catch over the middle in the last minute sparking the hurryup.
But the Steelers offense wasted no time in raising all the demons of their wild card victory in scoring on their first drive, and the Bengals again found the Pittsburgh running game a mystery when Parker rolled up 78 yards on 13 carries.
Just like he did back on Jan. 8, Steelers quarterback Ben Roethlisberger used a big pass (a 36-yarder to wide open Cedrick Wilson working on cornerback Tory James), trickery (a 14-yard reverse to Wilson ), and a coverage penalty on the pass defense (illegal contact on James) to set up Parker's three-yard touchdown run six minutes into the game.
After not allowing a foe to score a touchdown until the fourth quarter in their first two games, the Bengals defense came out shaky at best. Roethlisberger converted his first six third-down tries, including a pair of 13-yarders to Parker and tight end Heath Miller.
On the touchdown drive, safety Herana-Daze Jones bit on a play fake to let Parker get free, and when the Steelers threatened again in the red zone, Parker stiff-armed Madieu Williams near the line of scrimmage for a seven-yard gain.
But Williams atoned when he picked off Roethlisberger in the end zone gunning for Miller one more time even though he was triple teamed. Williams may have been better served to take a touchback, but since it turned into the 97-yard scoring drive, it didn't matter.
The Bengals finally stopped Roethlisberger on third down when defensive end Robert Geathers rung up a sack to set up Reed's field-goal try. Thornton, the last man to block a field goal for the Bengals (2003 against Seattle) and against the Bengals (2000) for Tennessee, got this one with a leap in the year.
If it wasn't third down, Roethlisberger had trouble, completing five of 12 passes for 81 yards.
But the Bengals were losing the battle on the ground. Running back Rudi Johnson had just 27 yards on 11 carries.
PREGAME NOTES: Houshmandzadeh didn't get the start here at Heinz Field, but he dressed for Sunday's AFC North showdown with the Steelers.
Houshmandzadeh, who didn't play in the first two games with a bruised heel, was one of just four receivers in head coach Marvin Lewis' list of the active 45. Lewis chose not to dress rookie receiver Reggie McNeal after McNeal was signed from the practice squad in the wake of Tab Perry's hip injury in the final minute of last Sunday's victory over Cleveland.
With Perry out and McNeal down, third-down running back Kenny Watson figured to return kickoffs. Chris Henry, off the first 100-yard game of his career, got the start for the third straight game.
As expected, Eric Ghiaciuc started in place of center Rich Braham (knee) and Kevin Kaesviharn got the nod in place of strong safety Dexter Jackson (ankle).
The Bengals not only didn't have Perry, but wide receiver Antonio Chatman (groin) was scratched for the third time this season. Also scratched again was rookie linebacker A.J. Nicholson. Also inactive: Braham, Jackson, and rookie defensive end Frostee Rucker.
The Steelers opted to deactivate running back Duce Staley.