FOR IMMEDIATE RELEASE; THURS., MARCH 10, 2016
FROM CINCINNATI BENGALS PUBLIC RELATIONS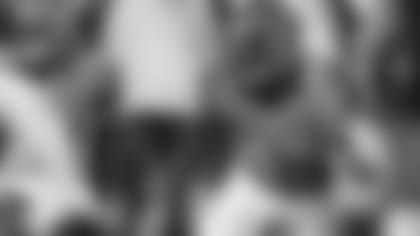 The Bengals today re-signed S George Iloka and OT/G Eric Winston. Both became unrestricted free agents yesterday, with the start of the new NFL year.
"We're excited to have George and Eric stay with us," said head coach Marvin Lewis. "They've been key contributors to the success we've had, and they fit our plans going forward. They've started a lot of games, have made plays and have been great teammates. It's a good way to get this free agency period started."
Iloka (6-4, 225; Boise State) is a fifth-year NFL player in 2016. He was a fifth-round Bengals draft choice in 2012. He has played in 51 Bengals games, with 44 starts, and has 188 tackles, five INTs and 22 total passes defensed. He started every game in 2013 and '14, and last season he played and started 12 games, missing four due to injuries. He also has played in four postseason games, with three starts.
Today's signing is for a five-year contract, running through 2020.
"George is a young player with still a big upside," said Lewis. "He has size and length and speed, and we expect his contributions to keep growing."
Iloka last season helped the Bengals limit opponents to 17.4 points per game, ranked first in the AFC and second in the NFL. It was the highest scoring-defense league ranking in franchise history. The Bengals also ranked second in the NFL and first in the AFC in fewest TD passes allowed (18), and they ranked seventh in the NFL in rushing defense, with a 92.3 per-game yield that was lowest in franchise history.
Iloka's biggest effort last season came in a Week 12 victory over St. Louis, when he had an INT, a pass defensed that led to a Reggie Nelson INT, and a tackle-for-loss against rookie rushing star Todd Gurley that forced a punt.
Winston (6-7, 302; Miami-Fla.) is a 10th-year NFL player. He signed a one-year contract today. He has 141 career NFL games played, with 123 starts, and he also has played and started three postseason games. He began his pro career at Houston and also played at Kansas City and Arizona before joining the Bengals.
Winston came to the Bengals as a free agent in December of 2014 and moved into the starting ROT role for the last two games and a playoff contest. Last season he played in 13 games for Cincinnati, starting two at ROT as a replacement for the injured Andre Smith. He started 16 games at ROT in every NFL season from 2007-13.
"Eric is the consummate pro, and it's great to have him back in our room," said assistant head coach/offensive line coach Paul Alexander. "He's a veteran you can count on in the game, and he's also a strong leader in our locker room. Guys respect what he's done in the league, and what he still can do."