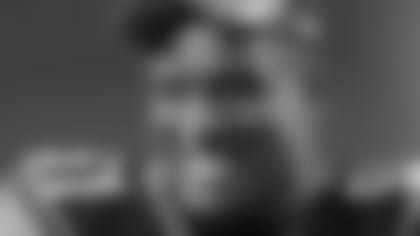 "Little Ray" gets his first crack at the Ravens this Sunday. (Bengals photo)Ray Lewis won't be in the middle Sunday when the Ravens play the Bengals. But the kid they called "Little Ray" back in Monticello, Ga., is going to be in the heart of the Bengals defense.
And the fact that rookie Odell Thurman is there is testimony of how Lewis changed the middle linebacker position and how Marvin Lewis envisions his defense nine years after urging the Ravens to select Ray Lewis in the first round.
"When we drafted Ray, people wanted to say you couldn't play middle linebacker at 6-foot, 232 pounds," Marvin Lewis said Wednesday. "Other than Mike Singletary, and they said he was an (exception). And then Sam Mills. Obviously now, I think as people know, the size is not what counts, it's the player, and the instincts, and what you do."
The 6-0, 235-pound Thurman isn't Ray Lewis. Yet. Marvin Lewis loves to remind him of that because, for one thing, he doesn't study near the amount of tape Ray consumes.
"He's got a long way to go. Ray figured out he wanted to be the best player in the NFL," Marvin Lewis said.
But if he's not Ray Lewis (yet) he is, at least, the Bengals' Ray Lewis, and that's good enough right now. Here's a guy who is strong enough to have posted 70 team-leading tackles while forcing two fumbles, athletic enough to catch four tipped balls for interceptions, and smart enough to say he better start watching more tape.
"(Ray) showed linebackers can be versatile. We can cover, hit and do it all. If I can be half the player of where Ray is at now, that would he a great accomplishment for me," Thurman said before Wednesday's practice. "I've enjoyed watching him for the last five, six years. I've been a fan. When you're coming up, you try and simulate him, be like him. Real aggressive. He doesn't take pity on anybody."
Ray is the second of eight Pro Bowlers the Wizard of Oz (-zie Newsome) has picked since the Ravens draft room opened in 1996. A lot of draftnicks thought Lewis just wasn't big enough to take in the first round, but Newsome and a Ravens defensive coordinator named Marvin Lewis did and Baltimore took him at No. 26.
"Is he a football player? Then you forget about the measurables," said Newsome, which is the one lesson Marvin Lewis has learned from the Wizard. "Look at the guys out there now making plays (in the middle). Zach Thomas (5-11, 230 for the Dolphins). Jonathan Vilma (6-1, 230 for the Jets). I don't know anything about (Thurman's) leadership, but there are some similarities (with Lewis) in how he plays. The way he attacks ball carriers, his instincts around the ball. They're awesome, and the way he bends his knees."
Marvin Lewis doesn't want to say much about Thurman. He hasn't hidden the fact that he's been riding him hard since he arrived, which shows how much he thinks of his athleticism and ability to make plays. And Thurman says Marvin talks to him all the time about Ray.
His teammates think he can help make them special.
"The thing Odell can do is he can run," said defensive tackle John Thornton. "He can play fast. He can tackle and he's physical. He'll punish a ball carrier. A good defense needs that guy that can punish people. You need that big hitter. I think Odell is our big hitter."
He always has been. If you go back to Thurman's hometown, they regale you with stories about some of his top prep hits. His quarterback at Monticello High School, Wes Huff, gave his view this past summer of the No. 1 hit. On a kick return, Thurman drilled the guy so hard that he went flying past his own sideline into a fence about 12 feet behind the bench.
"He got up and the fence was all bent," Huff said. "We got big crowds. A lot of people wanted to see him and he had to be good because we hardly got any publicity."
Even though he was in East Nowhere - 50 miles from Atlanta, 60 miles from Athens, 35 miles from Macon - everybody knew Ray Lewis and this kid played, acted and hit like him.
"I'd say, 'Yeah, that's who I am.' But now I'm my own player," Thurman said. "I try to take things from his style of play, but I'm my own player."
Like Ray did in Lakeland, Fla., Thurman played linebacker and running back in high school, and rushed for 1,200 yards and 20 touchdowns while making 200 tackles. He says the athleticism runs in his family, and to look at his cousin, Markese Thurman, whom requested and received Odell's No. 3 jersey.
"He's a sophomore quarterback slash receiver slash safety," Odell said.
Bengals linebackers coach Ricky Hunley says Thurman's athletic ability puts him in a different class.
"The way of his body control, the way he explodes his hips puts him in position to make a lot of good plays, and he can get in the right place at the right time ... to catch a ball six inches off the ground," Hunley said.
But the coaches are also on Thurman not to rely on that enormous athletic ability. They need to stem the tide of a run defense giving up 4.7 yards per carry, and need him to be in the right place more often.
"All rookies have a problem in trusting their teammates and understanding that you don't have to make every play," Hunley said. "Like Coach Lewis says; do your job. (Let) your reads and your keys say go from Point A to be Point B based on what your reads and keys say. And that's what you do. Don't improvise ... do your job."
The Ravens have to do their job without Lewis for the fourth time in his career against the Bengals when he misses his second straight game with a thigh problem. Baltimore is 3-0 against Cincinnati when it plays without Lewis, 9-6 when it does. The Bengals know the Ravens miss something even though they played well in last week's 20-19 loss in Pittsburgh.
"He brings energy. That (pregame dance) introduction gets the crowd going," said wide receiver T.J. Houshmandzadeh. "His energy and excitement on the field, they miss him, period, because of that. They did play well without him."
The Ravens moved weakside backer Tommy Polley to the middle and gave Bart Scott his first NFL start in 52 games. Scott came up big in helping hold the Steelers' formidable running game to 3.6 yards per carry. Polley was their leading tackler as the Ravens limited Pittsburgh's No. 5 ground game to 101 yards on 28 carries.