With AFC North games looming the next two weeks, the Bengals (8-2) hope to get in a division groove Sunday at Paul Brown Stadium (1 p.m.-Cincinnati's Channel 19) when they tussle with a defensive-minded, run-oriented Rams team (4-6) trying to muscle out of a three-game losing streak.
The Bengals.com Media Roundtable warns the Bengals about taking the Rams lightly, but our blue-ribbon panel is in unanimous agreement that St. Louis just doesn't have enough juice to keep up with a Cincinnati offense averaging 26.6 points per game that is good for fourth in the NFL. The estimable Jim Thomas of The St. Louis Post-Dispatch, one of those vacuum cleaner beat guys, has blanketed the Rams ever since they moved to St. Louis 20 years ago. He remembers when this team led the world in passing and not ranked dead last. He checks this one for the Bengals.
Alex Marvez, senior NFL writer for FOX Sports.com as well as a host for NFL Radio on Sirius, says there are 0.0 reasons the Bengals should lose at home with the NFL's fourth-best scoring defense.
Jay Morrison, who covers the Bengals for The Dayton Daily News, sees them loading up to stop Rams rookie running back Todd Gurley because they can.
Keeping in mind some of the Bengals' monstrous defensive stands in Arizona last week, Richard Skinner, the digital columnist for Cincinnati's Channel 12, sees another stingy effort in a home victory by a couple of touchdowns.
Let's go around The Table with, naturally, visitors first.
It's a long way from the Greatest Show on Turf, my friend.
The Rams are reeling right now. Three brutal losses in a row. Two walk-off field goals and in between they just got creamed by Chicago at home. What looked like a possible play-off season and a winning season looks pretty bleak right now. The Rams haven't been to the playoffs since 2004 and they haven't had a winning record since 2003, so it's been a drought.
Plus, there is the changing quarterback situation. It looks like Case Keenum is still in concussion protocol and they're going back to Nick Foles.
Who knows what impact the Tuesday night shooting of wide receiver Stedman Bailey will have? There just seems to be a lot going on with this team right now and not all of it related to football.
Rookie running back Todd Gurley gave them a spark. In his first four starts he had more than 125 yards rushing, then teams stacked the box on him the last three games and his numbers have been down. He hasn't had 100 in the last three games. The passing game is non-existent. They haven't had more than 200 yards passing in a game since the season opener, which is unheard of in this day and age. Whether it was Foles or Keenum.
The big issue is the offensive line. They've got a ton of rookies and a lot of injuries. They've got three offensive linemen on injured reserve and two others that are hurt. They entered the season by far as the most inexperienced offensive line in the league and having all these rookies has backfired. They probably would have been better off adding a veteran or two.
The defensive line is still the strength of the team. They've got five first-round picks and one of them, tackle Nick Fairley, doesn't even start. But they are beat up. Left end Chris Long just returned to the lineup last week after being out since Oct. 11. He looked rusty, but he'll be more up to speed this week. Right end Robert Quinn, who is questionable, has had a variety of issues with his knee, back, and hip. He's missed two of the last three games. That's arguably the best defensive end tandem in the league and they have very good backups there. William Hayes and Eugene Sims have been starting a lot. But it's just not the same. Part of their strength is the depth they would roll in there.
They're still pretty formidable. Tackle Aaron Donald is having an amazing season with already seven sacks. He makes a lot of tackles behind the line of scrimmage. Michael Brockers, who is more like the nose tackle and Donald more like the three technique, is also having a very good year.
Mark Barron, listed as a safety, is actually playing linebacker and he's had a great year. He was a pretty big safety, about 215, 220 pounds. When linebacker Alec Ogletree went down in the first week of October, they started putting Barron back there. They did have packages where he was a nickel backer, but now he's basically a linebacker. He's a great box safety, not much in coverage. He's a good blitzer and he's brought some spark with hard-hitting physical play.
The cornerbacks have played really well with their best ball. They're not giving up as many big plays as they have in the past. They did give up two 80-plus plays vs. Chicago, but they really weren't the corners' fault. One was a screen pass and one was a dump pass to the tight end. Cornerback Trumaine Johnson has a quad injury and we'll see if he plays. If he doesn't, they go with an undrafted second year guy out of Florida in Marcus Roberson. He's a big guy, 6-0, 191, and long, but he's not the player Johnson is. They've done more bump-and-run this year than they have in the past. They've got two pretty good safeties, but T.J. McDonald is coming back from a foot injury and doesn't look like himself.  They've had trouble covering the tight end the last couple of weeks. Zach Miller of Chicago and Crockett Gilmore of Baltimore both went over 100 yards in the last two games, so I'm sure Bengals tight end Tyler Eifert is looking at that film.
It's a good defense. They have been in the top ten, but they had a bad fourth quarter against Baltimore last week and fell down to 12 in total defense. Their special teams are good.  Punter Johnny Hekker is tremendous. In 2013 he set the all-time NFL record for net punting average with 44.2 yards and he's pretty close to that this year at 43.7. Tavon Austin is an electric punt returner, and you'll see why when they do wide receiver screens and jet sweeps with him on offense. It's been effective because that freezes the linebackers.
 So, they've got good special teams and they can obviously run the ball. If they could just be average passing the ball, they'd probably have won a couple of more games. It's unbelievable. I was watching that Cincinnati-Arizona game Sunday night and saying, 'Look at these guys completing passes.' I was a little jealous.
THE EDGE:  BENGALS 23, RAMS 13: The Rams defense will keep them in the game. They just don't have the firepower. I think the Bengals get well this weekend.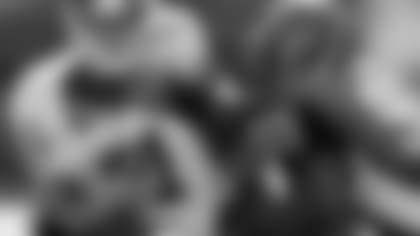 *Geno Atkins (right) is on the field this Sunday with the Geno Atkins of the NFC, the Rams' Aaron Donald.     *
I'm trying to figure out if it matters that Nick Foles is playing instead of Case Keenum at quarterback. They can't throw the ball. The offensive line is just so injured and so young.  They're basically facing Todd Gurley. Their offense has just been dreadful. I'm not sure if it's because they don't have receiver talent, but between the offensive line and the inability to throw, it's been a terrible year.
This is a game where the Bengals should just re-group, realize they lost to a good Arizona team, and just play. This is a perfect game to get back on track as long as the Bengals aren't taking the Rams lightly.
I was encouraged by the Bengals' 99 yards rushing. I know that's not a huge number, but the number of carries and the ability to control the clock for almost 32 minutes, to me, shows the Bengals made some strides last week. I thought running backs Jeremy Hill and Giovani Bernard both looked good. This is a great test for the Bengals offensive line because that front is obviously the Rams' strength. They can be had as well.
One factor that I don't know is going to play a role in this, and I know it sounds sort of macabre, is with Rams receiver Stedman Bailey getting shot, is this a game the Rams are going to dedicate to him? The whole thing is Cincinnati can't be sleeping against these guys like they were against the Texans. There is no reason the Bengals should lose this game.
THE EDGE: BENGALS, 27, RAMS 10: The Rams can't move the ball, the offensive line is a mess, and this is a game where the Bengals defense can really make some hay and help the offense out.
St. Louis has a great defensive line that we all know about and the Bengals have given up four sacks in each of the last two games. If the Rams can get pressure with their front four, it could be a long day for the Bengals offense. But if they have to bring blitzers to get to Andy Dalton, the Bengals obviously have enough weapons to counter it.  The last two weeks at cornerback they went against Houston's Johnathan Joseph and Arizona's Patrick Peterson, but the Rams have no Pro Bowl cornerbacks. If the front four can't get pressure I think Andy will have a pretty good day.
You look at their offense and they really don't have any other weapons. Austin is a guy than can beat you on any given play, but he's not a guy that's going to beat you over and over again. If you shut down Gurley, they really have limited options. There are just no other weapons that scare you.
Because they don't have many other options, the Bengals can kind of sell out against the run. They're coming off a week they played the No. 1 offense in the league and now they're playing the No. 31 offense in the league. They've done a decent job vs. the run this year. They did a great job against the run in Arizona last week. The longest run was nine yards. They have given up some long ones this year and that will be the key. Not just stopping Gurley consistently, but stopping him so he doesn't get loose for one of those long ones.
I think the Bengals are in pretty good shape mentally. The Houston game was more disappointing than Arizona. Not just because they came back when it looked like they were dead. But Arizona's a really strong team. They were in a position to win the game. I wouldn't worry about mindset at all with this team. The schedule is pretty favorable the next couple of weeks. They've got Pittsburgh in two weeks, but that's here. You've got a Rams team with a losing record, a Browns team with a losing record. They're in a good spot to re-group and get on a run.
THE EDGE: BENGALS, 27-14. I don't think the Rams can keep up. I don't think the Bengals are going to explode and have a huge offensive day, but I think they'll able to score enough to outdistance a pretty average Rams offense.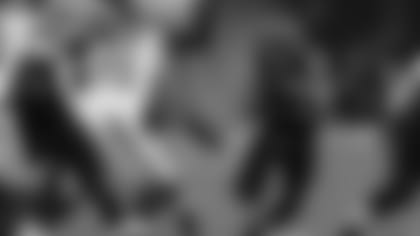 Jeremy Hill is three TDs from becoming the Bengals' first 10-TD rusher since Rudi Johnson had 12 in 2006.
The Bengals are still a good team. You're a fumble away from maybe beating the Texans. You're a decision or a play by Andy away from beating Arizona at Arizona. You turn those two around and this is an undefeated team. It's not like this team has walked off the field whipped.
And they're playing a team that has struggled very much offensively. They're going back to a quarterback that got benched. They haven't run the ball well lately. Gurley was great, but in the last three games he's got something like 200 yards. They can't get the ball to Tavon Austin. I think it's the right tonic at the right time for the Bengals.
The offensive line has had some protection problems lately, but some of that is you're playing J.J. Watt and his group one week and last week you're playing a team that blitzes and is very good in the back end. The Cardinals took some chances blitzing and it cost Arizona at times. They got to Andy, but it cost them a chunk when they got the ball in Gio's hands. And they gave up some pressure against Pittsburgh, a team that knows them so well.
So it's one of those things that's hard to gauge. Is it an offensive line issue? Is it teams taking advantage of blitz opportunities and the Bengals aren't cashing in there?  This will be another good test. If you get sacked three or four more times in this game then you have to question what's up with this offensive line.
Teams don't respect the Bengals running game right now. I don't think it's any coincidence the last two games they lost they were under 100 yards rushing. And when they didn't get 100 yards vs. Pittsburgh they almost lost that one. They need to find a way to consistently run the ball. You look at the Pittsburgh, Houston and Arizona games, all 30 under attempts.  They've had some bad first-down penalties. They've gotten sacked some on first down and they've been behind the chains and when you do that you have to throw and can't run the ball. But honestly, I think this is a game where you line up and run it 40 times and to heck with throwing it 35 times.
There are a lot of things to nit-pick. If A.J. Green doesn't fumble and you get a break in the last one, you win two games you didn't play all that well and one against a very good team in Arizona. But when you don't rush for 100 yards, you are going to struggle to win.
 The Rams haven't run it well because they don't have anything else. Foles got benched for a reason.
THE EDGE: BENGALS, 27-10. The defense played well for stretches in Arizona. They dominated the first half and when they needed to get stops to get the ball back other than the last drive, they did it. And they held them to a field goal when they fumbled in the red zone for what could have been a back-breaking touchdown. They got a three-and-out when it was 31-28 to get it back to a tie. I think the defense shows up again.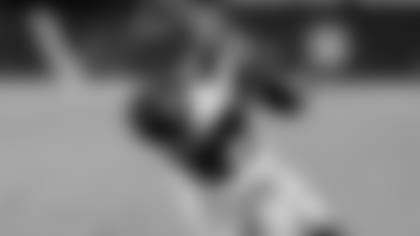 The Bengals will take an encore performance from Giovani Bernard.
You don't want the Rams to hang around. They've got a running back in Gurley that can control the clock, a punter in Hekker that can control field position, and a kicker in Greg Zuerlein that can win a game late from 60 yards and beyond.
So it is imperative the Bengals get off to one of their fast starts. Before they lost to Houston two weeks ago, they had scored a TD at PBS within the first eight minutes of the game while giving up just two first-half TDs in the first four home games. Getting a lead prevents the Rams' talented defensive line from teeing off on the pass rush and forcing the Rams to resort to a passing game that has been invisible.
The Rams have thrown just eight TD passes this season and they come into a building where the Bengals have allowed five TD passes in five games.  Gurley is a true load, but in the last three games teams have filled the box and held him to 3.3 yards per his 61 carries.
In the same stretch the Bengals seemed to have solved their problems against the run with the reunion of linebackers Vontaze Burfict and Rey Maualuga.  Before Burfict returned on Nov. 1 in Pittsburgh, the Bengals had a penchant for allowing one big run per game. But since Steelers running back DeAngelo Williams' 55-yard burst, the longest run by a back has been 14 yards and last week against the NFL's fourth-best running game the Bengals held the Cards to 3.3 yards per rush, gave up a long of nine, and stuffed two third-and-ones.
An effort like that against the run Sunday should be a possibility against a beat-up Rams offensive line that already began the season as the youngest in the league. Their starting guard is out, their starting right tackle didn't practice all week, PFF rates two of their guards in the NFL's bottom eight, and the left tackle 74 out of 78 tackles.
 Talk about needing a big tackling game. The Rams' two weapons, Gurley and Austin, are sixth and seventh in the league, respectively, at their positions in yards after contact, according to PFF.    
While the Rams have the great pass rush, foes have an 88 passer rating against them but you probably have to look away from their two starting corners. Janoris Jenkins and Trumaine Johnson are ranked ninth and 13th among NFL cornerbacks, according to PFF. In the last two games tight ends have nicked St. Louis for 100-yard games. But Johnson (thigh) didn't practice this week. His backup, Roberson, has played 108 snaps and given up just one TD.
It's not an easy defense to run against if you take away Adrian Peterson's 125 yards that started the three-game losing streak. The Ravens had 3.4 yards last week and the Bears 4.1 the week before. But the key in all three Rams' losses is that foes tried to run it to offset the pass rush. The Ravens' backs ran it 28 times, the Bears' backs 34 times, and Peterson lugged it 29 times by himself.
After a month of games the Bengals' top two backs have averaged 19.5 carries per game, they may be getting ready for a bigger workload against the team that has the most sacks in the NFL since 2012. But, they also have to cut down on the penalties that have been a big reason why they've been behind the chains and put them in obvious passing downs. And they have to keep in mind they want to give Bernard the carries, but not wear him down.
The Houston defense that held them to two field goals at PBS two weeks ago is first in third-down percentage and the Rams are second. The Bengals failed on 10 of 14 third downs against Houston largely because their average third-down distance was 9.1 yards and that unleashed its defensive line. The same thing will happen Sunday if it's third-and-long all day.
But it's not starting out that way. Trumaine Johnson, as well as Pro Bowl sacker Robert Quinn, didn't practice this week. The Rams are turning to their once benched QB, the Rams have won 31 percent of their road games under Jeff Fisher, and the Bengals haven't lost three straight and back-to-back home games in more than three years.
If the numbers hold, it translates to No. 9.