Updated: 6-13-08, 5:45 a.m.
The Pekos were going to do what they always do when they get together.
After eating, they would pray. Then the father, Rev. Tupe Peko, would read some scripture. Then the youngest child, Domata Peko Sr., would play his guitar and sing.
"Tonight it's going to be 'Bless My Lord,' " said Domata Peko. "It's my mom's favorite and we really have been blessed."
It just so happens that Peko's parents made one of their two or three annual trips from American Samoa this week, the week their 320-pound baby became the richest Bengals defensive tackle in club history.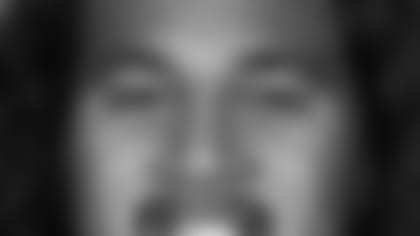 Peko "He's our youngest, so ever since he began his football career we've lifted him up in our prayers every night," said Sua, his mother. "He has kept the faith and he's never forsaken it. Growing up in he church I think is 100 percent why things have happened for him the way they have. He always has to keep this in mind."
It sounds like he will. Before Thursday's afternoon practice he signed a five-year extension that can give him as much as $30 million with incentives that agent Leo Goeas says puts him in the top 10 of NFL defensive linemen. But after practice Peko spoke about what it meant to his team and not to his bank account.
He talked about how young and different the defense is. The highest paid defensive players are linemen all under the age of 27 in Peko, Robert Geathers and Antwan Odom. Linebacker Keith Rivers, the No. 1 pick who is 22, soon joins the list. The George Orwell secondary may end up starting guys born in 1984 and 1985. Peko doesn't turn 24 until November.
"To have a voice and be a leader for this team," said Peko of his goal. "We've got a lot of young guys on our defense. That's what you want to do: Start to develop some young stars. By the time we're 27, we're going to have a solid defense. I'm ready to be a premier defensive tackle in this league."
He says the leadership already started long before the deal.
"A lot of young guys come up to me and tell me, 'Man, what year is this for you? Is this like Year Six? Year Five?' And I say, 'No, it's my third year,' '' he said. "They're just looking up to me now. It's time to step up as a leader on this defense. To have my voice out there and to play hard and step up as a leader for this team.
"I'm ready to play for our fans. I want to get a ring."
He's also ready to play for the new defensive coordinator, testy Mike Zimmer.
"You can see the tempo is a lot faster. There's not as much mistakes," Peko said. "He's got people really on their horses. ... It's all about technique, doing the little things. Footwork. Little by the inch steps. It adds up to big things."
At $5.8 million per year and $13 million basically guaranteed in the next three, his contract is quite a big thing and it's a lot of money for a third-year player.
But since '06 Peko has become a regular who started 16 games last year at left defensive tackle and finished the season with 65 tackles and 1.5 sacks to go along with a pass defensed and a crucial midfield fumble recovery in the fourth quarter of a one-point game against the Jets.
John Clayton, "The Professor" of ESPN fame, pronounced the deal "a good one for both sides. The going rate for a D-tackle is $5 million. Let's face it. There are none out there and they've got him for his whole career."
Goeas, from the agent firm of Domann & Pittman, said the attraction is the timing.
"The special thing about this is that it's two years early," Goeas said. "A lot of times teams figure they can get a huge discount that way, but this was a top-tier deal for him and it gives them a good young player trying to get to Pro Bowls for a long time."
Peko is also trying to do more than that and become a staple in the community. As chance would have it that all starts this weekend.
He's the poster player for Friday night's Taste of the NFL at Paul Brown Stadium, a fundraiser for Cincinnati's FreeStoreFoodBank at 6:30 p.m. in the East Club Lounge.
Peko, along with Michelle Brown, chef at Jag's Steak and Seafood in West Chester Township are the hosts for an event attended by more than 30 restaurants. Peko, who pulled an elderly man out of a car wreck in Northern Kentucky last year, thinks his profile in the community helped sell the Bengals on him long-term.
"They're looking for players that are good on and off the field," Peko said. "They started with Robert Geathers and they got Odom, really good guys. You never hear their names in the newspaper. Myself. It's real big for this organization."
It all goes back to the church, he says. The Temple of Faith.
"My dad is the pastor, so that's how I was brought up," Peko said. "I have to be thankful to God because that's how I got everything."
There would be a celebration dinner Thursday night at Benihana and then there would be the nightly informal service. His wife Anna, and two little boys two years and younger, Domata Jr., and Joseph Domata, would also be there. And maybe his brother Milton, an older one who just happened to be transferred to Cincinnati from California about the time his brother got drafted out of Michigan State in the fourth round.
It has been a huge week for the Pekos. Milton's son, Milton Jr., just graduated from Highland High School in Fort Thomas, Ky., where he played defensive end for the perennial state champions.
"Family is a huge blessing," Peko said.
He had to laugh. Tupe, his father's name, means "money" in English.
But somehow on Thursday, it seemed the Rev., his son, and the Bengals got a little bit more out of it than that.