Left guard Clint Boling welcomes his two new weapons.
When your offense adds two top 15 players in the draft in the first two rounds, it's the kind of Monday after when even the linemen and the defense notice.
"There's no way that can't benefit your offense," said left guard Clint Boling on Monday as the Bengals gathered for their third week of voluntary workouts. I think we got better as a team after this weekend and that's all you can really ask for."
Washington wide receiver John Ross' record-setting 4.22 seconds in the scouting combine 40-yard dash raised one eyebrow and Oklahoma running back Joe Mixon's 4.46 seconds despite carrying 228 pounds raised the other.
"I was hoping we would get him. I was looking for him because I saw the guy running I was shocked," said linebacker Vincent Rey. "A big guy like that with that speed as hard as he was running. I was surprised he was still around. I thought he would be in the top ten or something like that. I'm glad we've got him."
Rey, one of the Bengals nickel linebackers, is also glad he won't be playing against Ross after he scored 23 touchdowns on his last 112 touches for the Huskies.
"You think about (speed) all the time," Rey said. "Last year playing against Baltimore with Mike Wallace over there, you're always thinking about it. Sometimes when you're a linebacker and you see him in the slot, you kind of take a step back. I bet that's how our defensive backs think sometimes, too, when they know how fast a guy runs. That's what other teams will be thinking, so I'm glad."
Cornerback Darqueze Dennard took about 4.22 seconds to line it up in his head. Perennial Pro Bowl wide receiver A.J. Green on one side. Ross on the other side. Tyler Boyd, a second-year, second-rounder slotted between the two first-rounders. Jeremy Hill, a 1,000-yard running back. Giovani Bernard, a 50-catch running back. Mixon maybe both.
"It's definitely a problem. They're all weapons," Dennard said. "You have A.J. clearly the best receiver in the game.  (Tyler) Eifert is one of the top tight ends in the game. Boyd had a really good season last year. A really good player. I really like him. Then you have John Ross, not probably the fastest man in the NFL who runs good routes and has good hands and can separate. You've got Jeremy Hill running the ball and you still have Gio who is danger in the backfield. We're loaded on offense. It will be pretty fun to see."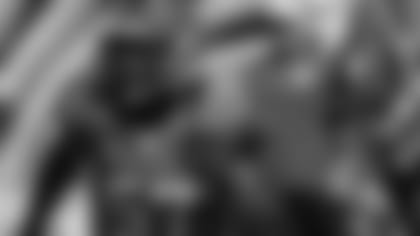 Linebacker Vincent Rey is glad the other guys have to back up now.
The pundits seem to agree. CBS Sports.com said the Bengals improved the most of any club in the draft and Pete Prisco gave them one of his five As. CBS' Rob Rang gave them a B and ESPN's Mel Kiper Jr., gave them as B-minus.
 And that's primarily because of the risk they associate with the buzz around Mixon since he is the most polarizing figure in this year's draft as the center of a horrifying video from three years ago when he was 18, punched a woman, and broke her jaw in three places after the two exchanged words.
After months of vetting Mixon the Bengals were convinced it's an isolated incident and a ghastly mistake from which he's learned and the locker room leaders are giving him a chance.
"If coaches and management feel good about it I'm all for giving guys a second chance in life," Boling said. "You can't just write a kid off for the rest of his life.  We have a strong enough locker room and we have groups of people here that we feel good about the character of guys around here. That's what life is about, making mistakes and learning from them and moving on. As long as he's done that, I think that's all you can ask for."
Right end Michael Johnson went to dinner with Mixon Saturday night along with Bernard and director of player relations Eric Ball. Johnson, 30, along with defensive tackle Pat Sims and punter Kevin Huber, has been a Bengal the longest.
"He's fine. He'll fit in well," said Johnson and when asked about the heat the club is taking he said, "He who is without sin, let them cast the first stone."
Second chances have paid off well for both player and the club in this locker room. Every situation is different and none can compare with what Mixon did on the video. But players such as Hill, Pro Bowl left end Carlos Dunlap, right guard Andre Smith, and cornerback Josh Shaw came out of the draft with red flags and have been solid contributors on and off the field.
 Two years ago Dunlap was named the Bengals Man of the Year for his work in the community six years after he missed an SEC championship game because of a DUI arrest.
"We've got a lot of veterans in here who have made a lot of mistakes and got back on the right path," Dunlap said. "I think that's somewhat a comfort for upstairs and why they felt like we have the right guys to pull him in the right direction and bump him and keep him on the railroad tracks. You know how that mamma dog, any time the little pup gets away, nudges him a little bit. I think that's what they felt like they have in this locker room because we have a lot of those guys who have made mistakes when they were younger but they've learned from their mistakes. We should embrace it.
"Second chances are hard to come by, but if you go about it the right way and you make sure you demonstrate and people have that feeling it was an isolated incident and you're not going to let it happen again, I think in the right circumstances you deserve a second shot."
Dunlap isn't making any comparisons, but he's grateful that mistake hasn't defined him.
"I was given one, and it paid off for me and my family huge, immensely," Dunlap said of his second chance. "His is a lot more extreme than mine, but if you do A, B and C and convince the right people, then obviously you can get that second shot. It's not the end of the world because the man who's judging us all, he gives us a second chance so why can't the men on land give a second chance?"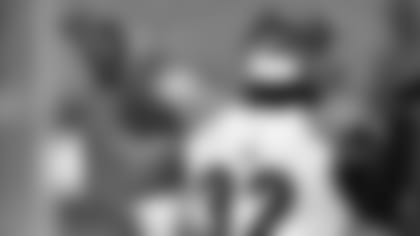 Jeremy Hill has reached out to Joe Mixon even though they're vying for playing time.
Hill was arrested twice at LSU before the Bengals took him in the second round in the 2014 draft, but before the draft he drafted a letter and sent to all 32 teams vouching for his character. He may have had ups and downs on the field, but he's been terrific in the locker room.
"Obviously people throw out the word character issues - not knowing the person's character it's easy to do that," Hill said. "From what I've heard from the coaches and everyone who has spent time with him and been around him they have nothing but great things to say about him. I'm sure I'll meet him here pretty soon and I'm sure I'll have the same feeling about him."
 Hill has repeatedly showed his character in the wake of the Mixon pick. Mixon is a threat to his job, but Hill immediately tweeted the Bengals now have the best backfield in the league and they spoke on the phone.
"He was a good kid. Obviously he had that one ordeal that he obviously regrets, but other than that he's a solid kid," Hill said. "He keeps his head down and works hard, and that's all you can ask for. Everybody makes mistakes in life. Obviously he wishes he could have that one back, but other than that he's a good kid. Bringing him in our room with Gio, myself, (Cedric Peerman), we're going to hold him to that standard every day; just make sure he's riding the right path and I'm sure he'll be fine."
And then, of course, there is Ross. The skill guys definitely saw it, too.
"It will be tougher to double-team A.J. and stack the box with a guy who can run like him," Hill said. "We're excited to get him in here and get him going. Obviously adding Joe to the mix is going to be a big piece for our offense. We've got a lot of talent; it's just getting them out there every day and getting that chemistry with ourselves."
"Probably going to be a lot less eight-man boxes, so very excited about that," he said. "Hopefully we can see a lot more seven-man boxes and get some runs going.