A.J. Green gets the Bengals on the board first in Denver.
DENVER, Colo. _ Bengals cornerback Adam Jones scanned the gut-wrenching script of would-be heroes and crushing endings, otherwise known as the NFL's play-by-sheet of Monday night's 20-17 overtime loss to the Broncos, and ran his fingers down the column of yards for Denver's receivers.
There wasn't a Pro Bowl number in the lot. 59. 70. 67. Jones shrugged.
"You work so hard. You have a couple of bad plays and then you play well," Jones said. "And you don't win. You have to suck it up and take like you take the wins."
Everyone knew it would be a close-run thing. Two quarterbacks with eight starts among them against two of the league's stingiest defenses for one of the precious bye weeks in the AFC playoffs. Now the Bengals have to beat the Ravens at Paul Brown Stadium this Sunday in the finale and the Broncos have to lose to the Chargers at home, or else it's playing at PBS Jan. 9 or 10 most likely without quarterback Andy Dalton in the Wild Card Game.
 "Very bad,' said Bengals wide receiver A.J. Green, when asked how much the Bengals wanted the bye. "Very bad. My body is banged up. Everybody's body is banged up."
And like all overtime games, it was built on a house of cards that could have fluttered to either side.
"It just leaves all the 'what ifs' out there," said safety Reggie Nelson of the loss implicating the play-off picture. "I mean, back to square one. We've just got to continue to play hard and play our football, and just keep on that straight line."
There are always going to be a lot of what-ifs when you have the ball 37:28 and the team that beat you had it 27:50. And the what-ifs can start with not having Dalton and Tyler Eifert because they came so close to beating the Broncos without them on a night backup AJ McCarron played as well as anyone could have hoped on the road against the NFL's No. 1 defense.
"He played a great game. He has a bright future in the NFL," said Broncos Pro Bowl cornerback Chris Harris. "He showed a lot of confidence, a lot of poise. Some of those balls, I swear, I was right there. Any other quarterback, I feel like they throw it lower and I can break it up. But he kept throwing the balls high and away, and you've got to attribute that to him on those great balls he was throwing."
But there were enough what-ifs that transpired Monday, too.
Like the injury to fullback/ tight end Ryan Hewitt, the Denver native who is so important to the Bengals running game and to offensive coordinator Hue Jackson's varying formations of two- three- tight end sets. Hewitt left on the first drive with a knee injury and his spot was taken by rookie C.J. Uzomah.
The Bengals had success running the ball in the first half out of those multiple tight end looks when running back Jeremy Hill had 31 yards on six carries in the first drive before finishing with 63 yards on 19 carries. For the first time in more than two years, the Bengals rushed it at least 30 times (108 yards on 33 carries) and lost.
 "Hewitt is a big part of our offense, but I thought that [TE] C.J. [Uzomah] did an unbelievable job of stepping in," McCarron said. "Kind of what Coach Lewis says and preaches all of the time is, 'Next man up.' I felt like he did a great job of stepping up and especially not getting many reps, if any, at that position. He did an excellent job and really made some good plays during the game for us. I was proud of him."
 The Bengals got a career-high three sacks from left end Carlos Dunlap, but his partner in grime along the defensive front, Pro Bowl tackle Geno Atkins, didn't appear on the stat sheet, even though he played better than that. But he didn't play as much as he usually does. He came in taking about 75 percent of the snaps, but on Monday he took 60 percent. It was unclear if it was related to the sickle cell trait he carries and can be a problem at high altitudes, but they did dress tackles Brandon Thompson and Pat Sims together for the first time this season.
And there was the opening drive of the second half and Denver on the Bengals 8 facing a third-and-three. One of the top teams in the NFL stopping teams in the red zone, a field goal instead of a TD would be huge here for the Bengals, keeping it at 14-6. But slot cornerback Leon Hall was on the sidelines getting checked for a concussion and with rookie Josh Shaw in to replace him, the Broncos sent out a stack formation and with the blitz on Denver quarterback Brock Osweiler hit open wide receiver Emmanuel Sanders for a TD that cut it to 14-10. It was only the second TD pass against the Bengals in five games.
(Hall was cleared and came back in the game.)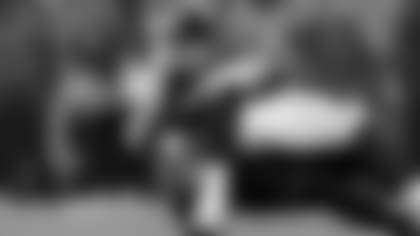 One of Carlos Dunlap's career-high three sacks.
But there were enough what-ifs beyond who could have been on the field. There was the 45-yard field goal that Mike Nugent pushed right with 2:31 left in the first half that would have given them a 17-0 lead and the miss opened the door for Denver to cut the lead to 14-3 at the half.
"It's the one bad ball I hit today. I hit the ball very well today," said Nugent, who hit a 58-yader in pregame according to Bengals play-by-play man Dan Hoard. "I can't stand it when the offense is working so hard and I miss an opportunity like that. Playing a team like Denver, points are at a premium, you have to make those field goals.
"The way I took my steps back and over, I was a little close to the ball and when you're close, you push it like that. Because it was such a solid hit, it makes me think it was an alignment issue."
 Nugent came back to hit a hugely clutch kick when his 52-yarder with 6:46 left in the game tied it at 17 on his longest kick of the year. The miss seemed to steal the momentum, but Nugent thought not.
"I don't think so," Nugent said. "We were still up 14-0 and we were up 14-3.
"Luckily we had an opportunity to win at the end, but their guy made that field goal to go ahead at the end."
Nelson seemed to be wondering what-if he and his mates could have tackled Broncos running back C.J. Anderson before he scored on a 39-yard TD run to put Denver ahead, 17-14, with 11:17 left in the game. The Bengals just haven't been giving up plays like that in the last eight games. Even Monday, before that run they had allowed just 33 yards on 11 runs. It was the longest run they had allowed since Nov. 1.
Anderson scooted out of the grasp of defensive lineman Wallace Gilberry at the line before eluding Nelson and Adam Jones at the next level.
I've got to make that tackle, period," said Nelson, named to the Pro Bowl last week. "He kept bouncing and bouncing and bouncing (to the outside). I came in vertical. I missed the tackle and that's on me. I just have to make that tackle, period."
But like Nugent, Nelson came back to make a great play on wide-open tight end Owen Daniels at the goal line in overtime, or the game was over on a TD. But Nelson levelled Daniels with a textbook hit that would help force the field goal.
And then there was wide receiver A.J. Green, who made a play worthy of his five Pro Bowls on third-and-goal from the 5 on the game's first drive. McCarron threw the fade the way you're supposed to throw it and Green used blinding footwork to stay in bounds against Pro Bowl corner Aqib Talib.
"I knew where I was, and I knew I just had to catch the ball first and throw my body down. AJ gave me a great ball; just had to go make a play on it," Green said.
Then in the fourth quarter and the Bengals on the Denver 34 with less than seven minutes left and down 17-14, McCarron unleashed a moon ball of a post pattern on third-and-five. But Green stopped running at about the 10 instead of running through the Cover 2. When he saw the ball in the air, he made a great kick start and nearly caught it in the end zone.
"That's on me," Green said. "I just should have taken off running."
After getting five catches for 57 yards in the first half, Green had none in the second half.
It's like Adam Jones said:   "You work so hard. You have a couple of bad plays and then you play well. And you don't win. You have to suck it up and take like you take the wins."
McCarron lived it Monday. He started off blistering in the first half with a 109 passer rating, a touchdown pass and TD drives of 80 and 90 yards while taking no sacks converting seven of eight third downs. In the second half, he took a couple of tough sacks when he might have been able to unload it and the Bengals could only get a field goal while converting just three of nine third downs.
"They heated it up,' said Green of the change in pressure and the increased number of blitzes.
McCarron had carved them up when they were in man-to man, but when the Broncos tweaked it with a little zone, that seemed to work. Basically, Denver crowded the box in the second half and asked its two Pro Bowl corners to carry the day and, for the most part, they did.
"They came up with some different blitzes and tried to disguise different coverages," McCarron said. "They weren't playing the exact same in the first half. They were playing a lot more man and we were capitalizing on it"    
We'll never know if Dalton would have solved the adjustment. That's why they call it what-if? What we do know is that McCarron played well enough to win if it wasn't for what Adam, Jones called, "The little things."
"Football is not going to be perfect. The game itself, they did some really good things. Like I said, they are the number one ranked defense in all categories," McCarron said. "They are going to make plays. They have guys that are Pro Bowlers and they get paid, too. We just didn't make enough plays when it counted. We put ourselves in a position to win the ballgame and I failed the team. That is what it comes down to; you aren't always going to score touchdowns."
Center Russell Bodine, whose offensive line held up against the No. 1s, praised McCarron.
"We came out and had two good drives and they made their adjustments, they're the No. 1 defense for a reason," Bodine said. "He went out and did a great job commanding the offense all night. I think he did a great job. That's one of the biggest games we'll play all year and he wasn't fazed by the big stage. He went out and handled his business."