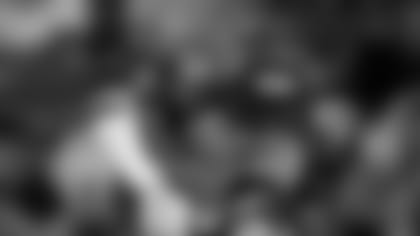 Keiwan Ratliff and John Thornton (97) celebrate Ratliff's touchdown on an interception return. (AP Photo/David Duprey)
BUFFALO - As the Bengals finished off their third 2-0 preseason start in 17 years, they had a lot to think about after their two backup quarterbacks put up the club's third most points in a preseason game in a 44-31 win over the Bills at Ralph Wilson Stadium. The Bengals twice previously scored 45 points in a preseason game - against Philadelphia in a 45-21 victory (1973) and a 45-0 shutout over Tampa Bay (1977).
Most eye-opening was No. 3 QB Doug Johnson's second-half performance in which he hit eight of his first 14 passes for 133 yards and a 113 passer rating in generating 17 points, seven coming out of the No Huddle offense and another one that he took himself on a bootleg run for a touchdown.
No. 2 quarterback Anthony Wright also led a 60-yard touchdown drive of his out of the No Huddle offense, capped by a scrambling screamer of a nine-yard touchdown pass to wide receiver Chad Johnson in the left corner of the end zone on third and nine and finished the half with a 80.8 passer rating.
"The one thing this score shows you is the depth of what we have," Wright said. "What we have to do is stop leaving teams in games. There were a couple of times we were in the red zone and we couldn't put it in the end zone, so we're going to have to learn to put a dagger in their heart."
It may be too late for a quarterbacks controversy since Carson Palmer stands poised to make his return from reconstructive knee surgery in the next preseason game, which is 10 days away at Paul Brown Stadium against the Packers.
Bengals head coach Marvin Lewis was non-committal after the game on Palmer's return for Green Bay. "We'll see," he said.
Johnson has at least made things interesting after he hit 11 of 14 passes in last Sunday night's win over the Redskins. Not only did he run the No Huddle effectively enough to lull the Bills into a too-many-men penalty, but Johnson caught the Bills in a blitz and hit rookie running back DeDe Dorsey in one-on-one in the middle of the field that went for a 59-yard play and set up Johnson's touchdown run.
Dorsey, who flashed for 68 yards on six carries last Sunday, went for 22 on his first six carries Friday.
The backup defense had a great chance to post a shutout in the second half, but rookie wide receiver Reggie McNeal committed the Bengals' first turnover of the preseason when he fumbled at his own 18 after carrying off a reverse. Bills quarterback Craig Nall then hit fullback Alan Ricard on a nine-yard touchdown pass to make it 44-24 with 6:28 left.
The same suspects stepped up on that defense. Rookie tackle Domata Peko had another active night as did rookie end Eric Henderson, and cornerback Rashad Bauman knocked down a pass. Bauman would later leave the game with under a minute left after suffering what looks to be a knee injury. A discouraged Bauman, who was on crutches following the game, will get an MRI on the knee for further evaluation.
Defense provises early fireworks
After the Bengals forced their third and fourth turnovers of the first half (and their sixth and seventh of the season in jacking their turnover ratio to plus-7), they got two field goals by Shayne Graham in the final 35 seconds of the half.
The Bengals defense couldn't stand posterity. Exactly 97 seconds after safety Dexter Jackson returned a fumble 72 yards to give the Bengals a 7-0 lead, they allowed a 61-yard touchdown run to running back Willis McGahee.
And less than two minutes after cornerback Keiwan Ratliff returned an interception 26 yards for a touchdown, Bills wide receiver Lee Evans deked him on a stop-and-go route and beat him for a 46-yard touchdown pass from quarterback J.P. Losman.
Meanwhile, the Bengals offense had a curious half. Of Wright's seven possessions, three were three-and-out and all but seven of the points came off turnovers.
But Wright did finish the half nine-of-19 for 99 yards and didn't throw an interception for the second straight game. Chad Johnson caught his first five passes of the season for 73 yards and the TD came with no celebration.
And Wright did look impressive on the 12-play No Huddle drive. He overcame a false start on right tackle Stacy Andrews and a hold on center Rich Braham while completing all five of his passes for 52 yards.
Wright threw a nice 12-yard ball to wide receiver Kelley Washington over the middle on third-and-six, and Johnson helped him climbing the ladder over the middle on a 16-yard first-down pass.
Running back Quincy Wilson came up big in the drive (he gained 21 yards on the two penalties) but when he lost six yards on a sweep to the left, Wright was looking at a third-and-nine from the 9.
He wheeled out of the grasp of right end Aaron Schobel, and stepped up when he saw Johnson heading into the corner ahead of safety Rashad Baker.
"The play broke down. I was supposed to be in the corner, but I saw Anthony scrambling," Johnson said. "I ran in and ran out and lost my guy. And Anthony was right there with the ball. Great play by Anthony, great scramble, great feet, great throw.
"I asked the ref if I could celebrate. I offered to pay his fine. He said no."
Lewis wasn't in a celebratory mood. Not after a half in which the three penalties matched the opener's total.
"We did some good things, but I'm not all that pleased with anything right now," Lewis said at haltime. "I'm thinking about how we've got to eliminate the two explosive plays on defense and the penalties on offense."
The Bengals' first defense pretty much left the field after it got its third turnover of the night when defensive end Justin Smith sacked Losman (his second sack of the game) and defensive tackle John Thornton fell on it at the Buffalo 35 with 2:07 left in the half.
A roughing the passer call on Wright and a pass interference call working on wide receiver Tab Perry at the goal line could only net Graham's 19-yard field goal with 35 seconds left in the half to give the Bengals a 24-17 lead.
Then Peko teamed with end Robert Geathers that forced another Losman fumble, this one recovered by Henderson at the Bills 12.
Wright couldn't connect with tight end Tony Stewart in the end zone and he had to hurry out of the pocket on the last pass to keep the clock alive and get Graham on the field for a 28-yarder at the gun.
Lewis is trying to cut down on the big plays on defense, and it just didn't happen in the first half. The Bills had 225 yards in the first half and 176 came on four plays: Three catchers by Evans (one for 47 as well as the 46-yard TD) and McGahee's 61-yard run.
Those turnover drills they practice during the dog days of training camp paid off instantly for the Bengals when cornerback Deltha O'Neal punched the ball from behind the falling McGahee and safety Dexter Jackson picked up the fumble and went 72 yards for a touchdown that gave the Bengals a 7-0 lead just 2:29 into the game.
But McGahee exacted his revenge exactly 1:37 later when he cut back on free safety Madieu Williams after tackle Mike Gandy picked off linebacker Landon Johnson at the second level. Williams missed the tackle as McGahee rung up one those big plays from last year that Williams is supposed to stop on a 61-yard touchdown run that tied the game at seven with 10:13 left in the first quarter.
Wright drew his second straight start when Lewis released a very depleted lineup. Even though Wright didn't have the club's two starting tackles, Levi Jones (ankle) on the left side and Willie Anderson (sore hamstring) on the right, the offensive line gave him some pretty good protection in allowing just one sack in the half.
His tackles had no NFL regular-season starts between them in rookie Andrew Whitworth on his blindside and Andrews on the right.
Wright's first two passes of the night turned into Chad Johnson's first two catches of the summer and they covered 40 yards. Wright also hit wide receiver T.J. Houshmandzadeh for a leaping five-yarder over the middle before Graham pushed a 48-yard field goal to the left as the skies opened in a vigorous rain.
Whitworth had his hands full against Schobel, coming off a 12-sack season that included one against Jones last season. Andrews went against left end Chris Kelsay, who gives Andrews about 70 pounds, and is coming off a season of 2.5 sacks.
On the Bengals second series, they committed their first procedure of the season under Wright on right guard Bobbie Williams's false start that set up a third-and-15. Schobel got some minor pressure, but it was tackle Larry Tripplett who blew past the right inside to sack Wright.
The next series was just as bad and began dreadfully when for some reason punt returner Tab Perry caught Brian Moorman's 63-yard punt on the goal line and got tackled on his own 2.
Wright had a first-down pass tipped at the line, and then his third down safety-valve pass was thrown behind running back Rudi Johnson a play Bobbie Williams was called for holding.
Justin Smith's third-down sack stopped a drive and set up Rian Lindell's 51-yard field goal 43 seconds into the second quarter.
Wright, who threw a touchdown pass and had no interceptions during the first half of the 19-3 victory over Washington at Paul Brown Stadium on Sunday night, didn't have backup receiver Antonio Chatman (groin), not playing for the second straight game. Chris Henry, who caught that touchdown, didn't dress due to a sore hamstring.
Safety Anthony Mitchell, who hurt his foot Sunday night, did not play. Also not playing for the second straight game was strong side linebacker David Pollack (hamstring), safety Kevin Kaesviharn (back), cornerback Greg Brooks (hamstring), and rookie fullback Naufahu Tahi (foot).
CFL product Rashad Jeanty, off a strong debut Sunday night in which he had half a sack and four tackles, got his second straight start in Pollack's spot.
Not yet activated from the physically unable to perform list (PUP) are defensive tackle Sam Adams (rehab), defensive lineman Jonathan Fanene (hamstring), running back Chris Perry (ankle), and left tackle Adam Kieft (knee).
A new addition to the injury list was rookie defensive end Frostee Rucker (unknown).
The No. 51s always are an interest in a Bengals-Bills game. Odell Thurman was active and looked for his first action this summer but he didn't see any action. Thurman is suspended for the first four regular-season games because of a violation of the league's substance abuse policy. The Bills scratched former Bengals linebacker Takeo Spikes, coming back from blowing out an Achilles' tendon last season.
SCREEN PASS: Lewis keeps coming up with those great day trippers. In the tradition of a spin around Kentucky Speedway, a tour of the Freedom Center, and a stint in the batting cage before a Reds game, he took his team to a screening of Invincible Friday morning in Buffalo.
After watching the story of the bartender who made the Eagles back in 1976, left guard Eric Steinbach reviewed it like, "It was your typical, feel good Disney movie. Kind of like Remember The Titans. I liked it, and it was easy to follow because it was a story. I don't think it could happen today. Can you imagine all our fans who would show up at an open tryout? It was fun to watch."
But that's not the reason Lewis took them to the movies.
"It was good to watch it with the guys. It was good bonding," said offensive lineman Scott Kooistra.
The movie is in theaters on Aug. 25.
SLANTS AND SCREENS Adams has yet to play a snap for the Bengals yet, but he's still a big hit here as evidenced Friday night. Adams, who played the last three seasons for the Bills, took 15 minutes to get to the locker room from the bus as he greeted everyone from teammates to security guards. Former Bengals linebacker Tim Terry showed up in the press box as a pro scout for the Packers. Lewis sent out for his captains running back Rudi Johnson, defensive tackle John Thornton, cornerback Tory James, tight end Reggie Kelly, and linebacker Marcus Wilkins.