Rey Maualuga: in the middle of some of the Bengals' best defenses.
Rey Maualuga, who has played in the most postseasons by a linebacker in Bengals history, saw his career in Cincinnati end with last weeek's signing of Kevin Minter in free agency but it ended officially when the club terminated his contract Saturday with a year left,
But it was more than an in-and-out in which Maualuga ($3.7 million) and Minter ($4.5 million) basically swapped hits under the salary cap.  In the past two weeks the Bengals have younged up their linebacker corps by moving on from two starters in the 30-year-old Maualuga and 35-year-old Karlos Dansby while adding Minter, 26, and putting him in the tentative starting lineup with 23-year-old Nick Vigil.
That leaves all-purpose backup Vincent Rey, who turns 30 during the first week of the regular season, as their oldest backer. Rey and Maualuga each have appeared in five postseasons to lead all Cincinnati linebackers.
The Bengals have a couple of options at replacing Maualuga in the middle. There is Minter, who played the middle for the Cardinals and called the signals like Maualuga could for the Bengals. There is also Vontaze Burfict, a Pro Bowl WILL linebacker and defensive savant who was a dominating college middle backer. Both the MIKE and WILL are inside-type positions in the Bengals' 4-3 defense. They've indicated that Vigil, a third-round pick in last year's draft, is going to start at SAM backer in the spring.
Maualuga's niche as a stingy run-stuffer has bumped up against the emerging NFL, where he's playing a position that is slowly getting phased out of a game with pass defense on the field two-thirds of the time.
Maualuga averaged just 23 snaps per his 14 games last season after averaging 42 per game in 2015 and 38 in 2014.  Minter took 1,001 snaps for the Cards last season and profootbalfous.com rated him third in coverage and Maualuga 75th.
But Maualuga is a tough, ferociously physical throw-back player who patrolled some of the Bengals' best defenses ever. He started at SAM as a rookie in 2009 and helped the NFL's fourth-ranked unit sweep the AFC North before he moved to the middle in 2011 and helped steer the Bengals to a No. 7 ranking that teamed with A.J. Green and Andy Dalton on offense for the first of five straight play-off berths. Two years later the Bengals reached No. 3 in the defensive rankings while winning another division title with Maualuga averaging 47 snaps.
Maualuga missed the '09 Wild Card Game with a broken ankle, but played in the next five postseasons for the Bengals and had 15 tackles each in the 2012 Wild Card Game in Houston and in the 2013 Paul Brown Stadium Wild Card Game against San Diego.
Reggie Williams, who played 206 games during 14 years at linebacker for the Bengals from 1976-89, appeared in seven play-off games over three postseasons.
With 119 games, Maualuga, a second-round pick in 2009, played the most games for Cincinnati at linebacker in this century and the most since Brian Simmons played all three spots in 122 during nine seasons from 1998-2006.
                      A LOOK AT BENGALS LINEBACKERS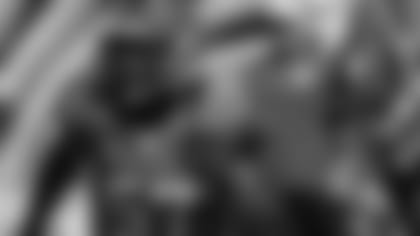 Vincent Rey is now the Bengals' most experienced backer.
Bryson Albright 6-5; 225; Age: 23; NFL Experience: first year; Cincinnati's St. Xavier High School product … Never missed a game in four years at Miami of Ohio … Pass rusher in college with 12 career sacks … Undrafted free agent … Played one game with Bills last season after making Opening Day roster … Spent most of season on practice squad … They'll see what he can do rushing passer here …
Vontaze Burfict _ 6-1, 255; Age: 26; NFL Experience: sixth year; Played just 26 games since led NFL in tackles and went to Pro Bowl in 2013 … Looked like old self at WILL in second half of last year when Bengals had  NFL's second-best scoring defense …They've mulled putting him at MLB and now with Maualuga gone they may …
P.J. Dawson - 6-0. 245; Age: 24; NFL Experience: Third-rounder in 2015 … Hopes to ignite his career after he got no takers when Bengals sent him to practice squad for 14 weeks last season … Has worked at both WILL and SAM …
Marquis Flowers - 6-3, 245; Age: 25; NFL Experience: fourth year; Sixth-round pick in 2014 … Played every game last season primarily on special teams … Finished fourth in teams tackles with eight … That's a factor because the two leading tacklers, Rex Burkhead and James Wright, went to other clubs … One of more athletic backers they've got … plays both SAM and WILL … had trouble getting on field last season with just two scrimmage snaps ….
Kevin Minter - 6-0, 246; Age: 26; NFL Experience: fifth year … Rare UFA signing for Bengals secured last week … Durable, productive middle backer who can play all three downs … Played 1,947 snaps in last two seasons while captain for Cardinals … 2013 second-round pick of Arizona has played 58 straight games … Can  potentially also play WILL in Bengals 4-3 …
Vincent Rey - 6-0, 250; Age: 29; NFL Experience: seventh year; Special teams co-captain and a team leader … First backer off bench … While backing up Burfict at WILL and Maualuga at MIKE (middle backer), Rey has started 33 games in last three seasons … Led team in tackles in '14 and '15 …They think he'll be better served cutting back snaps to go along with special teams duties after averaging more than 700 last three years …
Nick Vigil - 6-2 240; Age: 23; NFL Experience: second year; Highly-regarded third-rounder from last year after led Mountain West in tackles; played every game as rookie … took third most special teams snaps with 306 … tied for fifth most teams tackles …Defensive coordinator Paul Guenther envisions Vigil starting at SAM in spring but says can play all three spots … Used heavily in nickel last two games of year when Burfict out …