Turk Schonert, the irrepressible Californian with the matching sunny disposition who authored the most important comeback in Bengals history, died suddenly Thursday near his South Carolina home.
Reports said Schonert, 62, died of a heart attack and sent his ex-Bengals teammates into shock during a day they traded somber texts about the popular locker room figure who backed up two NFL MVPs during his eight seasons in Cincinnati before going on to coach in the league for 13 seasons.
This is why reunions are sadly nice.
"It's a shock. I'm just glad we were able to see him at the 30th and spend some time," said former wide receiver Cris Collinsworth of last season's celebration of the 1988 AFC champions.
Boomer Esiason, one of those MVP quarterbacks, found himself Thursday consoling Collinsworth, Schonert's closest friend on the team, when he told him it was O.K. to cry.
"I don't know whether to laugh or cry," Collinsworth told him, "because every time I think of Turk I want to laugh."
But, as always, Collinsworth, NBC's award-winning NFL analyst, had the words to fit the occasion.
"The underlying part of him was Turk's undying confidence," Collinsworth said. "Whether it was on the golf course, or in a game, or just life in general, he thought he was going to win. He thought he was going to make the next play. He thought that he was going make the next putt. He just had this contagious confidence to him. He made us all feel that way a little bit and gave us all that sort of a lift."
It was that steel-belted self-confidence that fueled what Collinsworth calls the most important win in Bengals' history outside of the two AFC championship games. In his first NFL game on Sept. 6, 1981 in the season opener after the fans at Riverfront Stadium booed franchise quarterback Ken Anderson off the field late in the first quarter, Schonert midwifed their first Super Bowl season.
Two years ago during the club's 50th anniversary season, Schonert returned to regale his teammates and fans with an after-dinner story about how head coach Forrest Gregg barked out his name and how he forgot his helmet and ran to the huddle in just his ball cap and how he fumbled away the first snap.
But underneath the laughs was an icy, mistake-free performance in which he hit nine of 18 passes for 130 yards and ran for 41 more to engineer a 27-21 victory when he converted three huge third downs. One went to Collinsworth for 18 yards on third-and-six after he ran for 19 on third-and-five on the drive that cut the lead to 21-10 at halftime. Then down 21-20 early in the fourth, Schonert converted a third-and-four on an 18-yard pass to wide receiver Steve Kreider. A 19-yarder to tight end Dan Ross set up running back Pete Johnson's two-yard touchdown run with just under five minutes left.
"If Turk doesn't do what he did that day, maybe we go to the Super Bowl. It's not as likely," Collinsworth said. "Then, do we go to two Super Bowls? Who knows? That's how historically significant that game is."
When the game was over and after Schonert tried to wriggle out of guard Dave Lapham's massive body lift, Gregg opted to go back to Anderson for the next week against the Jets at Shea Stadium. Schonert quietly pulled the ball cap back on and helped Anderson win the MVP.
"There wasn't a teammate that didn't think he wasn't a great teammate," Anderson said.
Lapham, the Bengals' long-time radio analyst who was Anderson's road roommate, saw it, too.
"That (day) is his legacy to this team, to this city," Lapham said. "Ken Anderson got the MVP that season and deservedly so. But the one game it didn't go well for him, Turk was the guy that did exactly what he was supposed to do. He epitomized and defined that role … He had a high football acumen … No question he was a calm, cool, collected customer."
California Cool. Born in Torrance. Educated at Stanford. Schooled by Bill Walsh after he perfected the West Coast offense in Cincinnati with Anderson. Despite winning the NCAA passing championship while a freshman named John Elway backed him up, Schonert never played as a rookie after the Bears drafted him in the 1980 ninth round. He landed in Cincinnati the next season and got a toehold when Sam Wyche arrived as head coach in 1984.
"No one knew the West Coast offense like Sam, but Turk knew it as well as any other human," Collinsworth said.
Schonert started the last three games of that '84 season in the transition from Anderson to the rookie Esiason and threw a little Stanford at the Falcons when he scalded them on 20 of 23 passing for 288 yards in a 35-14 Riverfront victory. From them on whenever Schonert and Collinsworth were in a group, Schonert would joke Collinsworth made him miss an NFL completion percentage record because of a fouled-up route.   
It is that easy chemistry for which Esiason remains grateful.
"It was a stroke of luck to be drafted by the Bengals at that time," Esiason said. "To walk into a locker room with guys like that. Cris. Turk. Kreider. (Max) Montoya. (Anthony) Munoz. Are you kidding me? It doesn't get any better than that. It was after the military way of Forrest Gregg and then Sam comes in with this great group of guys and it's something special for five or six years and it was unbelievable and Turk was right in the middle of everything.
"I had had no idea what I was doing when I came in and here were Turk and Kenny so far advanced where I was. He was awesome to me. He had everything to lose, nothing to gain. He probably thought he deserved a real shot. It was like he didn't get it. But he hung with us."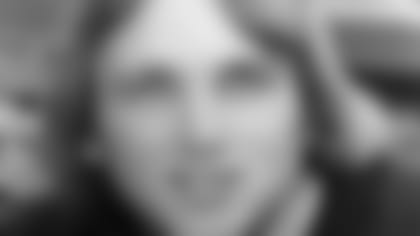 Schonert went to Atlanta for a year, in 1986, and started the last five games and went 2-3 with four TDs and four interceptions before going back to Cincinnati the next season. He was here for the '88 Super Bowl, too, but not before the Wednesday of the season opener. When Esiason walked into Wyche's office at 7 a.m., he was stunned to see that Schonert and Mike Norseth had replaced the two training camp backups.
"They thought so much of Turk they brought him back," Esiason said. "He was an extension of the coaches. So was Mike. After all the stuff from the year before (in the three-week player strike), it was a help that the quarterback room was really tight. Maybe they brought him back to babysit me because that's kind of odd now that I'm thinking about it. But everybody loved him. They loved the way he was."
The early '80s were sparse on baby sitters. As Lapham says, Collinsworth and Schonert were the "Butch Cassidy and Sundance Kid," on Cincinnati's A list of celebrity heart throbs.
But Schonert was a grinder as a player and a coach. "Uber competitive," is how Lapham calls it. After he was the Bills offensive coordinator in 2008, he had some stints in the short-lived UFL before going to Canada to coach in the CFL. Esiason texted with him this year and tried to gauge if he was interested in getting back into coaching, "but he sounded happy playing golf in South Carolina."
No matter what he was doing, he was making people smile. Like on a golf course in Florida when Collinsworth watched Schonert hit one of the ugliest drives ever, a damn near parallel tee shot that sailed over water running down a dogleg left and landing in a yard. After arguing whether the ball was out of bounds ("Of course you don't see any stakes, no one has ever hit a ball there," Collinsworth told him), they negotiated the stream so Schonert could hit. If possible, he hit an even worse shot into the drink.
Collinsworth thought he was going to toss the club after the ball, but Schonert held up at the last instant. He put the club back in the bag and pulled out a 2-iron that he whipped into the water. After Collinsworth composed himself long enough, he asked, "Why would you do that to an innocent two-iron?"
He goes, 'I never hit that club,'" said Collinsworth, laughing and not crying.