The defending NFC Champion Carolina Panthers are 3-6.
Two of the league's perennial powers – Pittsburgh and Green Bay – are 4-5.
And after five straight trips to the playoffs, the Bengals are 3-5-1.
"It's very disappointing," said Alex Erickson after Monday night's 21-20 loss to the New York Giants. "You put so much into it, you know?"
But it doesn't take much to go from the penthouse to the outhouse in the National Football League.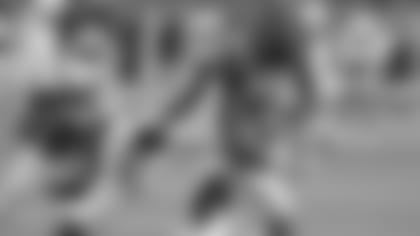 Consider this: The Bengals have had fourth quarter leads against Denver, Washington, and the Giants and come away with two losses and a tie. If they held on to win those games, they're 6-3 and in first place in the AFC North.
"I could go back over the past five or six years," said Andrew Whitworth. "As good as people think we've been, there have been a lot of games that we eked out there at the end. Another team made a mistake and a lucky break went our way."
Too often this season the Bengals have been the team making the costly mistakes.
In the third quarter of Monday's loss, the Bengals had a golden opportunity to take a 10 point lead when Andy Dalton fired a strike to rookie Tyler Boyd at the Giants' five yard line. But instead of securing the ball to set up first-and-goal, Boyd extended his arms toward the goal line in an effort to score his first career touchdown. The nearest official signaled TD, but another member of the crew ruled the pass incomplete. Replay showed that Boyd lost control of the ball when it hit the ground.
"I was so fired up," said Boyd. "Words can't explain how I felt when I was standing in that end zone. It was like everything I've worked for is starting to pay off.
"I know ball security is number one for anybody running with it. I wish I could have held on tight because it probably would have changed the whole outcome of the game."
Still, the Bengals took a 20-14 lead to the fourth quarter and had an opportunity to maintain that lead when New York elected to go for it on 4th-and-goal at the three yard line.
"I was very surprised," said Karlos Dansby. "It was a gutsy call."
And it paid off for the Giants when Eli Manning hit rookie Sterling Shepard on a crossing route for the game-winning touchdown.
"We were anticipating something different and we went for it," said Dansby. "We didn't hesitate. We were trying to play fast and we went for what we thought we saw. They had a good play call.
"If we make that play we win the ball game."
The Bengals got the ball three times after that score and were unable to answer. The first drive ended with an interception. The second drive died when Jeremy Hill got stopped on third-and-one. And the final drive ended with back-to-back sacks.
"It's not a Monday to Sunday problem," said Whitworth. "Guys are working their butts off. They're in the facility all day trying to find a way to win. For whatever reason, we just can't seem to get it to bounce our way."
Cincinnati has benefitted from one gigantic bit of good fortune – the lackluster play of their rivals in the AFC North. The first place Ravens are 5-4 and still have road games at Dallas, New England, Pittsburgh, and Cincinnati. The second place Steelers also have to come to Paul Brown Stadium as well as making trips to Indianapolis and Buffalo.
The Bengals remain in the hunt in their division in spite of themselves.
"Every week's a challenge," said Erickson. "There are no easy games. There are no plays you can take off. It's been a learning experience."