A.J. Green came up big when the chips were down.
DENVER - The man asked A.J. Green if the Bengals were aware they had just won a Mile High for the first time since 1975.
"I don't keep up with history a lot," Green said after he and his mates had committed some with their 20-17 victory over the Broncos.
Just as well. It was more a lesson in NFL current events than anything else. From the six-time Pro Bowler to the undrafted free agent seeking his first NFL touchdown, Sunday's challenge emerged as clearly as the Broncos man-to-man defense that former Bengals secondary coach Vance Joseph deploys so boldly with a trio of heralded cornerbacks.
"Man-to-man coverage. Your antenna has to go up," said Alex Erickson, that second-year college free agent who celebrated that first NFL touchdown. "It's our time. It's me against this guy. If I beat him, Andy (Dalton) will find me. You have to get separation."
All the more important when your receivers are part of an offense ranked next-to-last in the league in converting third downs playing the NFL's best defense on third down.
Green, the perennial Pro Bowler who had been quiet for the game's first 50 minutes with three catches for 31 yards, wrecked the game when Dalton had enough time to exploit it. On third-and-two Green raced past cornerback Bradley Roby and Dalton lofted it into the left end zone for the 18-yard touchdown they needed so desperately to fend off Denver with 8:56 left in the game.
With the Bengals needing to convert again with 3:15 left to protect the 20-17 lead, Green torched Roby again, this time for a pass interference penalty on third-and-six that put the ball on the Denver 38.
"He was eight yards off," Green said. "As soon as I took a break, he thought I was breaking inside, so he just pushed me. Just give me a chance and he gave me a chance to make a play."
Not only was Dalton giving his favorite target a chance, but also the little-used Erickson, known more as last year's AFC kick return champion as a rookie. He got two huge curtain calls on third down, one for that first NFL TD on third-and-four with the help of Dalton's 29-yard pearl that gave the Bengals a 13-7 lead early in the second quarter. But his third-and-five conversion with 9:02 left in the game was just as big because it made Green's touchdown possible as Erickson found himself working on Pro Bowl cornerback Aqib Talib.
"I just came in motion," Erickson said. "I could go up the seam or cut across his face. He stayed high, so I was able to cut across his face and Andy found me."
But if it sounds like the guy they targeted was Roby, you're right. Erickson flat ran by him for the touchdown.
 "Same thing," Erickson said. "I had the option to cut across and I thought he was sitting low enough that I could run by him and I was able to run by him and Andy found me again."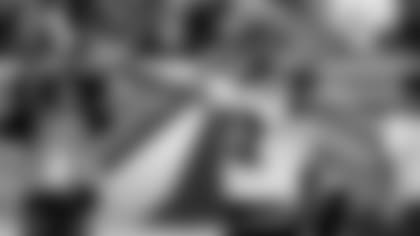 Alex Erickson celebrates that first NFL TD.
The problem had been it simply hadn't been happening this year. But somehow with No. 1 pick John Ross inactive, fourth-rounder Josh Malone getting no targets on 18 snaps and slot receiver Tyler Boyd turning his one target into a third-down conversion, Erickson parlayed his two targets into two huge third downs.
"He works his butt off every day," Green said. "He does everything. He can play anywhere and we use him all over ."
And Dalton had no doubt practice would translate.
"He's reliable. He's always in the right spot and he's a great player. He just did what we've seen all the time in practice," Dalton said. "He's a great guy to have out there. That's the way this team plays. There are a lot of one-on-one matchups, he ran a great route, got around him and got open."
Dalton was more than ready.
"I think it's just one of those things where we had the opportunity to hit A.J. over the top," he said. "Our guys made plays, I think that's what it came down to. As much man-coverage as (the Broncos) play, we had the opportunity to make plays and we hit them."
And beating one-on-one on third down wasn't limited to Dalton passing. How about Dalton running the zone read on third-and-three with 4:09 left for six yards? He faked the handoff to running back Giovani Bernard  and read the reaction of none other than the great Von Miller crashing from the outside.
"It was the kind of thing we've been handing those off all game. At that point he went for the back and I was able to get the first," Dalton said.
In the end, the best way to figure out third down was, what else? Green from Dalton.
"When we needed it the most we threw it to the best player on our team and he made the play,"
 Dalton said.
That's no history lesson. Just modern day civics in the NFL.
Cincinnati Bengals take on the Denver Broncos in week 11 of the regular season.