E. RUTHERFORD, N.J. - The Bengals and Giants staged an NFC East-like heavyweight battle here Sunday at Giants Stadium that went more than 15 rounds when John Carney's 22-yard field goal with 8:43 remaining in overtime gave the Giants a 26-23 victory.
"The team showed our real colors, our real abilities today," said middle linebacker Dhani Jones after his defense didn't break until allowing two big passes in OT. "We're distinct underdogs and we've done nothing to deserve anything else. But we stepped it up a notch today and as we become more mature and sound, we'll make more game-changing plays."
The Giants won the toss to start the extra session and elected to receive. The Bengals defense forced a punt but Cincinnati could not move the ball on its possession and punted back to New York. Aftter hitting seven of nine passes for all of the 71 yards in the tying drive at the end of regulation, Bengals quarterback Carson Palmer defended the two run calls to running back Chris Perry that netted two yards on first and second down before he threw behind wide receiver T.J. Houshmandzadeh for an incompletion.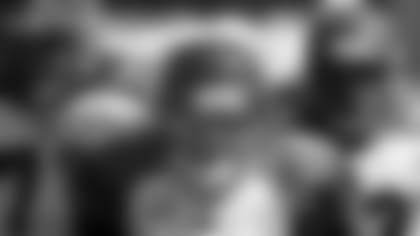 Carson Palmer got back on track with 286 passing yards and a TD. (Getty Images)
"The way the running game had been working, it seemed like we were getting four a pop," Palmer said after Perry finished with 74 yards on 20 carries. <>< "it="" may="" sound="" crazy,"="" palmer="" said.="" "but="" we="" have="" improved.="" not="" enough.="" we="" need="" to="" keep="" improving="" and="" just="" find="" a="" way="" to="" squeak="" out="" a="" win="" and="" give="" us="" the="" confidence="" we="" need="" to="" just="" kind="" of="" take="" that="" big="" deep="" breath="" and="" say,="" 'all="" right,="" let's="" roll.'="" "="">
The Giants started their second overtime possession on their own 34. On second down New York quarterback Eli Manning hit wide receiver Plaxico Burress down the left sideline for a 28-yard reception to the Bengals 38 as he beat cornerback Leon Hall on a fade. After an incompletion, Manning made the big play of the game when he connected with Amani Toomer for a 31-yard completion to the Bengals 7, a play that Palmer said he thought should have been reviewed because it looked like Toomer was out of bounds.
Toomer, however, straddled the sideline as he just did get his second foot down before going out of bounds.
Until that drive, the young Bengals secondary had held its own against Burress, the man who caught the Super Bowl winner, and Toomer, the Giants all-time leading receiver. It was just Burress' third catch of the day for 45 yards and it was Toomer's fifth for 64.
"Eli gave a pump-fake and I thought he was going to Plaxico because that's his big-play guy," said Bengals safety Marvin White.
Hall came up big against the big boys with four tackles and two passes defensed.
He said he wasn't surprised by Burress' double-move and he was stride-for-stride with the 6-5 Burress but Burress turned his head before Hall down the sideline.
"You've got to make a judgment call," Hall said. "If you turn around too early, he goes right by you."
Following a three-yard run by Derrick Ward put the Giants on the Bengals 4, Giants coach Tom Coughlin decided to go for the field goal, which Carney nailed to end a gritty performance by the Bengals.
Palmer leads drive to tie it up
Palmer, looking like a bloodied boxer with his broken nose spewing as he got sacked six times, gamely led the Bengals on a stirring 10-play drive that consumed the final 1:50 of regulation. Shayne Graham's 21-yard field goal at the gun tied it at 23 and forced overtime.
Palmer was sacked six times in a game for the first time since a 28-20 Bengals victory at Pittsburgh on Sept. 24, 2006, a stretch of 31 games.
Palmer otherwise had a nice game with 27-of-39 passing for 286 yards while wide receiver T.J. Houshmandzadeh responded with a clutch 12-catch effort for 146 yards.
"Man, I wish we could have won," Houshmandzadeh said. "I was like, 'Finally going to get a good win over a good team.' We got to get on a roll and it didn't happen."
Houshmandzadeh's 12 receptions tied his career high, set twice previously and the total was one off the team record of 13 (Carl Pickens, Oct. 11, 1998 at Pittsburgh). The 12 catches also doubled Houshmandzadeh's season total of six coming into the game.
The Bengals defense that had played so well had its heart torn out on New York's last drive of the game when Manning hit tight end Kevin Boss on a third-and-goal four-yard touchdown pass slicing between safeties Chinedum Ndukwe and Marvin White with 1:45 left for a 23-20 lead.
The play capped a whirlwind 68-yard, nine-play drive that took less than three minutes.
Palmer fired his first touchdown pass of the season with 4:39 left in the game to give the Bengals a 20-16 lead.
The 17-yard bolt to Houshmandzadeh was Palmer's second third-down pass of the 82-yard drive and both were to Houshmandzadeh.
"I threw it up there," Palmer said, "because that's what he does."
Four of Houshmandzadeh's 12 catches on the day were on third down.
New York came out of the clinches to take a 16-13 lead with 11:32 left in the game on Carney's 26-yard field goal.
Carney had tied it at 13 with 6:23 left in the third quarter with a 46-yard field goal, but the Bengals and their effective defense made it hard on Super Bowl hero Manning and his band.
He needed three penalties in the drive to score the go-ahead field goal, the two biggest an illegal contact call on rookie cornerback Simeon Castille for an automatic first down (the third penalty on Cincinnati's young secondary) and a 15-yard facemask penalty on right end Antwan Odom.
The killing play was a screen pass to wide receiver Steve Smith that converted a third-and-14 on a day the Bengals stuffed the Giants on six of their first eight third downs.
On the drive that made it 13-13, the Bengals made Manning go 30 yards in nine plays for the score. Manning did convert his first third-down in five tries on the day in the middle of the third quarter when he hit Domenik Hixon and he made the catch even though he had cornerback David Jones hanging on him.
Hall played strong in the drive with two pass breakups as the Bengals mixed in a heavy dose of the blitz.
But the Bengals offense had as much trouble in the second half. Perry had just six yards on his first five carries of the second half, as well as no place to run in the OT.
Despite some egregious red-zone problems, the Bengals took a 13-10 lead at the half over New York when Graham hit a 30-yard field goal with 32 seconds left even though defensive tackle Tony Robbins deflected it at the line.
The Bengals had a third-and-goal from the Giants 4 when right end Mathias Kiwanuka motored past left tackle Levi Jones for New York's fourth sack of the game to force the field goal that marked Cincinnati's most points in a game this season.
Earlier, Chad Ocho Cinco dropped a pass inside the 10, but came back to make his only catch of the half for a first down on third-and-short. Tight end Daniel Coats had both hands on the ball as he jumped in the end zone, but he dropped it.
Palmer read the blitz on third-and-long when he hooked up for the club's longest pass play of the season, a 26-yarder to Houshmandzadeh. Palmer, 14-of-20 for 132 yards in the half, found Houshmandzadeh again over the middle for 15 more on the next snap as the running game kept the formidable Giants defense at bay.
With the longest run by a Bengals starting running back in more than two seasons, Perry gave the Bengals a 10-7 lead with 7:20 left in the first half on a 25-yard run behind right tackle Stacy Andrews and right guard Bobbie Williams.
It was the longest touchdown run by any Bengal since Rudi Johnson's 36-yarder against Denver in the Monday night win on Oct. 23, 2004. Chatman posted his Bengals highs of six catches for 70 yards.
The lead was short-lived as the Bengals promptly allowed the Giants back to the New York 43 on the kickoff following Perry's TD and then allowed a 26-yard pass to tight end Kevin Boss and 22-yard run to Ward before settling for Carney's 24-yard field goal that tied the game at 10 with 3:55 left in the first half.
The Bengals caught a break when cornerback David Jones got beat trying to cover Burress in the corner of the end zone on third-and goal and Burress came down with the ball, but on the back line to force the field goal.
Perry rolled up 52 yards on his first seven carries, but the big play in the eight-play touchdown drive came when Palmer hit Chatman on a short pivot route and he got about 20 yards after the catch running to the middle of the field.
Giants take second-quarter lead
It took the Giants just a quarter to go after the young Bengals secondary and it resulted in running back Brandon Jacobs' one-yard run with 10:36 left in the first half that gave the Giants a 7-3 lead.
Facing a third-and-seven, Burress appeared to run into David Jones (in his first NFL start) and then fall down. But Jones was called for pass interference and on the next snap Manning found Boss for a 21-yard gain. Boss held on to the ball on the sideline despite absorbing a solid hit from safety Chinedum Ndukwe.
The Bengals jumped to their first lead of the year when Graham's 22-yard field goal with 38 seconds left in the first quarter gave them a 3-0 lead.
After the Bengals stuffed two runs on a Giants three-and-out, for the third straight game Chatman popped a significant punt return. This one went 21 yards and put the Bengals at their 37 with 6:58 left in the first quarter.
The Bengals then went 59 yards in 6:20 with Palmer getting a third-down conversion on a seven-yard throw to Chatman and getting 15 himself on a scramble that put the ball on the Giants 5.
With SAM linebacker Rashad Jeanty getting his starting job back to beef up the run defense after sitting last week, the Bengals stuffed Jacobs on third-and-one to force a punt on the game's first series, and the Bengals stepped up big to hold Jacobs to 27 yards on 10 carries in the half.
When the Bengals got the ball, Reagan Maui'a made his first Bengals start at fullback but the first series was tough.
They gave up a sack to defensive tackle Fred Robbins on the first snap when Palmer couldn't find anyone open. As the Giants Stadium crowd roared on the third down, the Bengals were forced to take a timeout and promptly got into a third-and-18 when Levi Jones false-started and Palmer then had his pass ripped away on another sack by blitzing cornerback Corey Webster and the fumble was recovered by Bobbie Williams in the shadow of his own goal post.
PREGAME NOTES:** In his 10th NFL game cornerback David Jones drew his first NFL start Sunday when Johnathan Joseph (ankle) went on the inactive list for the Bengals game against New York at Giants Stadium.
Also down for the Bengals were three other players expected to be out after not practicing all week in safeties Dexter Jackson (thimb) and Herana-Daze Jones and tight end Ben Utecht (chest).
The big surprise was second-rounder Jerome Simpson sitting in favor of third-rounder Andre Caldwell as the Bengals try to mix it up at wide receiver in the spots behind Chad Ocho Cinco and T.J. Houshmandzadeh. The two rookie defensive tackles, Pat Sims and Jason Shirley, sat for the third straight game.
It's Caldwell's first NFL game and his first appearance since he injured his toe in the preseason.
Utecht, crunched on the first play of last week's game against Tennessee, had an active pregame running routes and there was sideline buzz he thinks he can be back for next week's Cleveland game at Paul Brown Stadium.
The Joseph injury spotlights the Bengals' inexperience at corner. Behind Jones is rookie free agent Simeon Castille in his third game and first-year player Geoff Pope, making his regular-season debut. Pope, picked up on waivers the week of the opener, played as a rookie for the Giants in two playoff games.
The Bengals, playing in white jerseys and black pants with running back Kenny Watson as special teams captain, lost the coin toss and the Giants received. The Giants were turning to field-goal kicker John Carney to kick off instead of the injured Lawrence Tynes (knee).