The Battle of Ohio has turned into a fight of attrition with both the 9-2 Bengals and the 2-9 Browns facing a slate of key injuries in Sunday's skirmish (1 p.m.-Cincinnati's Channel 19) in the Land of LeBron.
Since injuries are a relatively new phenomenon in Cincinnati's bid for a play-off bye and the Browns have been worn down by them all year, the Bengals.com Media Roundtable unanimously agrees the Bengals extend their AFC North record to 4-0 as they stalk their second division sweep under head coach Marvin Lewis.
But this panel has viewed Cleveland upset much better Cincinnati teams in 2010, 2012, 2013, and 2014 with three of those games coming in Cleveland. So it's a little cautious when predicting the Bengals survive a tighter game than their 31-10 victory over the Browns last month at Paul Brown Stadium.
Former Bengals safety Solomon Wilcots, an analyst for CBS and NFL Network, is a big fan of quarterback Austin Davis in his first Browns start and he's wary of any division road game for the favorite. But he gives the edge to the Bengals' offensive versatility.
Dan Hoard, the play-by-play man of the Bengals Radio Network, goes as far to say that versatility is going to yield a big day for running back Jeremy Hill against Cleveland's suspect defense in a win that may not be as pretty as last month's but just as effective.
Mary Kay Cabot, who has covered the Browns for The Cleveland Plain Dealer for a generation, and Tony Grossi, her former Browns beat partner at the paper now writing for Cleveland ESPN, both don't see the Browns pulling out of a six-game slide against a 9-2 team.
Cabot wouldn't be surprised to see another upset, but can't see the Browns defense stopping the Bengals. Grossi can't see anything but another loss in the hangover of Monday night's awful downer in which they had their winning field goal attempt on the last play of the game blocked and returned by the Ravens for a touchdown that broke the tie.
Let's go around The Table, ladies and former Bengals first:
Austin Davis is a very smart, cerebral quarterback. He's not going to be taking off and running all the time. But he is mobile. These guys here, especially quarterbacks coach Kevin O'Connell, they emphasize extending plays. Using your legs to create things. You will see some of that.
He's got good arm strength. Good decision making. I don't really think he's all that different than a Josh McCown, other than the fact he doesn't have the experience of Josh.
There aren't many differences from a personnel standpoint since the last time these two teams played. Except the quarterback, which is obviously huge. But with Andrew Hawkins and Taylor Gabriel out with concussions, they have had a shakeup at wide receiver.
The Browns just added wide receiver Terrelle Pryor this game and I don't think he'll be active, but if it were up to me he'd play. He could make a difference. Dwayne Bowe hasn't been effective. He only played four snaps in the last game and they threw the ball to him one time. It's kind of a wasted roster spot. For my money, I'd put in the 6-4 Pryor, let him go deep, and throw a Hail Mary.
Once again the Browns don't have cornerback Joe Haden, out with a concussion. He's having a lost season, he's missed five of the last six games and there's talk he could be put on injured reserve. They tried Justin Gilbert in there and he got a concussion. The defensive backfield is pretty much the same.
Except for last night, special teams has been a strength. Wide receiver Travis Benjamin can take a punt back at any given time. Chris Tabor, the special teams coach, works very, very hard at this. They've generally had a good special teams. Travis Coons had made 18 straight field goals before that block on the last play of the game that got returned for the winning touchdown. Part of it is it was a 51-yarder and he had to go low. There are so many extenuating circumstances on that play. Austin Davis has to get more yards on the scramble before the kick, but for the most part it's a good special teams. Justin Gilbert was returning kicks, but now that he's out that may mean wide receiver Marlon Moore or running back Duke Johnson.
The Browns defense just doesn't change from week to week. Nothing happens that makes you think they're getting better. They're still 31st vs. the run. That's absolutely ridiculous for a defense that was supposed to be the hallmark of this team. They have poor tackling. They get hit on big plays. Rookie defensive tackle Danny Shelton is doing a nice job from what the coaches say in taking on blockers, but they need more guys making plays at and behind the line of scrimmage. They need more impact plays in the run game.
THE EDGE: BENGALS, 27-17. I actually wouldn't be surprised if it could be a little bit of a trap game for the Bengals. There are occasionally those times the Browns rally and play well against the Bengals. This could be one of those games. They're at home; they still have a lot of fight in them. Austin Davis is going to be motivated to have a good game. There's a chance the Browns can win, but I just can't pick them right now when you're going 9-2 against 2-9. I don't think Andy Dalton will have his best game. I think safety Tashaun Gipson will pick him off once.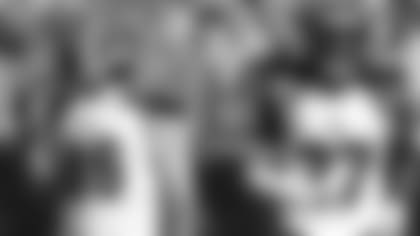 Dre Kirkpatrick is one of the few healthy cornerbacks available for the Bengals.
This kid Austin Davis, I like him. He's played a lot for a young guy. He's seen a lot. He's got a good arm. The ball comes out quick. He's very certain.  I don't know why the Rams gave up on him. They released him at the end of training camp and the Browns got him because he carved them up in the preseason a year ago. They know he can play. And to be honest, he's better than Johnny.  Accuracy, he's got a better feel for the passing game than Johnny does. He's not the athlete or as mobile as Johnny.
The Browns are at home. They're going to put up a fight. They don't like the Bengals. They're playing for some pride. If the Bengals do what they're supposed to do, they should win. It may not be a cake walk. But you can't let their run for No. 1 or No 2 seed go down the drain in Cleveland
They may be nicked up in the secondary, but one of the areas of deficiency for the Browns is at the wide receiver positon. They gave Dwayne Bowe $9 million guaranteed and he doesn't even dress out. Travis Benjamin can make you look bad if you don't bring your A game. Brian Hartline can make you look bad if you throw a young kid out there and they're not ready. They can make you look bad if you think they're not stars and not talented guys. They are professional players. They know what they're doing and they're good enough to make you look bad if you're not quite ready.
These next four to five games are where Bengals running back Jeremy Hill has to play his best. He helped them at this time last year with a power run game. Playing with  fullback Ryan Hewitt as a fullback, using tackle Jake Fisher as a tight end, doing some of the things that they've  been doing with heavy people and going at Cleveland in the run game. Keep your defense off the field, kind of break their spirit. Maybe the game will be closer than what you want, but you'll dominate time of possession. The one thing I like about this Bengals team is they've got versatility in their personnel. They've got versatility on how you win games. We know they can win a shootout, we know they can win coming from behind. Can they win when there might be a disadvantage in the weather when it's time to throw? Can they roll up their sleeves, pound it in the run game, and put the game away with their four-minute offense at the end of the game?
I believe they can do that. They've got the personnel. But Jeremy Hill has to really be up in the bit. He's a better runner when he's behind a fullback.  A lot of the running backs won't tell you that because they don't want that getting out. Like the kid Melvin Gordon in San Diego. He has to have a fullback to key off of. There are great backs that can key off the fullback. The fullback does the read for them and they run off the block. Jeremy Hill is one of those guys and I think you'll see more of that in the month of December. You don't have to tell Bengals offensive coordinator Hue Jackson to run the football.
THE EDGE: BENGALS: Given where both teams are, they've got the edge. But it's a divisional road game. That's always the setup. I don't care where you are or who you are. You have a team familiar with your personnel. They know everything about you.  You're on the road and that's where things can happen.
The road is tough in the NFL.  People don't talk about it enough. The crowd gets going. Negative momentum occurs. The best way to negate it is you jump out to a lead and you have to finish. I was really surprised Houston won in Cincinnati a few weeks ago on the road. But look at how they did it. They hung around, made a big play on offense, got a turnover late, and won. The Bengals have to bring their game.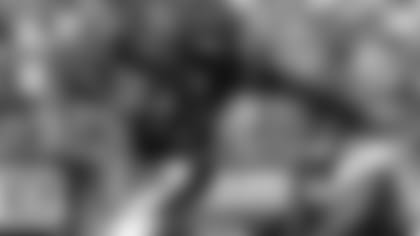 Bengals running back Jeremy Hill had a big day last year in Cleveland
The Browns are still missing key people like they were in the last game with Haden at cornerback and Hawkins at wide receiver. The last six to eight games they've had a minimum of four guys out each time. They're still not anywhere near full strength, but they're not like the Ravens, that's for sure.
Davis is an unknown quantity. Like everybody else we've only seen him in the Monday Night game. My quickie observation is that he reminds me a lot of Brian Hoyer. He doesn't have a great arm, but he sees the field a lot better, he makes decisions quicker, and he's got a quicker release than McCown, and still has a nice pocket presence. I'm really curious to see him.
I think they'll be able to run more of their offense. When Johnny is in there they never know when he's going to pull out of that pocket.
Tight end Gary Barnidge has been their Tyler Eifert. I think he's been better than Eifert in the middle of the field, outside the red zone. He's made a lot of big plays for them down the seam. But only when McCown was the quarterback. Johnny didn't have the connection with him. It will be interesting to see if Davis can see the whole field and keep Barnidge involved because he's been invaluable.
One thing about Davis. He may not be able to launch that deep ball to Benjamin that Manziel is always a threat to do. He's got to use his weapons rather than just throw the long ball. He did hit Benjamin for a 47-yard TD Monday night when he was wide open on a post route.
The running game has been a travesty considering this was supposed to be the foundation of their offense. They're on pace for a franchise-record passing yards and yet they have two wins. They have one rushing TD via a running back. Last year they finished with 16. It's not only been a huge disappointment, but an obstacle to winning games. They shelved the zone blocking scheme that Kyle Shanahan put in last year and it suited the physical talents they have up front. They move better laterally than straight ahead and since they switched to straight ahead blocking, they've struggled. I don't think it's the talent of the offense line. They've invested a lot there.
They need to incorporate rookie running back Duke Johnson and they've tried to use him like Giovani Bernard type of player. More so in the passing game, but also in the run game because Isaiah Crowell is not doing anything in the run game. I think you'll see more of an effort to get Johnson involved. They're looking to get back John Bitonio from injury because rookie Cameron Erving has been absolutely demolished at left guard.
Strong safety Donte Whitner didn't play against the Bengals last month. He's had an uneventful season. He's going on 31 and it looks like it could be it for him. He just hasn't had the impact Tashaun Gipson has had. Gipson is a legitimate Pro Bowl centerfielder and he's been sub-par. He's going to be an unrestricted free agent, he wasn't happy with his restricted tender offer, and it trickled into the whole season.
Linebacker Karlos Dansby has become a liability in the run defense at age 34. The defense looks overly complicated. They never seem to be in the right position,   they get gashed on big runs and there are guys wide open in the secondary as you saw against Baltimore. Part of it is they don't have Haden. But they get no pass rush, they don't stop the run, and the secondary is suffering.
Other than Monday night, their special teams have been very good. Punter Andy Lee just outkicked his coverage on the punt return touchdown. That's the first return of any significance they've allowed. Andy Lee has been very god. Their kicker, Travis Coons, set a record for most consecutive field goals at the start of a career until the block. They've got a good core of special teams and Benjamin is very dangerous returning punts. He's had a great season.
THE EDGE: BENGALS, 24-17. I think the Browns are in a psychological and physical rut. I like what I see of Austin Davis, but I don't think he has the ability to get them out of this rut. Six losses in a row, 14 of their last 16, they're just not at full strength. That last loss was as brutal as it gets with a blocked field goal going for the winning touchdown on the last play.
I had a list of Only-in-Cleveland Moments Since 1999 and I had this at the top, beating out the Dwayne Rudd helmet game when the Browns had the game won and Rudd ripped his helmet off on the field for a penalty that gave them a field goal at the end of the game. But I've never seen one like that. The culture of losing here is so deep it just adds to it.
If you look back at game one, Johnny Manziel played well in the first half. When the Bengals kept him in the pocket, his numbers plummeted in the second half. He had a passer rating over 100 in the first half and although the final score was 31-10 the game was closer, I think than people remember. It was a four-point game at halftime, a seven-point game at the end of the third quarter. The Browns had the ball in the third quarter with a chance to lead.
I'm not taking anything for granted. I think the Bengals will win. I often come back to the better team and healthier team usually wins. They're definitely the healthier team. Joe Haden, A.J. Green's kryptonite, again unable to play. Andrew Hawkins is out and we know what he can do. Better team, healthier team makes me think the Bengals will have a solid, methodical victory.
The Browns are probably a little less limited with Davis at quarterback. But you don't have the unscripted capabilities that you have with Manziel. Several of their big plays in that first game came from Johnny buying time, particularly rolling to his left and throwing it downfield, which he does very well. You gain some things theoretically with Davis, but you also lose some things that Johnny brings to the table.
The Bengals don't have tight end Tyler Eifert, but I will also make the bold prediction this is the game Jeremy Hill goes over 100 for the first time this year. We saw him moving in that direction last week with 86, plus a 14-yard catch. He had 25 carries for a buck 48 in Cleveland last year and the Bengals ran it well as a team last month against them with 150 plus. So this is the week Jeremy Hill gets his 100-yard game.
THE EDGE: BENGALS, 24-10: A nothing fancy, solid, grind-it-out-get-it-done-on-the-ground victory. 10-2 at the end of the day.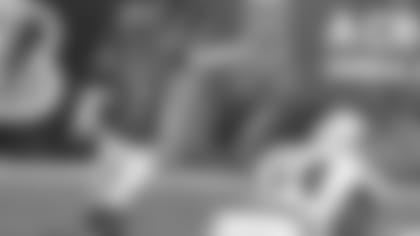 Bengals kicker Mike Nugent (above) and punter Kevin Huber are two Ohio natives who are going to have a big say Sunday.
Let's face it. We don't know if Austin Davis is going to be Jane Austen or Austin Powers. Like the 'Ol Lefthander would say, if you've got a bat, you're dangerous, and Davis is going to be dangerous because he'll have the ball.
This generation of Bengals has lived the Cleveland nightmare enough to know not to overlook the Browns, just like their forefathers had to learn from the season-turning losses to the Browns in 2003 and 2007. The Dalton-Green Bengals have only swept them once and the 2012 and 2013 losses up there have been among their uglier ones.
So there'll be no talk of the Factory of Sadness, which has an assembly line in there that has churned out some Who Dey Heartbreak.
By all accounts and his body of brief work with a 3-5 record with the Rams last season, Davis, undrafted out of Southern Mississippi, is a competent, smart guy with a quick release after being in the league four seasons. He's got some pretty decent weapons, too. Tight end Gary Barnidge is the Browns' answer to Tyler Eifert with seven TDs, wide receiver Travis Benjamin is an explosive guy that has some long TD catches, and wide receiver Brian Hartline is a solid possession receiver who didn't play against the Bengals last month.
The answer is to bring the heat on Davis and it's imperative the Bengals take advantage of what has been a punch-less Cleveland running game and make them one dimensional so Davis has no time to get into any kind of groove in his first extended action in a year. With the Bengals secondary banged up and questions abounding which cornerbacks are going to play, stopping the run is at even more of a premium.
A play-action game would make Davis dangerous on the bootleg and even though he doesn't have Manziel's long-bomb arm, he's got good mobility.
But given the Cleveland running game gets three yards per carry from their two backs and the Bengals are holding foes to 88 rushing yards per game since Nov. 1, odds are they won't run on Cincinnati.
(That 88 yards per is a nice number. Put that into a full season and it would be No. 3 behind the Jets and the out-of-this-world Broncos in the rush rankings.)
The Bengals' offensive plan would seem to fall along the same lines. They don't have their top scorer in Eifert, they ran the ball for more than 150 yards against Cleveland last month without really pounding it, and Hill looks like he's getting back into the swing with last week's season-high 86 yards. And Hill went off last year in Cleveland for 148 yards on 25 carries, the second most carries of his career. Last month, Hill and Giovani Bernard carried it a combined 28 times.
It's hard to see Cleveland's No. 30 defense stopping an offense that is scoring 27 points per game, isn't it? Forget the No. 31 rush defense. The Browns don't have Haden, they have the fourth fewest sacks per pass in the league, and foes have racked up a 98.3 passer rating against them with 23 touchdown passes, nearly two per game.
The big irony is it could come down to special teams, which up until Monday's implosion had been a Cleveland  strength. Not only was there the blocked field goal to end it, but a Baltimore punt return TD started it all at the beginning of the game.
But that hasn't been the norm. Andy Lee is one of the best punters in the league, rookie kicker Travis Coons has missed just one field goal, and Benjamin is second in the league in punt returns. Plus, they've got fine cover players (DB Johnson Bademosi leads the league in special teams tackles), they are in the top ten in kick cover, and when defending they have the NFL's best net punt average.
The Bengals, of course, are also good on teams and lead the league in holding teams down in average drive start. It makes Cleveland another team you don't want to let hang around a la the Texans. Coons' longest field goal is only 41 yards, but he does have the longest extra point in history, a 48-yarder. And Benjamin can pop one at any time in a close game.
But even though head coach Marvin Lewis is 5-1 against Cleveland in December and hasn't lost one to them this month since the Lee Suggs game in his first year of 2003, they've usually been grind jobs. The '05 division champs needed a Shayne Graham field goal to beat the Charlie Frye Browns late at Paul Brown Stadium and the '13 division champs needed fumble returns by Vontaze Burfict and James Harrison at PBS to negate a two-turnover, 13-0 hole, although that was in November.
The best recipe for overcoming injuries, a division road game, and a dangerous rival, is to play a nice, safe game with defense and special teams. The Bengals have both and the Browns are searching.