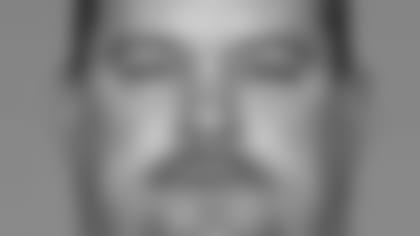 Rich Braham appeared briefly in the Bengals locker room Friday and if his prognosis didn't look good for a quick return after next week's bye as he hobbled out on crutches, then he offered some encouraging words for Eric Ghiaciuc.
With Braham shelved last week in Pittsburgh while the Bengals allowed their most sacks in 39 games, the overall assumption is they can't live without his line calls and here are the Patriots arriving with that savvy front seven full of angst.
But Braham and the other line elder, three-time Pro Bowl right tackle Willie Anderson, offered some combined 24 seasons of perspective this week.
"It's going to be easier this week for him," Braham said. "Yeah, that was a tough day out there for him. The Steelers were running all sorts of stuff like they always do, and it's loud and it's just tough to hear. We've got a home game this week, and it's going to be easier to communicate. I thought he did well down there."
No matchup on Sunday shows how far the Bengals have come on their road to the elite than their offensive line against a Patriotic front that has been such a key part of three Super Bowl titles.
"That's why they are consistently one of the top teams in the league because of those front guys," Anderson said. "You know who they are, those guys never get hurt. They're there week in and week out playing top football. The teams that are winning over the last several years, their D-linemen and linebackers play good football and offensive linemen play good football."
Bengals quarterback Carson Palmer knows it's time to get in sync with Ghiaciuc. After the Pittsburgh game, Anderson talked about how Ghiaciuc had played well in his first two NFL starts even though they were against defensive kingpins Jacksonville and Pittsburgh.
"This will be our third game playing together. I'm confident in him and I think he's confident in me," Palmer said earlier this week. "There's going to be miscues. There were a couple of miscues here and there. But there are miscues with 10-year veteran centers. I think he's done a really good job. To play against a Pro Bowl nose guard like Casey Hampton and do well will give him some confidence in this game. He's going to see Richard Seymour and a bunch of guys up front who are good players. I have all the confidence I need in him, and he'll do a good job this week."
The Bengals offensive line emerged last season as one of the best in the game, setting a club record for fewest sacks allowed in a season with 21. When Braham hurt his knee two weeks ago against Cleveland, the Bengals ended up allowing four sacks, a number they didn't allow all last season. Then came the six against the Steelers, their most allowed in the Carson Palmer era and the most since Dec. 7, 2003. Anderson can hear the buzz of what's-wrong concern. But he also knows left tackle Levi Jones didn't play against Cleveland, Ghiaciuc is getting worked in, and sacks are a very difficult category to decipher. He noted that Palmer got tagged with two interceptions last week, but Anderson insists those weren't his fault, either.
After shaking his head at the criticism ("We've set such a high standard here," he said.) Anderson says the six sacks shouldn't become a consistent problem because "the mistakes are correctable and it's not like guys are getting beat physically."
Ghiaciuc has taken some of the blame for the 10 sacks the Bengals have allowed in the past two games, and there is some concern at how speedy the calls are coming out. But Palmer insists he's responsible for half of them.
"I need to do a better job of realizing there's nothing here, and there's nothing more that can be made of this play," Palmer said. "We did a great job last year and we've had a couple issues here and there but it's nothing that is worrying us or our offensive line."
Anderson, who got beat for a rare sack off the edge by Clark Haggans last week, is reluctant to hand out blame on sacks because pass protection is just not a clear-cut exercise.
That sack off Anderson shows just how tough the conditions were in Heinz Field and is an example that Ghiaciuc can't influence every play.
"It's communication. Last week in Pittsburgh it was loud," Anderson said. "They did some things that got us. We couldn't hear. Guys were late on snaps. Personally, it's loud, you can't hear. You've got to look at the ball. (Haggans) got a good jump. It's things like that that happen. It's blown out of proportion.
"That was not the center's fault. They had a great crowd, we're in No Huddle, and you're trying to hear stuff and you can't hear, and you take a bad step, they get a jump on you because he sees the ball, sees you looking in. He's got you. Guys weren't getting physically beat."
Anderson already has a very decided opinion about the public interpretation of sacks, anyway.
"The sack totals, that looks good when reporters look at the end of the year," Anderson said. "But the people that look at the tape; coaches look at the tape. They see it's not a thing of 'You guys can't hold up one-on-one.'
"When those things are directly making you lose, then you care. Obviously we don't want our quarterback to get hit. It's a responsibility there, it's a responsibility by the running backs stepping up and blocking linebackers, blitzing DBs, it's the responsibility of everybody. We never want our quarterback to get hit. We take pride in that. It matters when some of the defensive line coaches put on tape, scouts put on tape. If they judge us as 'God dog, this line is getting beat one-on-one; they can't pick up stunts,' it's not happening. That's not happening."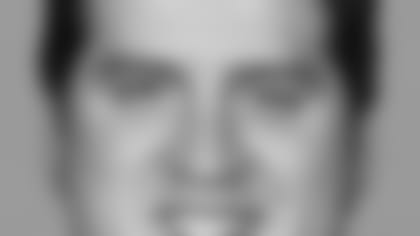 There will be all sorts of things happening Sunday. Patriots head coach Bill Belichick will make sure of that with his jigsaw puzzle schemes. Ghiaciuc might not face the crushing array of blitzes Steelers defensive coordinator Dick LeBeau supplied last week, but there will be a wrinkle that will have to be figured out.
Anderson sees New England Pro Bowl defensive tackle Richard Seymour getting all the ink and he knows he's getting help. He says tackle Ty Warren is one of the most underrated players in the NFL and linebackers like Mike Vrabel and Tedy Bruschi have passed on their brainy versatility.
"Look at New England's Super Bowl run. We call them 'Bigs,' " Anderson said. "The guys on their defensive line, up front. Even their young guys are experienced in big games and there's no substitution for that. They're probably the smartest team we're going to play. Even their young guys understand how to play football. That's big when you're in a defense like that and you've got guys that understand where they should be and what technique they should use, you're going to have your Super Bowl defense, which they have."
As long as this is the week of comparing Palmer and Patriots quarterback Tom Brady as they face each other in Palmer's 33rd NFL start, here are the sack totals. In his 32 starts, Palmer has been sacked 55 times. In Brady's first 32, 76 times.
Like Braham and Anderson said, Palmer must be in pretty good hands.
"Some games you get sacked more than others. There have been games I haven't gotten hit," Palmer said. "Some of those games are tough games. There are other games I get hit on every throw and we end up winning. It's not something I'm worried about."