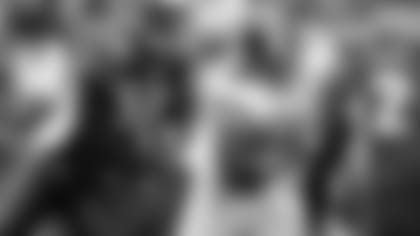 The Bengals know the key to victory Sunday is stopping the Steelers rushing attack. (Andy Lyons/Getty Images)
It's not exactly "The Curse of the Bambino."
Maybe it's something like "The Shula Hex," but, whatever it is, make no mistake. Ever since Pittsburgh hired Bill Cowher as head coach in 1992, the same year the Bengals hired Shula, the Steelers have had their way with Cincinnati.
But while most Bengals insist they have no mental block when it comes to the smash-mouth aura of the Steelers, others suggest there comes a time "you have to beat up the bully."
"We've slayed a lot of dragons here in the past three years," said Jon Kitna, the only Bengals quarterback to beat Cowher in this decade, and right tackle Willie Anderson believes the Bengals have grown up some since that bruising loss to the Steelers 38 days ago.
Cowher has more wins against the Bengals than any other team (20) and has won the last three. But Kitna brings the Bengals pretty good karma against the Pittsburgh coach. The Steelers are 96-1-1 under Cowher when they have a lead of 11 or more points. Kitna engineered the lone loss in a 2001 game at Paul Brown Stadium in bringing the Bengals back from a 14-0 hole to win in overtime.
For good measure, two years ago he pulled off a a come-from-behind victory in Pittsburgh in the last minute, and he thinks it helps that he's an outsider. Kitna finds there is an anxiety about the Steelers that runs through the Bengals organizationally, and he figures it stems from the Steelers' four Super Bowl titles in the '70s.
"When I came here, I didn't understand the anxiety that is conveyed by them because I wasn't here for a lot of that," Kitna said before Wednesday's practice. "There's some truth to that. I think that's sports. Peyton (Manning) had to beat the Patriots. The Bulls had to overcome Detroit. The Red Sox had to overcome the Yankees. You kind of have to beat up the bully."
That's exactly what Anderson said after the Oct. 23 loss at PBS brought the Bengals season crashing back to earth with a Steelers ground game that rocked the Bengals for 221 yards. He thinks the fruits of the lesson were seen in the black-and-blue wins over the Ravens and the shootout with the Colts even though it was a loss.
"We know it's not going to be a walk in the park playing catch with my dad," Anderson said.
"We've had the experience of going through it. We didn't have anything to judge off it. ... I think we as veterans, we've shown (the young players) that it's different when you play Pittsburgh. You're not playing Houston or whoever we played in the previous three games. We let them know the kind of game we had to go play against Baltimore. We talked about being physical and that came after the Pittsburgh game. We didn't do as good a job having that mindset in the Steelers game."
There seems to be a sense of maturity coming from this team that wasn't there 38 days ago. Even the head coach is admitting it's a big game and has opened his team back up to the national media, which he didn't do last Steelers Week.
"I don't have to worry about it because we are not at home," is how Marvin Lewis explained it to the Pittsburgh media Wednesday. "We have a lot of local people that live here locally and we really get besieged because it is easy for them and they get an opportunity to jump in their car and be here. It really takes us out of our routine. It takes me out of my routine, which is the most important thing, and our quarterback. He does not like to have to do those things and I certainly don't want to be out of my routine."
Lewis must have decided they can handle it now. Wide receiver Chad Johnson nearly called it a "must win," but he also senses a change in his team after the 45-37 loss to the Colts, a team that beat the Steelers, 26-7, on Monday night.
"After that game we knew we could play with the best of them -with them being the best. It's not every time that you come out and score 37 and the opponent scores 45," Johnson also told the Pittsburgh media. "If you can put up 37 points on a team like Indy, it means something. What we need to do is take that same approach, regardless of who the opponent is, and go out and want to score those types of points on everybody. Because everybody is not going to be able to score 37, 45 points a game."
Defensive tackle Bryan Robinson had to live through a similar situation in Chicago. For years, the Bears had to get over the hump when they played the Packers.
"Until you start beating these guys and establishing yourself and getting that confidence, I think there can be a mental block there. But I don't think there is with this team," Robinson said. "This team knows exactly what the Pittsburgh Steelers are going to try and do to the Cincinnati Bengals and that's run the ball."
Anderson says it's not a mental block. It's matching the mentality of a veteran team.
"Those are grown men with families who have played in Pro Bowls, AFC championship games, who have been through it all," he said. "We've gotten a sense of that now."
Kitna also doesn't think that quarterback Carson Palmer is facing any kind of crisis with the Steelers even though they're the only team in the last 15 games to drive his passer rating below 100.
"In the two games last year, it was before he hit his stride," Kitna said. "And this year, he played great, we just didn't play that well around him. It's only been three games. It's not like it's been eight or nine. Carson is another guy who is new to all this. He doesn't care about the past."
"It's really not that personal. It's a huge game with all the implications in this division. Of course I want to beat these guys really bad," Palmer said. "I just haven't played well against them. This is a big game for me. In order for us to win, I have to play better than I have the last three times I've played against them.
"I think we can beat them. Everybody on this team thinks we can beat them. We just need to outplay them. We haven't done that yet. "
And there you have it. Until they beat them physically, it will be explained mentally.