The current Bengals know Paul Brown came back from a Hall of Fame exile to form their franchise.
Paul Brown, the man who began both franchises playing in Thursday's riverfront national showcase at, of course, Paul Brown Stadium (8:25 p.m.-Cincinnati's Channel 12 and NFL Network) coached the last of his 326 games 40 years ago this season.
And he died a generation ago in 1991, seven months after the Bengals won the old the AFC Central beating the Browns on the last day of the season.
But, you know what?  His current Bengals have some pretty good P.B. knowledge.
"He invented the classroom in pro football," says wide receiver Marvin Jones. "He was one of the first breaking down the color barrier."
"He pretty much started modern day football with the coaching," says left end Carlos Dunlap. "He started off with (Cleveland). Did really well with them and got voted out of office. Then he came here and started his own team . . . If you want some brownie points, this is one of the games you can get them."
 "He really wanted to throw the ball a lot," says quarterback Andy Dalton. "He was an innovator and he was the coach and owner of the Bengals after the whole Cleveland thing."
Even right tackle Eric Winston, president of the NFL Players Association that made Brown so uncomfortable, is well schooled in P.B.
"Legendary coach," Winston says. "Founder of the Bengals. Coach of the Browns. Revolutionized a lot of things. One of the great coaches of all-time."
"A great high school coach, great college coach, great pro coach," says left tackle Andrew Whitworth. "Anthony Munoz has told me some great stories about him. How he'd come into the locker room drinking some coffee and sit down and talk to some of the guys about how the game began and evolved. That had to be great."
"Hey,' says Dalton with a smile. "You were thinking we didn't know anything."
The kids are all right. It means when Mike Brown, Paul's son and successor as Bengals owner and president, gives his annual address to the team on the first night of training camp, the kids are listening. That's how long snapper Clark Harris pieced together a lot of the story.
"From his talk at training camp, that's where I got what I'm telling you," Harris says. "He's Mike's father and all the stuff he did with the Browns. He brought in the classroom and made studying as important as practicing. It's pretty cool. When I was a kid I wondered why they were called the Browns and I finally realized it when I got here."
It means the receivers have also been listening to wide receivers coach James Urban, who has gone to the front of the room to teach about football's first great teacher.
"Urbs is a historian. He knows everything and that's why we know so much about Paul Brown," says Jones, an African-American studies student at Cal drawn to Brown's 1946 signing of pioneers Bill Willis and Marion Motley.
It also means that Jones has planned to record "Paul Brown: A Football Life," that hits NFL Network 9 p.m. Friday.
Urban broke into the NFL a dozen years ago with Andy Reid's Eagles, so he's been a West Coast Offense guy all the way. Those roots are embedded in Paul Brown's, Cleveland teams and Urban has read everything about Brown he can get his hands on. This training camp he quizzed rookies Mario Alford and Jake Kumerow like he did Jones and A.J. Green.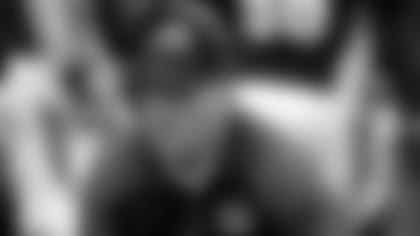 Wide receivers coach James Urban schools his rookies every year on P.B.
"Why do you run 40 yards?" Urban would ask them during a break and when they would start to tell him how fast they could turn it he'd say. "Why is it 40 yards? What stadium do we play in?"
"The Bengals' stadium," they'd say and Urban would say, "No, it's Paul Brown Stadium." And he would tell them they run 40 yards because it's one of Brown's many inventions. The 40-yard dash time gave Brown an idea how fast a player could cover an average punt.
"I think it's important they hear it," Urban says. "It helps make coming to work fun. There's a connection to history."
And, yes, the rookies are interested even though this class was born a year or two after his death. The name is on the building and so is the curiosity. Every year Mike Brown's wife, Nancy, spends who knows how much at different charity auctions to win lunches with different position groups and this week she lunched with the draft picks.
She discovered that first-rounder Cedric Ogbuehi wanted to know about Paul Brown, but couldn't find his 45-year-old autobiography, P.B., written with Jack Clary.  That's because it's out of print, but Mike Brown has a stash and he put one in Ogbuehi's locker. No doubt with a handwritten note, as Mike Brown is known to do when he gives someone a book, which is often.
"I was thinking to myself about that today," Clark Harris says. "Everybody in the world thinks the Bengals-Steelers are the big rivalry.  I wonder what (Mike Brown) thinks about it. I wonder how it is for him. Is this his rivalry game?"
Clark Harris is a smart man.
"Cleveland is our natural rival. We had that when my father was the coach and it has fallen away since,' Mike Brown says. "What has to happen is both of us need to compete for the division.  Off and on one of us has, but not the way it was when my father was coaching here. Since then it's hard to think of a time both were in it. I would like to see it revived. It was exciting and fun."
It was more than that. Bengals radio analyst Dave Lapham was a rookie guard in 1974 when the club broke a three-game skid in Cleveland and gave P.B. his only Bengals win up there. The place where he coached the game's first dynasty for 17 seasons, leading the Browns to four AAFC titles, three NFL titles and 10 straight championship games.
 The place where they fired him.
"They gave him the ball in the locker room," Lapham says. "And he cried."
"Think about yourself," Dunlap says. "That's a huge accomplishment. When somebody turns their back on you and you build your way back up again. You get to go compete against them, something you started, that you poured everything into."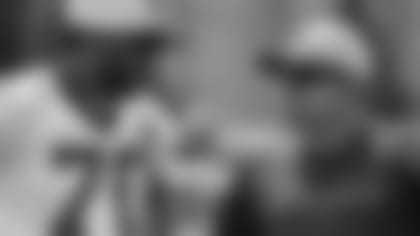 First-round pick Cedric Ogbuehi, with offensive line coach Paul Alexander, has the book on P.B. courtesy of the owner's wife.
Mike Brown, too. One of his favorite teams of all-time is the 1948 undefeated Browns. He was 13, just off a training camp summer of sneaking into the Browns dorms at night and playing Hearts with future Hall-of-Famers Willis and Motley. The picture of that team hangs down the hall from Brown's office in a conference room.
This is where Mike Brown starts to talk about "we,' and "our." Marvin Jones can tell you Paul Brown is the one that "started using three wide receivers," and Mike Brown can tell you why.
"Today that team would be off-sized. Our linemen were the size of (Vontaze) Burfict and (Rey) Maualuga," says Brown of the Bengals' 250-pound linebackers. "But the skill players would make any team today proud to have them. Those three outside receivers, Dub Jones, Dante Lavelli, Mac Speedie, they were every bit as fast as the receivers we have now."
Whitworth urges the younger players to talk to Mike Brown when they get the chance. He goes to every practice, after all. The older players know he's easier to talk to than people think.
"I know he doesn't like to look like he's (interfering) with players," Whitworth says. "But I think that's given some people the wrong perception. Mike really likes to talk to you and he hopes your family is doing well and all that.  I tell the young guys to go talk to him and Carlos did it and he goes and talks to him a lot now sitting in the golf cart."
"I don't sit in the cart, but we stand there and talk," Dunlap says. "He's a lot more approachable than people give him credit for. I haven't talk to him in-depth about his dad, but he'll give you his thoughts on football."
So Dunlap knows what Bengals-Browns mean.
"If you make a difference in those games,' he says, "that has to help you."
Winston was surprised to hear Paul Brown coached the Bengals' first eight seasons. In fact, a win over the Browns ties the club record for consecutive regular-season wins set by his 1970-71 teams. Running back Jeremy Hill knew he was an offensive innovator, but didn't know he invented the draw play after Motley picked up a fumbled handoff for a big gain running past the charging defensive line.
But as for those days in Cleveland, Whitworth says, "We consider him a Bengal," and Winston is right when he says, "I imagine there had to be some bad blood." Just ask Lapham about the game Brown walked out of the Bengals bus as Browns owner Art Modell was getting out of his car and the icy silence that ensued.
"I'm glad he came down to Cincinnati and made this team," Dalton says.
No more bad blood. But it is a game of blood.
"I see him with a foot in both camps," Mike Brown says. "He's part of the tradition in Cleveland.
"I know how it was and why it was and it will always be a part of me."
Clark Harris' thoughts turned out to be exactly right. Thursday night is Mike Brown's rivalry.
"Hopefully we can get it done for him, then," he says.