BALTIMORE - Andy Dalton and A.J. Green came up with one of the most improbable plays of their era when they hooked up with a stunning 77-yard touchdown pass with 4:58 left to give the Bengals a 23-16 win on Opening Day and the Green-Dalton era its  victory ever at M&T Bank Stadium.
Moments after falling behind for the first time all day, Green ran by cornerback Chykie Brown and Dalton hit him in stride at about the Ravens 30. But then Green, the world famous juggler, juggled it when Brown tipped it, then caught it again while skating past safety Darian Stewart when he dodged one way and Stewart went the other.
And then Dalton, who finished with an unflustered 301 yards passing and a 98.7 passer rating, made a big throw to wide receiver Mohamed Sanu at the right pylon as muscled the ball away from cornerback Asa Jackson for the two-point conversion.
Then it was back to-back sacks on third down and fourth down in the red zone from defensive lineman Wallace Glberry and safety Reggie Nelson from the Bengals 16 with 55 seconds left. Gilberry got the first one and split the second with the blitzing Nelson for the Bengals first win in Baltimore since 2009. 
 Another broken play by Ravens quarterback Joe Flacco appeared to break the Bengals in another opener Sunday when Flacco's scrambling 80-yard touchdown pass to wide receiver Steve Smith Sr. on third-and-14 erased a 15-0 lead and gave them a 16-15 lead with 5:46 left.
Cornerback Adam Jones dropped coverage on Smith down the left sideline and Flacco, flushed from the pocket and running for his life, saw it. Jones then couldn't haul him down at about the 15 and the Ravens had their first lead of the day on the longest pass of Flacco's career. Six years ago to the day in his NFL debut, Flacco beat the Bengals here in the '08 opener on a 38-yard scramble for a touchdown.
Then they came up with a big play with defensive tackle Brandon Thompson stopped  a two-point run up the middle.
But Jones also played a big role with a 44-yard punt return that set up one of Mike Nugent's NFL-record tying five field goals in a half.
 After a bright first quarter, the offense under new coordinator Hue Jackson suddenly slowed and could get nothing on the ground. A game-ending elbow injury to tight end Tyler Eifert late in the first quarter turn the day for them because it basically gutted the two tight-end set. It is feared the elbow is dislocated.
With the Bengals down to four wide receivers, the loss of Eifert, one of their best pass-catchers, Jackson's options out of a two-tight end set with Jermaine Gresham and Alex Smith were severely limited. After racking up 110 yards in the first quarter, the Bengals had just 302 before Dalton and Green struck.
Trailing, 15-0, early in the third quarter, the Ravens got a life when former Bengals safety Jeromy Miles got inside the slot and blocked Nugent's sixth field goal attempt of the day and after a return gave Baltimore its best field position of the day at its own 40.
But on an all-out blitz turned into SAM linebacker Emmanuel Lamur's first NFL interception when he jumped a route in the flat to tight end Owen Daniels. It marked Flacco's career 16th interception against the Bengals
Yet even though Flacco had just a 36 passer rating when he got the ball back, he recovered to lead the first touchdown drive for anyone when he hit six of seven passes and got a 13-yard touchdown run from running back Justin Forsett with 2:20 left in the third quarter that cut the lead to 15-7.
That typified how the Ravens offensive line took over the game late in the third quarter and began to smash the Bengals in the running game out of spread formations. Justin Forsett (11 carries for 70 yards) ran in a stretch play and rode in behind pulling right tackle Rick Wagner. The big play was a 23-year pass down the middle to tight end Dennis Pitta in the face of an all-out and despite good coverage by Lamur. But Flacco beat it with a great throw.
Flacco was now rolling and the Bengals weren't. They couldn't answer on the next drive. On third-and-two, Dalton had Sanu open in the slot, but went for wide receiver Brandon Tate on the outside and the pass was broken up.
With cornerback Leon Hall getting an I.V., the Ravens kept running it with their third back, Forsett,  and Flacco even converted a fourth-and-one at the Bengals 30 off a play-action bootleg. But the Bengals got good enough pressure on Flacco to force Justin Tucker's 38-yard field goal that cut the lead to 15-10 with 10:28 left in the game.
While Jackson flashed all his wares, new defensive coordinator Paul Guenther kept up his end of the deal, throwing a first half shut on one of the NFL's most dangerous home fields. Flacco missed nine of his first 12 passes and made the gaffe of the day with eight seconds left in the half from the Cincinnati 17.
The Bengals chased Flacco out of the pocket and he inexplicably held the ball until defensive end Carlos Dunlap chased him down for a sack as the half ended.
 But it could have been so much more as the Bengals whiffed on their first two red-zone trips of the season and couldn't take advantage of WILL linebacker Vontaze Burfict's strip and fumble recovery of Ravens running back Bernard Pierce at the Ravens 23 with less than four minutes left in the half.
Burfict was immense in the half, adding a deflection of a third-down pass, before he levelled an unblocked hit on Flacco in that last drive of the half. He hit his head and he wouldn't return to the game with a concussion.
Yet after Burfict's fumble recovery, rookie center Russell Bodine was called for a hold and they could only get three yards on the drive. They had to call on Nugent again for a 38-yard field goal with 2:07 left in the half.  That tied Nugent's career high of five, which came against the Ravens in the Bengals home opener in 2010 and tied an NFL record for most field goals in a half.
 When Nugent kicked a 28-yard field goal with 10:13 left in the half, the Bengals had more yards, 152-28, and more plays, 30-12.
At one point Dalton hit 10 straight passes on the way to finishing  18 of 24 in the first half for 147 yards. The streak ended after the Bengals had been given a life at the Ravens 11 when rookie linebacker C.J. Mosely was called for a late hit and a 15-yard penalty.
 On second down from the 9, Dalton appeared to think wide open tight end Jermaine Gresham would keep running across the middle but he stopped and the ball went for an incompletion. The Ravens opted to try a 55-yard field goal with 7:12 left, but Pro Bowl kicker Justin Tucker severely missed it right, giving the Bengals the ball at their own 45.
But the Bengals offensive line got pushed back in the second quarter after an encouraging first quarter. Despite Jackson's emphasis on the run game, they rushed for 2.8 yards per 16 rushes in the half and three yards per on 26 rushes in the game
After the missed field goal, Ravens outside linebacker Terrell Suggs knifed through right tackle Andre Smith and left tackle Andrew Whitworth in an unbalanced line to drop running back Giovani Bernard for a four-yard loss to force another Nugent kick, this one from 46 yards with 4:36 left that made it 12-0 with 4:36 left in the half.
The second field goal, a 22-yarder, was set up by cornerback Adam Jones' 44-yard punt return and tight end Eifert's 14-yard catch inside the 10. But Eifert, who caught three balls for 37 yards, injured his right elbow and that was it.
The Bengals tried a quarterback draw on third down from the six, but defensive end Chris Canty worked off rookie center Russell Bodine's block and stopped the play for nothing to set up the field goal. Dalton hit eight of his first 10 passes for 78 yards, but he couldn't get much on the ground early when the Bengals went with a bunch of zone reads.
Bernard picked up the season's first third down on a monstrous 3rd-and-11 all-out blitz when he scooted 16 yards off a screen pass. He also picked up a first down on a second-down run out of an intriguing formation where the tackles spread out to the numbers and there were only three offensive linemen on the line.
Seven of the Bengals' 10 snaps went for at least four yards and Dalton hit his first pass of the day on the first snap, a snappy nine-yarder over the middle to A.J. Green.
On their next drive, the Bengals went to the zone read out of the no huddle with Dalton. After he kept it for thee yards on first down, Dalton hit Eifert down the sideline for a 20-yard gain. But on second and third down Dalton got stuffed when he kept it, the last on third-and-two when outside linbebacker Terrell Suggs stunted. But picking up the theme of last season, the Bengals defense always had an answer. They held Flacco to a 52.4 passer rating for the half, 71 for the game. In the first half gave the Ravens running backs just 21 yards on eight carries.
PREGAME NOTES: Bengals first-round pick Darqueze Dennard didn't make his NFL opener when he was inactive for Sunday's game at M&T Bank Stadium against the Ravens with a hip injury.
As expected first-year cornerback Onterio McCalebb took Dennard's spot on the active list after signing from the practice squad Saturday and made his pro debut most likely covering punts opposite cornerback Dre Kirkpatrick.
But McCalebb is still learning the transition from college running back to NFL corner and he figured to be an emergency from scrimmage behind Kirkpatrick and regulars Leon Hall, Terence Newman, and Adam Jones.
Head coach Marvin Lewis opted to dress eight offensive linemen and seven defensive linemen, deactivating rookie defensive end Will Clarke in the wake of Saturday's release of defensive tackle Christo Bilukidi.
With right tackle Andre Smith starting despite not playing a preseason game, the Bengals have two reserve tackles dressed in Marshall Newhouse and Tanner Hawkinson.
The Bengals had only four receivers dressed with rookie James Wright (concussion) sidelined. Offensive lineman T.J. Johnson also was inactive and wide receiver Marvin Jones (foot), running back Rex Burkhead (knee), and linebacker Sean Porter (hamstring) continued to nurse injuries and were inactive.
With the Bengals limited at wide receiver, look for the tight-end duo of Jermaine Gresham and Tyler Eifert to take many of the snaps. But on a day of unknowns, those are two guys that haven't been on the field yet at the same time this season, Eifert missed the last three preseason games and virtually all of the spring camps with a shoulder issue.
Lardarius Webb, considered the Ravens best cornerback, was Baltimore's biggest inactive and fueled speculation the Bengals plan to go after the secondary. Jimmy Smith, the other starting corner, missed two preseason games before returning to practice about 10 days ago and backup cornerback Asa Jackson missed three games before returning to work about the same time.
Plus, safeties Matt Elam and Darian Stewart are considered stronger run players than coverage players.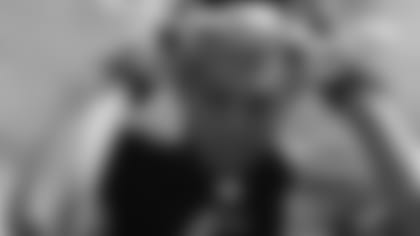 Cornerback Leon Hall helped the Bengals blank the Ravens for the first 43 minutes.
BALTIMORE - Even a seasoned Pro Bowler like left tackle Andrew Whitworth was a bit taken aback by what the Bengals accomplished offensively in Sunday's 23-16 Opening Day victory over the Ravens under new coordinator Hue Jackson
 And it wasn't even because on one play early on running back Giovani Bernard's five-yard run _   he and right tackle Andre Smith lined up wide on the numbers to leave just three linemen.
 "We went on the road, didn't turn the ball over and gave up no sacks, moved the ball all day and missed two third downs of third-and-five or less," Whitworth said. "We can be better, sure. But could you ask for more from a new offense, rookie center and lose a key piece like (Tyler) Eifert early. That hurt us more than anything."
 Jackson unveiled a batch of plays that had not been seen in the preseason. They'd been running them since the spring, but not for public consumption. Throw in the fact the Bengals went no huddle for much of the game rather than in pockets of the game and it was like driving a new car.
 "We were a little off. I thought everyone blocked well, but we'll get better as we go," Whitworth said. "The first day of the no huddle, we're going to get exhausted, too….If we score a couple of touchdowns in the red zone (they were 0-for-2), it's blowout, it wouldn't have been close. I think you get six scores in a game you're doing something right."
Jackson used plenty of screens to counter the Ravens rush, enough that Bernard was the second-leading receiver with six catches for 62 yards and actually converted a third-and-11 on a 16-yarder and a third-and-four on a 32-yarder down the right sideline. He tried some unbalanced lines.  He actually had quarterback Andy Dalton run the option and he pitched it to wide receiver Mohamed Sanu on a play that went nowhere.
Indeed, Jackson's most eye-opening wrinkles were how often Dalton kept on the zone read in key situations. The working number is four for five yards. He also tried a quarterback draw on third-and-goal from the 4 that got stuffed.
"I may not be as athletic as some of the guys in this league, but I feel comfortable doing it," Dalton said. "The thing we are always looking for is the right matchup, most of the time I just handed the ball off and got out of the way. We didn't do that here very much but, in college I ran it a lot."
 No one runs well on the Ravens and even though Jackson has emphasized it as his core philosophy, the Bengals struggled as they often do against Baltimore in rushing for three yards per 26 rushes.
"It's about driving the football," Whitworth said. "All the runs were part of driving the ball. That's what you want."
There are concerns without Eifert (elbow) for an extended period of time and wide receiver Marvin Jones (foot) not coming back until New England Oct. 5. They ran a lot out of three wides and that didn't seem to work and the two wideouts behind A.J. Green, Mohamed Sanu (four catches for 36 yards) and Brandon Tate (four for 19 yards) didn't do a lot of damage.
But Sanu did make a key catch for the two-point conversion after Green's winning touchdown catch when he outmuscled cornerback Asa Jackson at the right front pylon.
"I saw leverage. I was just trying to get him outside," Sanu said. "Andy put the ball where it needed to be and he made a great throw."
GUENTHER DIALS:  As linebackers coach last season, defensive coordinator Paul Guenther supervised a third-down package that led the AFC and was second in the NFL.
 On Sunday they gave up an uncharacteristic 47 percent on third down (8-for-17), but when it came to the last two snaps with the game on the line, he got back-to-back sacks with the Ravens in the red zone. Defensive lineman Wallace Gilberry, lining up at nose tackle, said he went around a stunt by defensive end Margus Hunt for the sack of quarterback Joe Flacco on third down and on fourth down Guenther blitzed safety Reggie Nelson from the left edge and he shared the sack with Gilberry after Gilberry moved over to the three technique inside.
 "I'm so tired I couldn't tell you how," said Gilberry of that fourth-down sack. "He said, 'Hike,' and I took off.
"He's very creative,' Gilberry said of Guenther. "He'll find a way to get you open. That's one thing I can say about P. He's going to dial them up. It's up to you to execute and get the job done."
Two-time Pro Bowl defensive tackle Geno Atkins looks to be still trying to find his legs after his ACL surgery. He played better in the second half than the first, but press box stats had him for just one tackle and one quarterback hit. He rotated and wasn't on the field for the last two snaps. Head coach Marvin Lewis said he thought it was dehydration after he got carted off at the end of the game and Atkins walked out of the locker a half hour later saying he was fine.
Flacco, an occasional golfing partner of Guenther on the Jersey Shore during the offseason, couldn't pull the trigger.
"At the end of the game there, (they) kind of rotated," Flacco said. "I knew I had, I think it was Reggie coming off the right corner there, and [I] thought we'd hold him up a little bit and knew I had to make a play [to] get the first down and just couldn't do it."
It was a game of big sacks and end Carlos Dunlap ended the first half just like Gilberry and Nelson ended the game. It was a ridiculous play by Flacco, who had a timeout and eight seconds left from the Bengals 15. But he didn't get rid of the ball when the pocket was broken and Dunlap chased him down as the clock ran out on the Ravens' bid to get at least a field goal.
"I was (surprised) because he'd been getting it out the whole game," Gilberry said.  "One second and he let it go. That's how I know the coverage was doing its job because obviously he had nowhere to go with it and it was up to us to get him on the ground."
Flacco was aghast at himself.
"That was probably the stupidest play I've ever made in football. I kind of just got caught up in the play and forgot about the situation," Flacco said. "There's no excuse for it, can't happen."
The Ravens did make hay in the running game in the second half after the Bengals allowed them 2.6 yards per rush in the first half.  With running back Bernard Pierce apparently dinged, Justin Forsett rushed 11 times for 70 yards and finished with 6.4 yards per for the game. Their success also mirrored the departure of Pro Bowl linebacker Vontaze Burfict with a concussion late in the first half.
"In the first half they were using a lot of regular and (one-back sets)," said nose tackle Domata Peko.  "We were shutting that down and it seemed like in the second half they were running it out of (three wide receivers) and we had some of our nickel guys out and two linebackers in the box and they had some success."
The Defensive Player of the Opener just might have been SAM backer Emmanuel Lamur in his first regular-season start after missing all last season with a shoulder injury. He had the game's only turnover when he jumped a route in the flat headed to tight end Owen Daniels to go with a game-high 11 tackles.
"I read my keys. Coach (Guenther) called a great play. I read the quarterback's eyes, broke on the ball, and executed the play," Lamur said. "It's a blessing being on that field, looking up in the sky, praying to God. I was getting a little emotional out there. I've been given a second life. I'm just enjoying the game, having fun with my boys, just going out there and trying to win games."
Here's something a little sad and sweet. Sunday was the Bengals' first win in Baltimore since Oct. 11, 2009, when they rallied around defensive coordinator Mike Zimmer less than 72 hours after the sudden death of wife Vikki. It was Guenther who hunted down the game ball and handed it to Zimmer at head coach Marvin Lewis'' direction. On Sunday, Zimmer won his first game as a head coach in the Vikings' win over St. Louis.