Adam Jones called Sunday's loss "embarrassing."
DALLAS - The two perceived strengths that should be carrying the Bengals through the early part of the season, their offensive line and the defense, have to be put into the dreaded underachieving category after they fell to 2-3 in the face of a 28-14 loss to the Cowboys that Bengals cornerback Adam Jones called "embarrassing."
For the second time in two weeks a first-year starting quarterback torched them for 50 percent on third down as Dak Prescott rung up a 117. 9 passer rating while generating 12 plays of at least 10 yards in the first half. He duplicated the triple-digit passer rating of Denver quarterback Trevor Siemian making his first NFL road start two weeks ago with four touchdown passes.
 The tone was set on the first drive, when the Bengals didn't adjust to a new wrinkle in the Cowboys running game and rookie running back Ezekiel Elliott racked up 42 yards on his first four carries in a drive that never reached third down.
When Prescott had to throw his only pass in the drive, wide receiver Terrance Williams took advantage of a rare missed tackle by Bengals cornerback Adam Jones that resulted in a first down. Leave it to Jones to blame himself and then challenge his mates and coaches to get it right by literally going back to the drawing board.
"I am an honest person. And I will start with myself. I will look at the film and I will be the first one to stand up and say I could have done this better," Jones said. "I know I missed the tackle early; I have to make the tackle. I think as a group, we need to set down with the coaches and put it up on the board. That is the only way we are get back to how it has normally been. I don't want to say too much. I am going to start with myself. We will meet; we will look at the film and see how we can get better."
Then with the Cowboys giving the Bengals some running room in a deep zone Cover Two that took away Pro Bowl wide receiver A.J. Green on four catches for 50 yards, their most effective runner was quarterback Andy Dalton running for his life against a nondescript Dallas front  that looked like the Fearsome Foursome. The Cowboys came in with six sacks, but got four on Sunday by dropping seven into coverage and then confounding the Bengals' interior line that looked to be simple twists among the front four.
"We've got to execute better in a lot of different ways and then come up with some of those miraculous plays you see every year that just make a difference in a game," said left tackle Andrew Whitworth. "We just don't quite have it yet. But the bottom line is in this game, at this level of play, the only way you get it is to put your head down and just keep banging. Hopefully, our resolve on this team will be to come back next week and play the best football game we can play since this was our worst this season."
They just haven't looked the way they were supposed to look at any point this season, even the heady 10 days of 2-2 when they were last in NFL red-zone offense, near last with 3.1 yards per rush, and among the league-leaders giving up five passes of at least 40 yards. But on Sunday it was the big run, a devastating 60-yarder by Elliott on Dallas' first snap of the second half that made it 28-0 and has them wondering just who these Bengals are.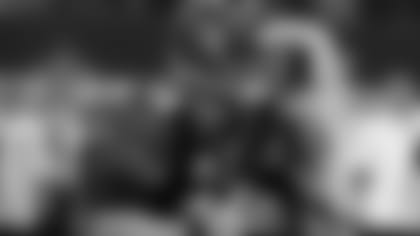 Andy Dalton bobbed and weaved to keep the Bengals in it as long as he could Sunday.
"Not a proud moment for us,' said nose tackle Domata Peko.
"That's not us," said left end Carlos Dunlap. "We made them look like veterans and we made ourselves look like rookies."
"We have to do better and we will do better,' said right end Michael Johnson. "They did a good job running the zone and the running back did a good job cutting the ball back and finding the seams."
They're starting to sound uncomfortable with the look.
"We just haven't really meshed together yet," said running back Giovani Bernard. "It's tough. It's tough because we know the guys we have on this team. It's just for some reason, it ain't clicking right now … We just ain't playing, man. It isn't us. It's frustrating when you know the guys you have on this team and for some odd reason, it's just not clicking. It's frustrating, but that's football. We have next week and hopefully, we can switch it up."
The 60-yarder symbolized how the Cowboys had the Bengals off-balance all day. It came on a play Dallas didn't run in the first half, a run the Bengals call "split belly." It drew WILL backer Vontaze Burfict out of the box by formation and basically left middle linebacker Rey Maualuga by himself in the middle and when Maualuga couldn't get off the block, Elliott was gone up the middle.
"They had a good scheme. They made some changes  from last week to this week," Peko said. "That's the name of the game. You have to make changes on the fly and they did a good job with it."
It appeared the Cowboys' wrinkle involved sending the 225-pound Elliott out to the perimeter and forcing the Bengals defensive backs into making tackles.
Adam Jones, who last week said his daughter could run through some of the holes opened up by the Dallas offensive line, reiterated the point.
:"They were better than I thought. I take my hat off to them. Now I see why he has a hundred million dollars on his line," Jones said. "Those guys block their asses off. Like I said last week, some of the holes my daughter could have run through today. You have to take it on the chin and suck it up. Good players bounce back."
Dunlap took the blame on two of the runs, saying he was caught out of position to cause touchdowns. Prescott ran a five-yard zone read for a touchdown to make it 14-0 when Dunlap cut in to take Elliott.
"They did a good job mixing it up. That is why we got kind of caught on a couple of them. We just have to stay true to our assignment and alignment, and make our plays," Dunlap said. "We are a veteran team so we know what we need to fix. We made it during the game, we just ran out of time. We have to start off how we finished today. We can't do that … We have to make corrections and be ready for Sunday. Because we're playing a veteran quarterback Sunday."
The Bengals veteran quarterback, Andy Dalton, played  courageously and well. Down 21-0 and having the ball just twice, there wasn't much Dalton could do when his line couldn't block four men consistently. He ended up generating two fourth-quarter touchdowns and at one point completed 13 straight passes. With the Cowboys giving him the short pass, he took it and finished 29 of 41 for 269 yards, but his longest ball was only 22 yards to Green.
"You've got to keep moving the ball at that point," Dalton said. "Keep getting completions. Eventually that's what happens. That's what it is. We got in that green zone and then had a tough catch. We just kept driving the ball. That's what you have to do in those situations."
The Bengals' best shot to score in the first half came down 21-0 and Green getting a rare one-on-one opportunity. But Dalton, who was hit nine times to go with the four sacks, was chased out of the pocket and he couldn't get enough on a long ball in the end zone to Green beating cornerback Morris Claiborne and Claiborne was able to get a hand on it.
"It is frustrating for us," Dalton said. "There's where I felt we could do more. I think it comes down to what I was saying earlier. We've got to find a way to get better. That includes me, that includes everybody."
It's the first time since Oct. 21, 2012 the Bengals have been under .500 in October, the second of their five straight post seasons. And Whitworth knows the losses now are going to force them to streak.
"It's disappointing because we didn't play well. There's so much season left. There's so many runs you make in this game," Whitworth said. "If we end the same way we started last year, this doesn't really matter that much. There's so many points in the season. Until you get late in the year, these games are what they are. You lost and you've got to put your head back down, go to New England and play your best football. That should be the only thing we're worried about. Anything else is not really important at this time."
Cincinnati Bengals travel to take on the Dallas Cowboys in week 5 of the regular season.