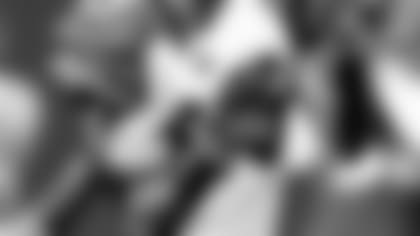 Chad Johnson hauls in the 43-yard reception despite the interference of Browns DB Daven Holly. (Gregory Shamus/Getty Images)
CLEVELAND - With a short work week ahead in preparation for Thursday night's last call in the AFC North against the Ravens, the Bengals made even shorter work of the Browns here at an indifferent Cleveland Browns Stadium.
Bolstered by a rejuvenated defense that turned in the club's first shutout in 17 years and the slippery moves of wide receiver Chad Johnson, the Bengals rolled to a 30-0 win that was tainted by the news after the game that running back Chris Perry suffered a broken lower right leg that will require surgery.
Although he had just 64 yards on 25 carries, running back Rudi Johnson extended the Bengals record to 16-0 when he carries at least 25 times.
"(Browns head coach) Romeo Crennel must have told them somebody was going to get shot if I got another yard," said Johnson, who had 24 yards on 11 carries in the second half.
Chad Johnson had seven catches for 123 yards, giving him his first three straight 100-yard days since 2002. He finished within 40 yards of Charlie Hennigan's 45-year-old NFL record for the most yards in three straight games and takes the second most all time.
"What record?" asked Johnson. Then asked about his 573 yards over the last three games, which is the most since the 1970 merger, Johnson said, "Thank you Carson."
Thursday when the Baltimore Ravens visit Cincinnati, the game will mark Pro Bowl right tackle Willie Anderson's 170th career game. He got to spend about the last eight minutes on the sidelines Sunday watching Scott Kooistra finish up.
"I'll make sure I'm ready. I've got my own doctors coming in to fix me up Monday night," Anderson said of the short turnaround. "We can't rest on anything, we just have to move on to these guys, and we know how physical it's going to be. We need all our fans, because their fans did a great job when we were down there."
When Anthony Wright came in to mop up with 7:15 left in the game, quarterback Carson Palmer left with his third straight game of a passer rating of at least 120. He rang up a 120.7 Sunday on 25-of-32 passing for 275 yards, three touchdowns and an interception.
Meanwhile, it was a sweet day for a Bengals defense that came into the game ranked dead last in the NFL and left the Cleveland offense for dead in Cincinnati's first shutout since Dec. 3, 1989 when it posted a 21-0 shutout in, naturally Cleveland.
"Maybe we'll move up now, huh?" said strong safety Kevin Kaesviharn, who contributed two of the defense's four interceptions and one of their four sacks. "I don't think we listened to all that stuff. We focused pretty well this week and just wanted to play a good game."
After allowing the third-most yards in team history last week against New Orleans (595), the Bengals held the Browns to just 203 total yards, 51 on the ground, and just nine first downs, all season lows.
In the second half alone cornerback Tory James ended two straight series with interceptions of the befuddled and outraged Charlie Frye (James's first picks since Week 4), linebacker Caleb Miller and Kaesviharn sacked the Cleveland quarterback on consecutive snaps, and free safety Madieu Williams forced a fumble by wide receiver Dennis Northcutt that was recovered by defensive end Justin Smith.
Frye got sacked four times and was held to 186 yards on 18-of-29 passing and four interceptions.
The Browns reminded the Bengals just how dangerous their return games are on the opening kickoff when Josh Cribbs bolted 101 yards for a touchdown that got called back when linebacker Mason Unck was called for holding Bengals running back Kenny Watson.
The Bengals responded with a solid defensive series that ended when linebacker Landon Johnson came off his left edge on third-and-seven and sacked Frye and forced a fumble recovered by the Browns.
Cornerback Johnathan Joseph made the drive's best play when he knocked away a pass at about midfield headed for tight end Kellen Winslow breaking away.
The Bengals needed 14 plays and two timeouts to score on their first drive and take a 7-0 lead on Rudi Johnson's make-a-statement one-yard touchdown run on fourth down with 5:54 left in the first quarter.
"We were making a statement early," Anderson said. "That's what the coaches want us to do, and that's to make that statement early in the game, but they kept fighting and that's what we have to do; keep playing hard."
On that play Kooistra lined up as a tight end next to Anderson and tight end Reggie Kelly, and with fullback Jeremi Johnson poised on that side, Rudi Johnson followed them well enough so that Browns coach Romeo Crennel's challenge on the play was overturned.
As usual, the Bengals No Huddle slowed once it hit the red zone, but they had to use a timeout before they got there. Then they burned another one after Pool stopped tight end Tony Stewart at the goal line to set up the successful fourth-and-one, a play that made the Bengals 4-for-7 on fourth down this season.
Rudi Johnson rushed five times for 29 yards in the drive and Kelly kept the drive going on a third-and-seven when he stretched the ball forward over cornerback Daven Holly's tackle after making the catch. Then he came back and stretched for a 14-yarder over the middle at the Browns 5 as Palmer hit five of his first seven passes for 40 yards, 10 of his first 13 for 96 yards and a touchdown and he finished the half with a 119.8 passer rating on 16-of-20 for 175 yards.
And then Palmer and wide receiver Chris Henry upped it 14-0 when they connected on a seven-yard touchdown pass with 12:02 left in the first half. Palmer floated it to Henry in the back left corner and Henry held on despite getting pushed out by cornerback Brodney Pool.
But on the next drive the Bengals saw a first-round pick carted off the field for the second time this season when Perry suffered a broken bone in his foot after his first carry of the game got the Bengals a first down on a 10-yard run.
The Bengals also stuffed Cleveland on the next series when they blew up the Browns on second-and-three and third-and-one plays, the last one coming when defensive tackle Sam Adams stood up running back Jason Wright and linebacker Rashad Jeanty finished him off for a one-yard loss at the Cleveland 43.
The Browns had just 117 yards total in the half and wide receiver Braylon Edwards earned the wrath of the home crowd when he dropped what would have been a 20-yard catch. He didn't make a catch until about eight minutes left in the third quarter.
Chad Johnson's 43-yard catch down the middle despite the interference of Holly wrapped around his waist set up Shayne Graham's 24-yard field goal with 39 seconds left in the half that gave Cincinnati a 17-0 lead. It marked the third straight game Johnson has caught a ball of at least 41 yards in this recent rampage.
Kaesviharn ended the half like he did last week in New Orleans, he ended the half with an interception, only this time it wasn't in the end zone but on Frye's Hail Mary.
Kaesviharn later secured his team-leading sixth interception, the first time since David Fulcher had eight in 1989 that a Bengals safety has had at least five in a season.
Except for a 43-yard pass from Frye to Northcutt working on Joseph, the Bengals secondary – ranked last against the pass – held up well. James defused that drive when he reached around wide receiver Joe Jurevicius on a third-and-three to tip away a pass at the Bengals 30.
Graham's bid to put some space between him and Browns kicker Phil Dawson on the all-time accuracy list got a boost when Dawson then sailed a 48-yarder wide left.
It was a 36-yard pass interference penalty on Browns safety Brian Russell working against Chad Johnson on a third-and-seven from the Browns 43 that set up the Bengals' second touchdown and gave Cincinnati a 14-0 lead early in the second quarter. Russell, who gave Johnson a sensory-altering shot in the last meeting, brushed up against Johnson at the end of a sideline route at the 8.
Also early in the second half, Graham saw his streak of 186 straight extra points snapped on a high snap that led to the blocked kick, marking his first NFL miss.
The Bengals wrapped up the scoring when Palmer threw his second red-zone touchdown pass of the day to Henry just four seconds into the fourth quarter, a 10-yard lob to the chicken-fighting Henry down the sideline that made it 30-0.
PREGAME NOTES: Sunday could be the last time this season the Bengals go into a game without both center Rich Braham and left tackle Levi Jones as they continue to nurse their knee injuries.
But Cincinnati did get back strong safety Dexter Jackson for the Browns after he missed last Sunday's victory in New Orleans with an Achilles' injury. The club hopes that compensated for another inactive game for cornerback Deltha O'Neal, benched by the shoulder injury he suffered two weeks ago against the Chargers.
Jackson got the start while rookie Johnathan Joseph and middle linebacker Caleb Miller again got the nod for the second straight week in place of O'Neal and Brian Simmons, respectively.
The Bengals got a break when the Browns' best cornerback, Leigh Bodden, was inactive with an ankle injury. He's the man acclaimed for holding wide receiver Chad Johnson to two catches late last season and keeping him under 100 yards earlier this season.
Starting opposite second-year man Daven Holly in Bodden's place is Brodney Pool, a 6-2, 208-pounder seen primarily as a safety who has played corner in passing situations. If Pool isn't as fast as the 6-1 Bodden, then the 5-10 Holly isn't as tall.
Even though Bodden has missed several games this season with injuries to both ankles, the patchwork secondary has held up and is ranked seventh in the NFL against the pass.
Bengals head coach Marvin Lewis had the club's quick turnaround to keep in mind when he crafted his active 53-man roster. The Bengals make their NFL Network debut Thursday night against the Ravens at Paul Brown Stadium.
Lewis seemed to offer Miller an endorsement after the coaches charted him for a season-high 16 tackles last week in New Orleans. Lewis had indicated Miller got the start in place of rookie Ahmad Brooks because of the Saints passing offense, but he went back to him against a Cleveland team that tries to establish the run whenever it plays the Bengals.
But it also meant that middle linebacker Brian Simmons (neck) missed his fourth straight game on the inactive list. His appearance in practice Friday may mean he's getting ready for Thursday. Brooks, who didn't play a snap last week, was dressed again.
Keiwan Ratliff also dressed even though the nickel cornerback injured his ribs last week and didn't return to practice until Friday. Going off pregame warmups, he appeared to be able to return punts.
Also shelved by injury besides O'Neal, Braham, Jones and Simmons were wide receiver Kelley Washington, on the inactive list for the sixth straight week with a hamstring problem, and right guard Bobbie Williams, sidelined for the second straight game following his appendectomy. Rookie linebacker A.J. Nicholson was inactive but it's not believed he's injured.
The Bengals hope Williams returns for the game after they play Ravens: Dec. 10 at home against Oakland.
Pregame ceremonies included a tribute to Bengals and Browns founder Paul Brown by the Massillon High School band. Massillon is where Brown established a prep football legacy culminating in the construction of Paul Brown Tigers Stadium.
The Bengals took the field in white jerseys and black pants in a combination they have a 5-4 record. Lewis sent out for his game captains right tackle Willie Anderson, defensive end Justin Smith, wide receiver T.J. Houshmandzadeh, strong safety Kevin Kaesviharn, and running back Kenny Watson.