Andy Dalton, here with quarterbacks coach Ken Zampese,  has the ear of the Bengals.
No one knows for sure when Andy Dalton is coming back.
 But we do know that when his broken throwing thumb is healed, the Bengals are going to get their MVP candidate into the playoffs as soon as they can.
And after Monday night's overtime loss in Denver, we also know the Bengals think they can win a play-off game with the grit and gumption of AJ McCarron. As well as Sunday's regular-season finale (1 p.m.-Cincinnati's Channel 19) at Paul Brown Stadium against the Ravens.
"No question in our mind whether we can win a playoff game with AJ McCarron," said left tackle Andrew Whitworth this week. "He has enough leadership and character. The most important thing for a quarterback is how the guys feel in the huddle with him and confidence they have around him. There's not a guy that doubts that he's going to come in and give us the best he's got and make good decisions and those kinds of things. That's probably one of his strongest suits. He gets leadership." 
The Bengals couldn't have asked for anything more from McCarron. Not in his second NFL start on one of the league's most dangerous home fields in the next-to-last week of the regular season when the Broncos had everything on the line.
Sure, he could have got them out of the huddle faster and lined up quicker. And he missed a couple of open receivers. No doubt it would have been more seamless with Dalton back there. But that's because he's got 75 more NFL starts than McCarron. With that deafening crowd noise against the NFL's No. 1 defense and to go 10-for-14 passing on third down, well, it's like middle linebacker Rey Maualuga said.
 "I don't think anybody had doubts in his playmaking abilities. He's showed flashes of how good he can be," he said. "Being up 14-3 at halftime, I feel as if it was our responsibility as a defense to make sure we won the game. If they didn't score, we win."
They lost, but they gained a guy they know can win. It brought back memories of Dalton's second NFL start back in 2011, also in Denver, and how his 332 yards nearly brought the Bengals back from a 17-3 hole in a 24-22 loss. The Bengals lost the game but won a leader.
McCarron may have proven that even before he started the game with a Tuscaloosa-like 80-yard touchdown drive in the coldest game of his life. When the Bengals landed in Denver 48 hours before, he surprised his offensive line and fellow quarterbacks with a dinner invitation.
Even in a league that never surprises you, that's one. Here's a guy with one NFL start and a fifth-round paycheck springing for a private room at the swankiest joint in Denver. You don't get any bigger in the Rockies than Elway's Steak House.
"It speaks volumes of the kind of guy he is," said left guard Clint Boling. "Guys appreciate those kinds of things. Whether it's a gift from the quarterback or dinner, I think guys really appreciate that."
McCarron shrugged. He's always done it. When he was the scout team quarterback at Alabama he'd buy pizza for cram sessions with the backup players. Then when he became the starter, he'd have the line over to grill out on Thursday nights at his off-campus home.
"We had some hunters on the team and if they killed something they'd bring it over," McCarron said. "But usually it was hamburgers and hot dogs. It's something that comes with the position. Being a quarterback. Being a leader."
But Elway's before his second start?
"It's just something I wanted to do. It's Christmas," McCarron said. "I always took care of my lineman in college. It's something I've always done."
McCarron isn't looking at the presidents on the 20s and 50s. He's looking at the camaraderie that can help inside the 20 and on the 50.
"One thing AJ gets is you can see from being at Alabama and being in a lot of big situations he gets leadership, he gets getting guys around him play well for him to look good. He gets all of that," said Whitworth, who heartily enjoyed the meal. "That was important to him because he wanted to do something to say, 'Hey man, I know I'm going to have success based off of y'all.' That's something he gets. He gets that part of it. "
 And if that didn't sell his offensive line on him, then that 20-yard pass to Mohamed Sanu on third-and-16 did. Down 17-14 in the fourth quarter and trying to avoid the fourth three-and-out of the second half, McCarron hung in the pocket just long enough to get blown up by outside linebacker Von Miller just as he released it. And, apparently, said nothing about it.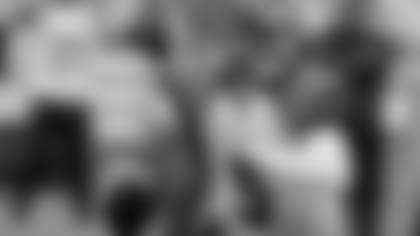 McCarron, who won his first start on the road, tries to win his first start at home.
"It's a tremendous play by him. To me his leadership, his character in the huddle is what you see out there," Whitworth said. "To me, that's character. He steps in and throws that ball. He doesn't say a word. He doesn't say, "Hey, give me more time.' He doesn't say, "Hey somebody got through and hit me.' He's not asking for time. He made a play and he moves on. "Hey guys, we can do this." The whole time. He's that confident. I think that kind of personality, that kind of character he has will help him have success."
Whitworth and McCarron both payed for Nick Saban in college, so Whitworth can see a lot of things when he's watching McCarron.
"I can say he's learned a lot from Coach Saban. Similar to what (Tom) Brady is like with (Bill) Belichick. I think he grew up and probably mentored the same way," Whitworth said. "To him there's not even such thing as the 24-hour rule, it's the three-minute rule. To him, the moment you've won it's the next opponent and nothing else matters. He's very similar to Saban and Belichick, it's the same mentality. AJ has been around that and he gets it." 
To McCarron, it's just football, which is everything.  Bengals offensive coordinator Hue Jackson has to laugh because in Dalton and McCarron he's got two football geeks immersed in the game. He wouldn't be surprised if they went home at night and took snaps from their wives.
And, you know what? McCarron does occasionally throw the ball around with his wife, a former Miss Alabama who played some softball.
"She doesn't run routes, but she can throw it pretty well," McCarron said. "I'm teaching her the names of the positions.  I'll ask her, 'What position does Tyler (Eifert) play?' And she'll say, 'The Y,' so that's pretty good. She's learning more and more."
When McCarron talks football and leadership, it gets wrapped up with Brett Favre. That was his guy while growing up in Mobile, Ala. He hasn't done it in a long time, but he would go to YouTube and find the NFL Films stuff that had Favre wired up.
"I guess my favorite is when he threw a touchdown pass, he's running down the field screaming, and in the end zone he picks up his guy and puts him on his back," McCarron said. "He just always had fun and it seemed like everyone around him was having fun. He always joked around. Just smiled.  That's what I want to do. Have fun. Me and everybody else."
Bengals quarterbacks coach Ken Zampese, who along with Jackson has impressively developed a guy that has responded in the middle of the playoff chase, without melting saw the intangibles during his scouting trip to Alabama.
"He knew everybody. He had a word for everybody," Zampese said. "From the highest to the lowest, he had a relationship with everybody who walked past. He knew them all by name, he'd have a chuckle or a comment. Those things tell you the guy's invested in every level of the building. It says something about a guy and it's very positive."
But this isn't the McCarron of Alabama.
"There are different ways of being a leader," McCarron said. "Right now, I don't demand like I did in college. I still try to push the guys, but I just try to bring a lot of energy and passion to it and let them feed off it."
You'd have to say its working. It has impressed a 10-year veteran like offensive lineman Eric Winston, who is working on his fifth team. If anyone knows anything about chemistry, it's Winston, the president of the NFL Players Association.
"I think he gets it. It's been beneficial for him not to be thrown right into it since he's been around it for a year and three quarters," Winston said. "I think he's got great makeup, he's got a great mentality. For him, it's just a matter of getting reps. Obviously when Andy comes back, he's the guy. But I think we're going to have two really good quarterbacks around here for a long time."
McCarron's wallet is a little lighter this week. But he'll take the investment.