The InSideOut Initiative, in partnership with the Bengals, the NFL Foundation and the Ohio High School Athletic Association, hosted an event for local school athletic officials at Paul Brown Stadium on Tuesday.
"Our purpose is to help make youngsters better citizens and to help teach them life lessons that they're going to carry with them every day," said Ohio High School Athletic Association Commissioner Dan Ross. "We want to help them be better men and women in their communities and families for the rest of their lives."
The InSideOut Initiative seeks to transform the current win-at-all-costs sports culture, where the value is often defined by the win-loss record, to a culture that defines and promotes sports as a human growth experience that focuses on the intentional development of the educational, social, and emotional well-being of each student athlete.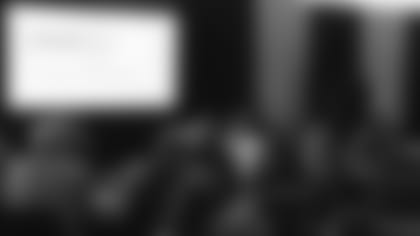 Nearly 40 local high schools participated with each school bringing a four-person school implementation team made up of the athletic administrator, high school football coach, female coach of influence and one additional school leader, such as a school board member or a principal. The role of this team upon completion of the training is to create a school specific implementation action plan to reclaim the educational purpose of sports.         
The InSideOut Initiative was founded by Jody Redman, a former collegiate basketball player, and Joe Ehrmann, an All-American football player.
"Athletics provide a platform to make experiences for kids better," said Redman. "The commitment from the schools attending to bring people that can actually impact change is great."
"I played professional football for a long time," said Ehrmann. "Football really saved my life. There were coaches that gave me an opportunity, so I've experienced the power when sports are utilized to build better human beings and to build a better culture and society."
Former Bengal Anthony Munoz delivered the keynote address.