The Bengals were all smiles last year when Eifert had 13 TDs,
A red zone history for the Bengals when it comes to scoring touchdowns in the 14 seasons under head coach Marvin Lewis, thanks to the Elias Sports Bureau:
In the last three seasons, the Bengals have been in the NFL's top five twice as well as 11th, including their high of No. 2 in 2013. Last year with Pro Bowl tight end Tyler Eifert leading the way with 13 touchdowns, the Bengals finished fifth with a touchdown percentage of 66.
But with Eifert (ankle) shelved for the first four games of 2016, the Bengals are threatening the Lewis low of 2008, when they scored 15 red-zone TDs all season in the year quarterback Carson Palmer  missed 12 games and they finished 27th in the rankings. Now they're heading into Dallas Sunday (4:25 p.m.-Cincinnati's Channel 12) ranked 31st with just four touchdowns in 13 forays inside the 20 and only one of them on a pass.
But the Bengals offense has been good enough to consistently get in the red area with wide receiver A.J. Green leading the NFL with 32 catches and Dalton third in most passing yards and yards per pass. Only eight teams have been in the red zone more.
With hopes high that Eifert returns Sunday, could he be back at a more opportune time ever?
"If he doesn't come back right away we are going to get better regardless, said Ken Zampese Monday, the Bengals' first-year offensive coordinator juggling the new targets.   "These will be the same guys doing it over and over again. We'll be better with the group we have. And when we get him back in the mix he'll add whatever he ends up adding to us." 
The Eifert call is up to Lewis and on Friday he gave it the old "We'll see." He started his third week of practice Monday and after being limited the previous two weeks the hope is he'll be unleashed Wednesday.
By this time last season Dalton had six red-zone TD passes, three to Eifert, two to wide receiver A.J. Green and one to Marvin Jones. It doesn't take a genius figure out that they're missing four of those with Marvin Jones averaging more than the red zone at 21 yards per catch for the Lions.
But Zampese isn't buying it.
"We should have more than we have," Zampese said. "And we've put ourselves in bad situations on our own. Self-inflicted. Regardless of who we have in there we're better than what we've shown and we'll be better as we go forward. We'll make sure."
Zampese isn't alone in Bengaldom when it comes to struggles in the red zone.
In the first year of the Green-Dalton Era under first-year offensive coordinator Jay Gruden, they finished almost as low as they did in '08 with a 26th ranking on a 45-percent scoring rate. When they added veteran free agent wide receivers in 2009 and 2010 to replace the always reliable T.J. Houshmandzadeh, they finished 18th and 21st, respectively. When running back Rudi Johnson and right tackle Willie Anderson got injured and wide receiver Chris Henry missed the first eight games of the 2007 season with a suspension, they fell from No. 6 in 2006 to No. 23 in red zone production the next season.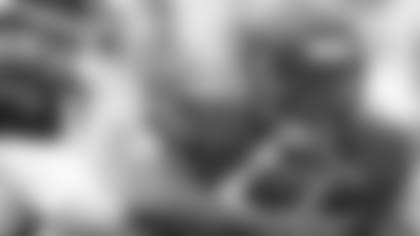 Running back Jeremy Hill has scored three of the Bengals' four red-zone TDs.
So it would seem pretty obvious what is going on down there now. They need time to gel with young tight ends C.J. Uzomah and Tyler Kroft, rookie wide receiver Tyler Boyd, and the newly acquired free agent Brandon LaFell.
 "It's always a timing issue. There are other things that happen down there," Zampese said. "We have had quite a few sacks that happen down in there. We've had quite a few sacks down in there which hasn't helped the situation. We just need to do a better overall. Each guy handling his own business then collectively we can get positive plays out of first and second down." 
One of the NFL's cardinal rules is never give up a red-zone sack, but it's happened three times in there this season. What also bothers Zampese is on first and second down they're getting negative plays in the running game, where running back Jeremy Hill has twice lost yardage with the ball on the 2 or closer and running back Giovani Bernard has been also pinned for a loss with one of his red-zone runs.
"We have minus-yard plays that set us back. We've had a lot of third-and-longs once we've got in there that made it hard for us to score," Zampese said. "We need to do a better job on first and second down -- not having minus-yard plays or zero plays-- where we can stay in positive situations when we get to third down and make it a lot shorter than what we've been in."
When Eifert and Jones missed virtually the entire 2014 season, the Bengals finished 11th in red zone behind the NFL's sixth-ranked running game. Hill has 17 yards on eight red-zone carries and Bernard has three yards on seven carries, computing to just 20 yards on 15 carries. That reflects the overall struggle in the run game with 3.1 yards per carry.
"We're not lighting it up throwing it in there, either, by any stretch," Zampese said. "Both things work together and right now, we haven't got them quite geared up together at the same time."
It's a different game in the red zone. LaFell has been terrific in the first four games as the receiver opposite Green, but Dalton has targeted him five times in the red zone for no catches.
He's gone to Uzomah four times for a six-yard catch and Boyd has one catch on three targets, the huge, sliding 14-yarder in New York just before Mike Nugent's half-time field goal. But Boyd couldn't hold on to one at the goal line on Thursday night.
And yet, Boyd has been impressive elsewhere on the field, where Dalton and Green are racking up numbers never seen before in Bengaldom. But Zampese is looking at another number instead of heaping on the praise.
"We're 2-2," Zampese said. "That's where we're at. We're a .500 football team right now. And we all have contributed to where were at and we're all going to contribute to us being better from here."
His panacea for the red zone sounds the same as it is for the running game challenges.
"It's not one thing. It's one thing this play and another thing another play and collectively it works out not to be productive enough," Zampese said. "So we'll keep at it. We're going to get those little techniques better and we'll have a more productive unit as we go forward."
But there does look to be a pretty big answer wearing No. 85 about to enter the fray.
"I can't wait," Zampese said. "It's just another piece. I want him in there healthy and as we know him. "
Cincinnati Bengals take on the Miami Dolphins at Paul Brown Stadium in week 4 of the regular season 9/29/2016